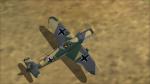 1.66Mb (49 downloads)
I forgot to put fuselage and wing decals on the model. Sorry for the inconvenience. I also give full permission to update and redistribute this and all other aircraft I have uploaded.
Posted Jul 2, 2023 12:06 by Vincent Farnham/vincentf563@msn.com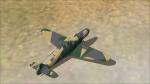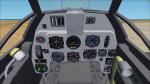 11.55Mb (72 downloads)
This is the Bf109F-4 available with a fully rated DB601E motor. 1331 HP 1.42ata/2700 rpm/July 1942. GM-1 Nitrous 296 HP for 5 minutes. Max speed 523 KPH 1.33ata/2500 rpm. This is a 2.0 version. I've made some minor cosmetic changes to the interior and exterior. It has a modified operation guide in the checklist with prop pitch settings according to specifications found on Kurfurst. It handles relative to the the Zero and the Wildcat as it should on the medium flight model settings. The F-4 had Two 7.97mm MG17's with 500 rounds per gun. It also had a MG151/20 motorkanone with 200 rounds.The install is simple. Just put the Combat flight simulator 2 folder in your microsoft games folder, Gauges weapons and sound file are all there. All you have to do is fly and fight.
Posted Jul 2, 2023 00:21 by Vincent Farnham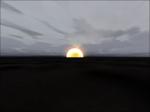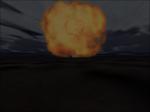 0.09Mb (45 downloads)
New Hbomb Effects I made For CFS2 Hope you like them. JOCOOL
Posted Feb 15, 2023 14:43 by Gerald Goldsmith/JOCOOL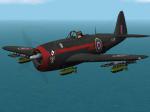 16.74Mb (97 downloads)
VERSION 1.0 July 2022 Visual model : acwai Textures: Original paint scheme by unknown author (Sean "Goodwood" Nash). It was modified by me to fit this aircraft. I also included some VC bitmap from a X-plane P-47D aircraft (unknown author). Damage profiles: acwai Airfile by: acwai, it was tuned to fight against the stock CFS2 Zero aircraft in the multi-player mode. You can use any P-47D airfiles. 2D panel: acwai, gauges are mostly modified Alphasim gauges or from unknown authors. Sound files: Not provided, please download it from sim-outhouse. DISCLAIMER Use this program at you own risks, the author is not responsible for any damages done to your computer. This is a copyrighted freeware program. FREE DISTRIBUTION ONLY. You may upload or post this unmodified aircraft to any web sites. This program can not be posted where a fee of any kind is required or even nagged for. This includes disk distribution or any other kind of fees. It can not be included in a commercial package. Have fun! Andrew
Posted Jul 25, 2022 01:07 by Andrew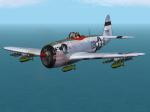 25.58Mb (72 downloads)
VERSION 1.0 July 2022 Visual model : acwai Textures: Original paint scheme by UncleTgt. I also included some VC bitmap from a X-plane P-47D aircraft (unknown author). Damage profiles: acwai Airfile by: acwai, it was tuned to fight against the stock CFS2 Zero aircraft in the multi-player mode. You can use any P-47D airfiles. 2D panel: acwai, gauges are mostly modified Alphasim gauges or from unknown authors. Sound files: Not provided, please download it from sim-outhouse. DISCLAIMER Use this program at you own risks, the author is not responsible for any damages done to your computer. This is a copyrighted freeware program. FREE DISTRIBUTION ONLY. You may upload or post this unmodified aircraft to any web sites. This program can not be posted where a fee of any kind is required or even nagged for. This includes disk distribution or any other kind of fees. It can not be included in a commercial package. Have fun! Andrew
Posted Jul 20, 2022 08:54 by Andrew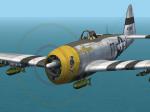 21.77Mb (86 downloads)
VERSION 1.0 July 2022 Visual model : acwai Textures: Original paint scheme by unknown author (Sean "Goodwood" Nash). It was modified by me to fit this aircraft. I also included some VC bitmap from a X-plane P-47D aircraft (unknown author). Damage profiles: acwai Airfile by: acwai, it was tuned to fight against the stock CFS2 Zero aircraft in the multi-player mode. You can use any P-47D airfiles. 2D panel: acwai, gauges are mostly modified Alphasim gauges or from unknown authors. Sound files: Not provided, please download it from sim-outhouse. DISCLAIMER Use this program at you own risks, the author is not responsible for any damages done to your computer. This is a copyrighted freeware program. FREE DISTRIBUTION ONLY. You may upload or post this unmodified aircraft to any web sites. This program can not be posted where a fee of any kind is required or even nagged for. This includes disk distribution or any other kind of fees. It can not be included in a commercial package. Have fun! Andrew
Posted Jul 20, 2022 08:49 by Andrew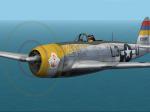 23.07Mb (69 downloads)
VERSION 1.0 July 2022 Visual model : acwai Textures: Original paint scheme by unknown author (Sean "Goodwood" Nash). It was modified by me to fit this aircraft. I also included some VC bitmap from a X-plane P-47D aircraft (unknown author). Damage profiles: acwai Airfile by: acwai, it was tuned to fight against the stock CFS2 Zero aircraft in the multi-player mode. You can use any P-47D airfiles. 2D panel: acwai, gauges are mostly modified Alphasim gauges or from unknown authors. Sound files: Not provided, please download it from sim-outhouse. DISCLAIMER Use this program at you own risks, the author is not responsible for any damages done to your computer. This is a copyrighted freeware program. FREE DISTRIBUTION ONLY. You may upload or post this unmodified aircraft to any web sites. This program can not be posted where a fee of any kind is required or even nagged for. This includes disk distribution or any other kind of fees. It can not be included in a commercial package. Have fun! Andrew
Posted Jul 20, 2022 08:46 by Andrew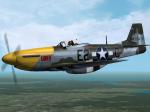 34.84Mb (124 downloads)
VERSION 3.1 JULY 2022 (new propeller) New gauges (modified from Alphasim P-51D's gauges) Animated Features : Engine + gun panels - need to assign a key to animate Concorde nose/visor angle and Extend flaps/Concorde nose & visor fully (shift+N, ctrl+N) Aircraft mdl file: acwai Painting : Phanis and acwai Sound: Frederic BOURMAUT Additional airfiles are provided by bearcat249 and Jay Mcdaniel. DISCLAIMER Use this program at you own risks, the author is not responsible for any damages done to your computer. This is a copyrighted freeware program. FREE DISTRIBUTION ONLY. You may upload or post this unmodified aircraft to any web sites. This program can not be posted where a fee of any kind is required or even nagged for. This includes disk distribution or any other kind of fees. It can not be included in a commercial package. Have fun! Andrew
Posted Jul 19, 2022 09:22 by Andrew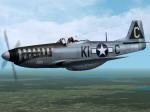 35.11Mb (64 downloads)
VERSION 3.1 JULY 2022 (new propeller) New gauges (modified from Alphasim P-51D's gauges) Animated Features : Engine + gun panels - need to assign a key to animate Concorde nose/visor angle and Extend flaps/Concorde nose & visor fully (shift+N, ctrl+N) Aircraft mdl file: acwai Painting : Phanis and acwai Sound: Frederic BOURMAUT Additional airfiles are provided by bearcat249 and Jay Mcdaniel. DISCLAIMER Use this program at you own risks, the author is not responsible for any damages done to your computer. This is a copyrighted freeware program. FREE DISTRIBUTION ONLY. You may upload or post this unmodified aircraft to any web sites. This program can not be posted where a fee of any kind is required or even nagged for. This includes disk distribution or any other kind of fees. It can not be included in a commercial package. Have fun! Andrew
Posted Jul 19, 2022 09:19 by Andrew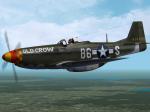 34.41Mb (67 downloads)
VERSION 3.1 JULY 2022 (new propeller) CFS2-P-51D & CFS2-P-51D-1 were uploaded with the wrong model file. Please replace it with this one. New gauges (modified from Alphasim P-51D's gauges) Animated Features : Engine + gun panels - need to assign a key to animate Concorde nose/visor angle and Extend flaps/Concorde nose & visor fully (shift+N, ctrl+N) Aircraft mdl file: acwai Painting : Phanis and acwai Sound: Frederic BOURMAUT Additional airfiles are provided by bearcat249 and Jay Mcdaniel. DISCLAIMER Use this program at you own risks, the author is not responsible for any damages done to your computer. This is a copyrighted freeware program. FREE DISTRIBUTION ONLY. You may upload or post this unmodified aircraft to any web sites. This program can not be posted where a fee of any kind is required or even nagged for. This includes disk distribution or any other kind of fees. It can not be included in a commercial package. Have fun! Andrew
Posted Jul 19, 2022 09:15 by Andrew