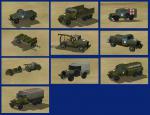 1.83Mb (129 downloads)
This is a set of ten WWII American airfield ground vehicles. These are not really intended as targets although they do have damage files. Rather they are intended to be viewed around the airfield from the player's aircraft. So, they are a bit more detailed than the usual vehicle bgls. Therefore they have a bit larger file, but still not bad. I've put quite a few in a mission without affecting the frame rates. Vehicles: CCKW_353_cover CCKW_353_fuel CCKW_353_open Chevy_110_fire_truck WC_54_ambulance WC_40_light_truck WC_51_ammo _carrier Chevy_M6_bomb_handler Chevy_M6_towing M5_bomb_trailer Credits: Models and textures by Captain Kurt Allen for his "FSDS make exploding object tools" without which I never would have figured out how to create these objects. Nibbio for his vehicle dust effects
Posted Jan 11, 2022 12:46 by Captain Kurt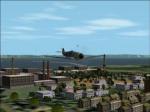 0.32Mb (743 downloads)
This is my updated GSL scenery package for Europe, which provides GSL ports in a total of thirty-seven locations. The countries include Iceland, Norway, Scotland, England, France, Germany, Belgium, and Hollsnd. "Rami"
Posted Jan 2, 2014 18:56 by Andrew Talbot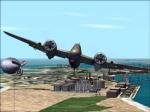 0.23Mb (610 downloads)
This is an updated scenery package for the Mediterranean, providing destroyable ports and scenery at seventeen locations. This includes Libya, Greece, Italy, Albania, Algeria, Egypt, and Sicily. Enjoy!
Posted Jan 2, 2014 18:46 by Andrew Talbot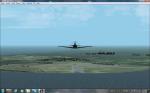 0.48Mb (344 downloads)
This scenery package represents the German research facility located at Peenemünde, Germany. This was a primary German Army research facility, and an important component of the German rocket program, which included construction of both V1 and V2 rockets. It became a priority for both British and American heavy bombers, beginning in 1943. The Germans initially believed that its distance from Britain would render it safe from Allied bombing raids, but this proved not to be the case. Warning: Some of the GSL scenery may be a bit hard on frame rates, but this was tested on my lower-end rig, and the frame rates were acceptable.
Posted Jan 2, 2014 18:41 by Andrew Talbot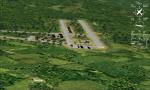 1.60Mb (685 downloads)
This set of North Korean Bases for CFS2 was created from real world coordinates elevations. The runway and taxiway layouts were taken from overhead imagery but the hangar and other structure's layout is fictional. Each base has separate hangar and maintenance areas, a functional refueling point, fuel storage tanks, troop billeting areas, HQ/command and control area, and an ammo/weapons storage facility. Trees were placed in areas where the CFS2 map indicates forests. In addition, many of them have prepositioned FLAK emplacements. I leave it to you, the user, to place the anti-aircraft guns and parked aircraft. The bases are done in GSL so all objects are destroyable.
Posted Nov 22, 2013 05:45 by Greg "Shadow Wolf 07" Baskin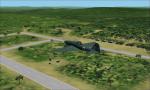 2.46Mb (521 downloads)
This scenery pack contains 22 redone bases with 25 runways in Manchuria, North Korea and South Korea circa 1950-52. These bases were created using the visual layout and airbase.dat info of the "Fox Four" team's work. http://simviation.com//lair/cfs2kmain1.htm. i.e Some are concrete and some dirt runways. Some are located in Manchuria and North Korea, but most are in South Korea. (More data about locations of additional N. Korean bases would be welcome.) Some are in forests, some bases are in urban areas and some are in clear or partially clear terrain.
Posted Nov 17, 2013 21:22 by Greg "Shadow Wolf 07" Baskin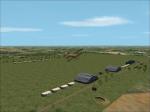 5.99Mb (601 downloads)
CFS2 WWI 1917 Airbases and GSL Scenery- By John P. Fortin (aka Polar_Lion) Here are eight new airbases for WWI. There are three near the Ypres area of Flanders. Two south of Verdun. One in the Somme area. Finally the last two are west of Flanders in the sub-prefecture of Pas-de-Calais. In all there are four ally and four german. You will need all of the Aerocrate scenery and aircraft which you can get from here. Scenery: http://aerocrate.com/addon.html Aircraft: http://aerocrate.com/aircraft.html
Posted Aug 26, 2012 13:55 by John P Fortin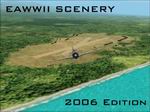 6.78Mb (2202 downloads)
CFS2 East Asia World War II scenery - Full package 2006 edition. New release of this CFS2 add-on with more than 360 new airfields, seaplane bases and other sceneries to Combat Flight Simulator 2. By Xavier Berdaguer. 6.9MB
Posted Jun 10, 2012 11:30 by archive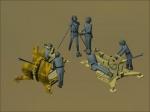 1.80Mb (542 downloads)
Seven German Light AA Guns and their Crews for CFS2. MG-42 AA, Flak 38 DAK No Shields, Flak 38 DAK With Shields, Flak 38 Early ETO No Shields, Flak 38 Early ETO With Shields, Flak 38 Later ETO No Shields, Flak 38 Later ETO With Shields.
Posted Apr 20, 2011 03:51 by Pen32Win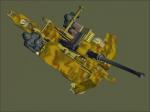 1.81Mb (438 downloads)
Five German Medium AA Guns and their Crews for CFS2. 3.7cm FlaK 37 Early War No Battle Shields, 3.7cm FlaK 37 Early War With Battle Shields, 3.7cm FlaK 37 Late War No Battle Shields, 3.7cm FlaK 37 Late War With Battle Shields and 3.7cm FlaK 37 Afrika Corps.
Posted Apr 20, 2011 03:17 by Pen32Win