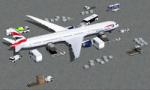 10.41Mb (244 downloads)
AGS V6. New Night lights reflection. New Animated Ground Servicing. New static displays. New landing / taxi soft light beams. New 2D panel. Model design and paint by Camil Valiquette. ( CamSim )
Posted Mar 13, 2020 02:24 by Camil Valiquette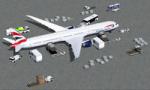 3.06Mb (67 downloads)
AGS V6. New Night lights reflection. New Animated Ground Servicing. New static displays. New landing / taxi soft light beams. New 2D panel. Model design and paint by Camil Valiquette. ( CamSim )
Posted Mar 13, 2020 02:22 by Camil Valiquette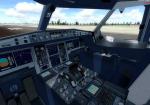 79.82Mb (845 downloads)
FSX/P3D Airbus A350-900XWB Aeroflot package. Russia's flag carrier airline currently has 15 A350-900 on order with deliveries beginning in 2020. Added Garmin G1000 MFD and PFD popups and added FSX Garmin G1000 user maual. Added the better Thomas Ruth VC with updates by Louis Quintero and Chris Evans. Use FMC under Views/Instrument panel in FSX menu. (FSX : Go to Views -Instrument Panel. P3D: Go to Vehicle - Instrument panel). Added better views. Textures by Adam Hamada. The Airbus A350 XWB is a family of long-range, twin-engine wide-body jet airliners from the European aircraft maker Airbus. The A350 is the first Airbus aircraft with both fuselage and wings made mainly from carbon fibre structure. The A350 is intended to replace the A340 and compete with Boeing's 787 and 777. Paint by Joel Branchu. Assembled and tested in P3Dv4.3 and should be ok in FSX and earlier P3D versions by Chris Evans.
Posted Mar 12, 2020 02:16 by chris evans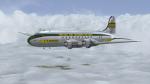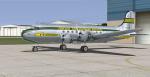 4.61Mb (75 downloads)
FS9/FSX Chicago and Southern Airlines DC-4 textures for Jens Kristensen JBK Douglas DC-4 V3. Chicago and Southern textures by Gary Harper.
Posted Mar 11, 2020 21:49 by Gary Harper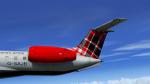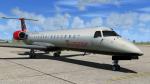 17.49Mb (64 downloads)
Loganair ERJ145LR G-SAJB textures for the payware ERJ v2 by Feelthere/Wilco.
Posted Mar 11, 2020 16:52 by Kelvin Keeble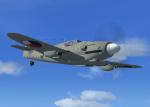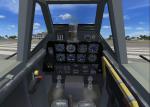 16.91Mb (432 downloads)
FSX/FS2004 Avia S-199 The Avia S-199 is a propeller-driven fighter aircraft built after World War II, notable as the first fighter obtained by the Israeli Air Force, and used during the 1948 Arab-Israeli War. Constructed in Czechoslovakia, with parts and plans left over from Luftwaffe aircraft production, the aircraft had numerous problems and was generally unpopular with its pilots. Czechoslovak pilots nicknamed it Mezek ("Mule"), while in Israel it was officially known as the Sakeen ("knife" in Hebrew). In practice, the aircraft was more often called Messerschmitt or Messer (which also means "knife", in German and Yiddish). GMAX mdl by A.F.Scrub.
Posted Mar 11, 2020 05:54 by A.F.Scrub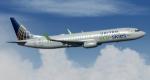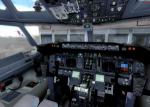 57.12Mb (824 downloads)
FSX/P3D Boeing 737-900ER United Eco Skies package. Headquartered in Chicago, United Airlines is the world's 3rd largest airlines and currently have 136 Boeing 737-900ER in their fleet. FSX native model and paintkit by TDS. The VC is the Alejandro Rojas Lucena/FSND fantastic revised Boeing 737-800 VC model. This VC model includes Working wipers (right mouse click on switch) with rain effect. Switches for LCD Screens, EICAS, PFD, MFT. Autobrake switch. Opening pilots window. Cabin Lights switch. Realistic FMC. Ground Proximity Warning System (GPWS), More Realistic night VC textures. Custom Boeing sounds added. Extra G1000 PFD and MFD with manual included as well as retouched VC textures. VC added and aircraft.cfg edited to allow correct VC views, jetways, wheel levels and wing views. See VC docs to get the best out of the VC and FMC. VC and model painted and prepared for P3D4.5 by Chris Evans. Should certainly also work in earlier P3D versions as well as FSX.
Posted Mar 11, 2020 02:49 by chris evans
95.13Mb (1036 downloads)
FSX/P3D Boeing 777-300ER KLM Orange Pride package. The Netherland's flag carrier airline currently fly 14 Boeing 777-300ER with another 2 on order. This one represents Orange Pride to reflect pride in the nation flag. Includes revised VC and Honeywell FMC (via Views-Instrument panel). Project Opensky model features opening doors & cargo doors, detailed textures, accurate paint, dynamic shine & effects, dynamic flexing wings that respond to turbulence, fully independent suspension, trim animation, gear steering, accurate flight dynamics, spoiler animation, reflective cockpit windows, crash effects, animated tilting bogies, full night lighting, stairs, ground service vehicles when cargo doors open, (FSX - Go to Views - Instrument Panel -Posky Util), detailed virtual cockpit and more. Added custom B777 sounds. VC night lights fixed thanks to Hagar. To use FMC - Go to Views - Intrument panel - FMC. See FMC docs. Thanks for the fantastic native FSX model and paintkit by Skyspirit/Project Opensky. Textures by Triada Sudarmawan. Jetway exits added. Thank you to Zachary777 for the native conversion of the brilliant Jacob Kubique VC. P3D/FSX compatible gauges added by Chris Evans. Assembled and tested for P3d 4.5 by Chris Evans. Should also work in FSX
Posted Mar 10, 2020 01:06 by chris evans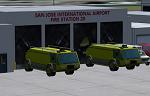 16.97Mb (315 downloads)
Welcome to San Jose International Airport [KSJC] for FSX! The Gateway airport for Silicon Valley sits in Santa Clara at the south end of the San Francisco Bay. The runways have been adjusted to their current length. Runway 11/29 is gone and is now taxiway W1. A new taxiway (W) was added for western exits from 12R/30L The VOR has been updated to the current configuration. All the buildings (with the exception of the tower) are custom.
Posted Mar 9, 2020 02:06 by Brett Delana
93.02Mb (508 downloads)
FSX/P3D Boeing 777-300ER JAL Japan Airlines package. Japan's flag carrier airline is based in Tokyo and currently has 13 Boeing 777-300ER flying worldwide. Includes revised VC and Honeywell FMC (via Views-Instrument panel). Project Opensky model features opening doors & cargo doors, detailed textures, accurate paint, dynamic shine & effects, dynamic flexing wings that respond to turbulence, fully independent suspension, trim animation, gear steering, accurate flight dynamics, spoiler animation, reflective cockpit windows, crash effects, animated tilting bogies, full night lighting, stairs, ground service vehicles when cargo doors open, (FSX - Go to Views - Instrument Panel -Posky Util), detailed virtual cockpit and more. Added custom B777 sounds. VC night lights fixed thanks to Hagar. To use FMC - Go to Views - Intrument panel - FMC. See FMC docs. Thanks for the fantastic native FSX model and paintkit by Skyspirit/Project Opensky. Jetway exits added. Thank you to Zachary777 for the native conversion of the brilliant Jacob Kubique VC. P3D/FSX compatible gauges added by Chris Evans. Textured and assembled for P3d 4.5 by Chris Evans. Should also work in FSX
Posted Mar 9, 2020 01:42 by chris evans