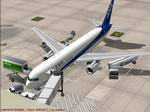 3.99Mb (802 downloads)
ANA Boeing 767-300 ER By Project Opensky. Model Designers Mitsushi Yutaka Hiroshi Igami Flight Dynamics Designer Johan Dees Flight Dynamics Editor Warren C. Daniel Test Pilots Project Opensky Members. 4MB
Posted Jun 23, 2008 14:37 by archive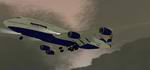 2.97Mb (284 downloads)
Project Opensky BOEING 747-400 Qantas Hybrid VH-NLH 48-sided based Variable Sided Fuelage (POSKY Original Technique) Moving flaperon's, spoileron's, aileron's, elevator's, rudder, and fan blade's ,Tilting bogie's, gear bay's. (All highly detailed)night lighting, flashing beacon's. Transparent cockpit windshield with 3-D pilot's. Designed By Mitsushi Yutaka , Hiroshi Igami Flight Dynamics by Johan C Dees Tested by Project-Opensky Members Painted by Hirata Takamitsu. 3.1MB
Posted Jun 23, 2008 14:37 by archive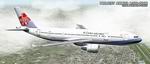 3.61Mb (884 downloads)
FS2000 China Airlines A300-600R. This advanced A300-600R is version 3 of the Project Airbus A300 series aircraft. It features photorealistic textures and realistic animation. This PW engined aircraft is painted in a China Airlines livery, registered B-18551. Model by Thomas Ruth, textures by Nicholas Wu, flight dynamics by Peter Binamira, technical advice by Trevor Slack. 3.8MB
Posted Jun 23, 2008 14:37 by archive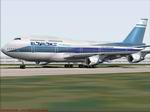 5.79Mb (840 downloads)
FS2000 Project Opensky BOEING 747-458 EL AL, Israel Airlines Realistic and high quality textures. 48-sided based Variable Sided Fuelage (POSKY Original Technique) Moving flaperon's,spoileron's,aileron's,elevator's,rudder, and fan blade's ,Tilting bogie's, gear bay's. (All highly detailed)night lighting,flashing beacon's.Transparent cockpit windshield with 3-D pilot's. Designed By Mitsushi Yutaka , Hiroshi Igami Flight Dynamics by Johan C Dees Tested by Project-Opensky Members Repainted By Aviel Nahoum (EuroFlight). 6MB
Posted Jun 23, 2008 14:37 by archive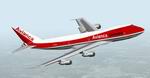 1.92Mb (516 downloads)
FS2000 Avianca B-747-200 registration HK-2980X. Features round fuselage and engine section, complete moving parts, tilting bogies, working thrust reversers, see through cockpit, landing gear bays, complete landing lights. By Federico Veronesi. 2MB
Posted Jun 23, 2008 14:37 by archive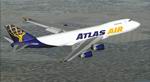 1.75Mb (539 downloads)
FS2000 Atlas Air B-747-400F registration N491mc. Features round fuselage and engine section, complete moving parts, tilting bogies, working thrust reversers, see through cockpit, landing gear bays, complete landing lights. By Federico Veronesi. 1.8MB
Posted Jun 23, 2008 14:37 by archive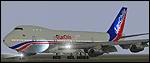 1.64Mb (653 downloads)
FS-2000 Boeing 747-130 Lan Chile This plane was leased from Aer Lingus to Lan Chile to cover the route between Santiago de Chile and Los Angeles in the late 80s. Features night textures, animations and detailed pilots Flight model by Federico Veronesi. Repainted by Miguel Estrugo. 1.7MB.
Posted Jun 23, 2008 14:37 by archive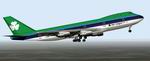 1.35Mb (487 downloads)
FS2000 Boeing 747-100 Aer Lingus EI-ASI This is an entirely new model of the Boeing 747-100. It features round fuselage and engine section, complete moving parts, tilting bogies (incl. nose gear), working thrust reversers (with F2 key), see through cockpit, landing gear bays, complete landing lights. Model, animation and repaint by Federico Veronesi. 1.4MB
Posted Jun 23, 2008 14:37 by archive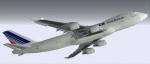 0.91Mb (508 downloads)
FS2000 B747-400F Air France Cargo. Features fully animated spoilers, flaps engines with fans and reversers, spinning wheels, steerable front gear, ailerons, elevators and rudder. Includes Inbuilt Scenery upon engine shut down. Model and Freight textures by Jon Murchison, Aircraft textures By Pierre Marchadier, FDE by Sam Chin. 934K.
Posted Jun 23, 2008 14:37 by archive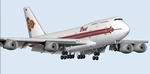 1.50Mb (716 downloads)
FS2000 Boeing 747-300 Thai International HS-TGE This is an entirely new model of the Boeing 747-300. It features round fuselage and engine section, complete moving parts, tilting bogies (incl. nose gear), working thrust reversers (with F2 key), see through cockpit, landing gear bays, complete landing lights. Model, animation and painting by Federico Veronesi. 1.5MB
Posted Jun 23, 2008 14:37 by archive