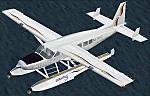 13.33Mb (1125 downloads)
Two complete textures for the FS2002 default Caravan Amphibian, based on the livery of real-world airline Seawings, which operates three C208s. These are complete MIP-mapped reflective DXT3 textures including DXT1 damage textures. Variations are 'Polar' (with de-icing boots) and 'Tropical' (without de-icing boots). Also included: paint kit (blank) textures and alpha channel reflection and transparency files, as well as a voice mod file for EditVoicepack. Tested in FS2002 only but should also work in FS2004.
Posted Aug 1, 2012 17:17 by A.J. Franzman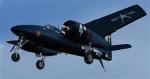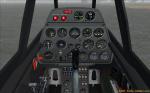 29.18Mb (2591 downloads)
Aircraft Type: Grumman F7F-3 for FS2002 Only - An "Unfinished" WIP Project by Members of SOH
Posted Jan 25, 2011 18:41 by Milton Shupe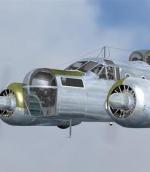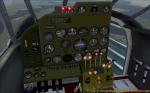 29.02Mb (4683 downloads)
The Beechcraft AT-11 for MSFS2002/FS8 - VERSION 1.0 Models by Milton Shupe, panel and gauges by Scott Thomas, textures by Damian Radice, and Sounds by Mike Hambly. Four models and five textures included. Damian's Paint kit and five additional textures available soon.
Posted Jan 25, 2011 18:21 by Milton Shupe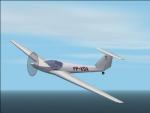 0.31Mb (705 downloads)
FS2004/2002 AMT-200 Super Ximango Aeroclube de Pernambuco. A repaint of Aeromot AMT-200 Super Ximango from Aeroclube de Pernambuco based on the model by J. R. Lucariny. Textures only; The model by J.R. Lucariny can be found at JRLucariny site (http://lucariny.sites.uol.com.br/Avioes.htm) or at Flightsim (ximas.zip). By Joao Henrique de Brito Leitao.
Posted Sep 8, 2010 22:35 by Joao H. B. Leitao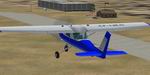 1.42Mb (1176 downloads)
FS2002/FS2002PRO GfORCE C150H repainted as C150F with long range fuel tanks. Textures only, panel, and checklist. Design, flight dynamics & base textures by the GfORCE TEAM, Textures only - requires GEForce c150 here repainted by Richard McMaster. 1.4MB
Posted Sep 8, 2009 23:29 by archive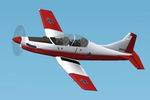 2.21Mb (2130 downloads)
FS2002 Pilatus PC-7 MK II Astra SAAF V2 PC-7 MKII Astra trainer of the Central Flying School, South African Air Force. The airframe is based on that of the PC-9, but a lower-powered PT6 engine variant is used. This release includes a new custom PC-7 MKII model by David Friswell. Aircraft by David Friswell Panel by Luke Hampshire Repaint by Jens-Ole Kj°lberg. 2.2MB
Posted Sep 8, 2009 23:29 by archive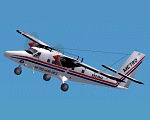 0.29Mb (2204 downloads)
FS2002 PRO De Havilland DHC6-300 Twin Otter Metro Airlines of Texas Reg_ID: N929MA Includes full moving parts, Dynamic night effects, and updated airfile with more aggressive prop reverse. You can add the NEW Propanel2 to this aircraft, see the readme file included for location and install. Design by Barry Blaisdell Metro Paint by Bob May Premier Aircraft Design. 301K
Posted Sep 8, 2009 23:29 by archive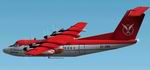 16.50Mb (12029 downloads)
Dash 7 Package for FS2002 Professional Edition. Designed by Milton Shupe, Scott Thomas, Joao Paz and Team 7. Full package includes Gmax aircraft, custom panel, A. Swindle modified sounds, 3 liveries, paint kit instructions, website support. No Virtual Cockpit in this release. Full GMAX animation, FS2002 features, great STOL flight dynamics tested by 7 real world pilots. 17MB Filename: Dash7v1.zip
Posted Sep 8, 2009 23:29 by archive

1.61Mb (3904 downloads)
FS2002 ATR-72-500 - KTHY Cyprus Turkish Airlines (virtual TC-MAT) Turkish Airlines series. Repaint of Jon Murchison 's ATR-72-500 in KTHY Virtual Airlines (www.kthy.org) colors, 24 Sided fuselage with night light effects, fully animated surfaces, spinning front and main gear wheels, 3D gear bays front and main, rotating props, steerable front gear using rudder without the rudder moving, Full virtual Cockpit with nightlight effects, ATC in FS2002. Repainted by Abdurrahman Gundogmus. 1.6MB
Posted Sep 8, 2009 23:29 by archive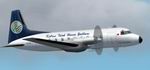 1.11Mb (2339 downloads)
FS2000/2002 KTHY Cyprus Turkish Airlines HS 748 TC-MZA Turkish Airlines Series. Repaint of Muhammad Chariri 's Hawker Siddley 748 in KTHY Virtual Airlines (www.kthy.org) colors Aircraft features; 16 side polygon fuselage and engines, 3D landing gear and moving gear doors, 3D moving ailerons, spoilers, elevators, rudder Repainted by Abdurrahman Gundogmus. 1.1MB
Posted Sep 8, 2009 23:29 by archive