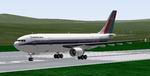 0.79Mb (2160 downloads)
FS2002/FS2000 - Airbus A-300B - CONTINENTAL (*livery, '87) Model features actuating control surfaces, extensive lighting, virtual static flight deck(*updated), and is AI ready (*no wheels). Repaint by: Jim Waters of model by: Jaefree Linn. 807K
Posted Jun 23, 2008 14:33 by archive
2.08Mb (648 downloads)
FS2002 YeoDesigns Boeing 737-200V2 South African Airways. 80% of the textures have been revised. The entire night effects have been made from scrap. Lights on the tail, fuselage and windows are totally new. There's even new lights effect on the reactors and fuselage. Effects that never existed on this plane before.The most realistic 737-200 ever made for msfs2002 at the time!!.. Features almost all the cool gmax features of the gmax modelling system with 64 sided fuselage. 1024x1024 and 512x512 textures and accurate and realistic flight dynamics. YeoDesigns Group Painted by Samy Fay. 2.1MB
Posted Jun 23, 2008 14:33 by archive
1.64Mb (861 downloads)
FS2002 Continental B737-200 FFX. Features just about everything. Also includes the companion 727-200. By The FlightFX Design Group with help from SGA (original 727 by Gary Carlson). 1.7MB
Posted Jun 23, 2008 14:33 by archive
2.26Mb (634 downloads)
FS2002 Malmo Aviation 146-200 x3 textures. Repaints of Malmo Aviation's aircrafts SE-DRA, SE-DRB and SE-DRD. Textures only, requires BAE1463.zip by Jon Murchison (here) . Base textures by Jon Murchison. Repaint by Frederik Sonsky. 2.3MB
Posted Jun 23, 2008 14:33 by archive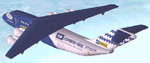 0.49Mb (935 downloads)
FS2002 Embraer CX version 5A of Correios- EMBRAER - BRASIL - Designed with FSDS V2. Design and textures J R Lucariny. 500K
Posted Jun 23, 2008 14:33 by archive
0.73Mb (922 downloads)
FS2002 Aeroméxico Boeing 737 - 700. Original designer: Mauricio Vanscoti Boeing 737 - 700 .air file: Bob Boudoin Aeroméxico textures: Jorge Arturo Rivera Ceniceros This aircraft features fully animated control surfaces and landing gear with complete textures for night lighting. 750K
Posted Jun 23, 2008 14:33 by archive

2.54Mb (1627 downloads)
FS2002 Pan Am Boeing 727-200 in Pan American's old colors. Original by FFX/SGA. Repainted by Henry William.
Posted Jun 23, 2008 14:33 by archive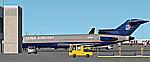 3.00Mb (2058 downloads)
FS2002 United Airlines Boeng 727-222ADV, registration N7644U (old colors). United received this 727 in 1969 and it joined the Emery Cargo fleet in 1994. Original by FFX. Repainted by Christoph Sebek.
Posted Jun 23, 2008 14:33 by archive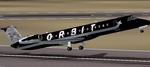 5.07Mb (1004 downloads)
FS2002 Orbit Embraer ERJ-145 Version 2.0 By Nick Botamer and Michael Verlin Repainted by Kyle Schurb. Includes sound package by Aaron Swindle. 5.2MB
Posted Jun 23, 2008 14:33 by archive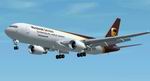 3.00Mb (1989 downloads)
FS2002 United Parcel Service Boeing 767-300. The sleek new colors of UPS are done proudly in this repaint of POSKY's Gmax B767. Authentic markings, including font and logos, were reproduced using current photos to provide a correct livery. Night lighting and wing vortex effect included. A definite improvement from the old livery! Includes 3-screens panel by Kenneth Francis. Original aircraft by Project Open Sky. Repaint by Kevin Sparkuhl. 3.1MB
Posted Jun 23, 2008 14:33 by archive