0.17Mb (1476 downloads)
Fixing the display of pressure in hPa. By Pierre Fasseaux
Posted Nov 21, 2009 07:14 by Pierre Fasseaux

0.17Mb (2060 downloads)
Now displaying DME2, wind, groundspeed and RadAlt data in the PFD of the Lear 45 or of any aircraft using that panel. Also some elements are better aligned and the gauge has modified brighting elements. FSX only ! By Pierre Fasseaux
Posted Nov 13, 2009 08:38 by Pierre Fasseaux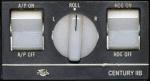 0.17Mb (1204 downloads)
For FS2004 and FS-X especialy designed for the panels of the AA-5 Tiger (v1 - already put in v2 version) or Piper 28 built before and in replacement of Century III models. By Pierre Fasseaux
Posted Nov 12, 2009 05:46 by Pierre Fasseaux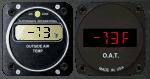 0.17Mb (1069 downloads)
Two other stand alone XML digital OAT indicators for FS2004 and FSX. By Pierre Fasseaux
Posted Aug 15, 2009 04:04 by Pierre Fasseaux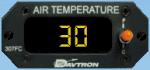 0.15Mb (2278 downloads)
FS2004 and FSX stand alone XML digital OAT indicators. Type 301 in °F or in °C and Type 307 in °F and °C. See readme.txt about installing and difference between FS9 and FSX models. By Pierre Fasseaux
Posted Aug 6, 2009 05:46 by Pierre Fasseaux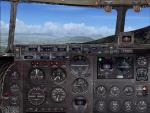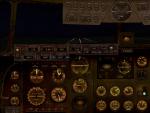 6.30Mb (1115 downloads)
Includes night fix. 2d panel a new gauge appears: the "differentiator" or " derivateur in french".... this device permits to calculate in manual mode or automatic the drifts provoked by wind and to execute an automatic correction of the heading plane.
Posted Jul 25, 2009 03:36 by andre coutant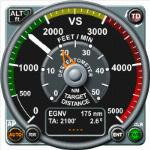 0.30Mb (6524 downloads)
Gauge: Descentometer, for precise and controlled descents. This gauge will assist in positioning your aircraft at a specified altitude and distance from the destination airport. Using IACO and altitude info, vertical speed and slope are continually processed and displayed during a flight. At any point, the VS needed to descend and arrive at a desired altitude and distance from the airport is known. Descentometer handles both continuous or stepped descents from high altitudes. When placed in AUTO, the gauge will control the descent by continually updating the autopilot with VS data. When approaching the airport, the gauge can be placed in Runway mode to monitor or control slope flown to runway.
Posted May 30, 2009 14:43 by David Becker
0.12Mb (2727 downloads)
In Flight Data Screen Gauge Description: An in-flight data screen like the ones seen on international flights. A 10 second timer for each screen showing various flight information like distance to destination, estimated remaining flight time, local time at destination, ground speed, altitude, outside air temperature. Furthermore a moving map with departure and destination locations (still in progress).
Posted May 1, 2009 07:58 by Adrian Zagarowski


0.02Mb (9033 downloads)
This is a small gauge to open/close the doors of an aircraft by simply clicking on a button. Additionally it shows the current state of the door (closed, moving, open). I did not check it with lots of aircrafts, but it yould work with all doors you can open/close by pressing SHIFT+E+"DIGIT". By Georg Aubele
Posted May 1, 2009 07:56 by Georg Aubele

0.11Mb (1689 downloads)
For FS2004 and FSX . In replacement of such an appliance proposed in several default (Cessna, Baron, ... ) or third party aircrafts or panels to add more realism. By Pierre Fasseaux
Posted Mar 20, 2009 08:22 by Pierre Fasseaux