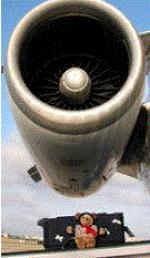 46.42Mb (1078 downloads)
This sound is intended for use on Eric Cantu's models only! They will not work properly on any other model (I will be making updates to make the sounds work on other models eventually). I am proud to present to you the most realistic and detailed MD-8X Pratt & Whitney JT8D-217 turbofan soundpack for FS2004, that was ever made! I have put ALOT of time and effort into this work, and it is perhaps my most detailed and realistic sounding soundset to date! It features all the usual features that come with my sounds, such as the realistic engine spool up, and other stuff... There are 3 versions included in this package: - (Default) Rear Passenger Cabin Perspective - Cockpit Perspective - Cockpit Perspective (for Lonny Payne's Flightdeck: MD-80 Panel only) There are instructions provided in the sound folder on how to switch the sound.cfgs to the version you want. I am sure that if you are a frequent MD-80 Flyer, or if you're a pilot or flight crew onboard an MD-80 aircraft that you'll pretty impressed by these sounds. But if you don't like these sounds, just simply delete the file and try another soundpack. But you should try this one first, it's absolutely worth it! I doubt anyone will be deleting these sounds after hearing them... ;)
Posted Apr 28, 2011 11:16 by Adam Murphy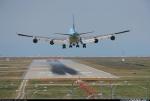 12.17Mb (14248 downloads)
Don't get the previous heavy engine sounds package that I posted. I'm gonna post a bunch of real sounds that are better than that package which I find from other places. This soundpack is for the General Electric GE CF6-80C2B5F engines used on some Boeing 747-400s. These sounds were recorded from REAL LIFE. For FSX.
Posted Feb 7, 2011 18:53 by Brandon G.
66.25Mb (12943 downloads)
This sound is intended for use on Project Opensky's models, but they'll work pretty good I am sure on other freeware and payware planes. I am proud to present to you my new realistic and accurate (And probably the most realistic) Boeing 767 Rolls-Royce RB211-524G soundpack for Microsoft Flight Simulator 2004. This will work on the 747-400 with the same engines, but it's more focused and intended for the 767. The interior sounds are mainly from a first class passenger perspective. Once you load your aircraft with these sounds, you'll hear the APU System in the cabin along with the air conditioning, which shuts down automatically when you start the NR. 1 engine. You hear the famous RB211 whistle sound at idle after you have started the engines, and then the A/C cuts back in. You spool up the engines at takeoff then hear the buzzsaw-like sound of the RB211 engine's fans. Pretty much every engine sound in this soundpack has been recorded from a real RB211 engine! Once you lift off and put up the landing gear you will hear a chime from the cabin. It features realistic cockpit sounds like the autopilot deactivation siren, stall clicker, overspeed siren, gear up warning sound buzzer, flaps lever, rolling rattles and bumps, and touch-down. I am sure that if you are a frequent RB211-Powered Boeing 767 aircraft flyer, or if you're a pilot or flight crew on board a RB211-powered 767 aircraft, that you'll quite impressed by these sounds. Give this soundpack a try, I am sure you won't be disappointed! :)
Posted Jan 29, 2011 14:33 by Adam Murphy - Skyhigh Sound Systems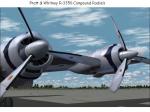 34.61Mb (1859 downloads)
These are more detailed sounds for any aircraft that uses the Pratt & Whitney R-3350 Compound Radials. I modified my last offering and tried to make it a little more realistic. I changed the sounds of the outer and inner engines. Because the inner engines have a different tone, resinence and pitch than the outer ones. I don't take any credit for these files. I just compiled them from a bunch of freeware sounds. Enjoy and remember, this is freeware, lets keep it that way.
Posted Jan 21, 2011 15:13 by Kelly McKernan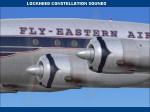 28.32Mb (2684 downloads)
This is a replacement sound file for the R-3350 engines in any Constellation. I just compiled what I had and here it is. I did make every engine an individual, so at start-up and run-ups, you can control each engine independantly from the other three. I went as far as trying to be as acurate as I could with the interior sound levels. At idle the cabin is pretty quiet, but on take off when the props are at full pitch, it does get pretty loud. Once you're at altitude and you lean out the engines and feather the props back to cruise settings, it quiets back down to a respectible level. Compare the sounds to any youtube video of a Lockheed Constellation (inside and out)and you'll find that this is pretty spot-on. This is freeware so, you know the rest. Enjoy and happy landings.
Posted Dec 27, 2010 19:48 by Kelly McKernan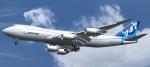 32.93Mb (14448 downloads)
This FSX sound pack contains engine sounds for heavy aircraft that have whistling engines when running at full thrust, such as the Boeing 747, 777, Airbus A340, A380, etc.
Posted Nov 26, 2010 14:09 by Brandon G.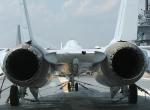 36.63Mb (5711 downloads)
Let's try this again....This is a soundfile for any freeware F-14. I wasn't happy with the stock sounds that came with the IRIS F-14. They were not realistic enough for me. So, I made a mix of various bites from different aircraft to make what I think is one of the best soundtracks to any F-14 Tomcat freeware. I just took some clips from various sound files I had with different aircraft (starting with the F-14 soundpack that came with the IRIS F-14). I think you will enjoy this mix. I left the shreak of the intake ramps at idle, but as the engines spool up- in real life- the shreak is replaced with the whine of the Pratts going through the rpm range until they hit military power. I changed the rumble so it is heard at the lower end of the mid-range, as in real life. When you push the throttles into afterburner, you can hear the power that these engines make. Enjoy and happy landings. NOTE: I do not take any credit for any of the sound files in this folder, I just took freeware sounds from different aircraft and compiled them!
Posted Nov 17, 2010 08:18 by Kelly McKernan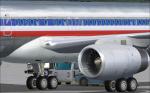 1.85Mb (4406 downloads)
Good performing ai sounds ideal for a FSX Boeing 757-200
Posted Oct 28, 2010 15:47 by
102.00Mb (8451 downloads)
I am proud to present to you my new realistic and accurate (And probably the most realistic and accurate) Boeing 757 Rolls-Royce RB211-535E4 sound pack for Microsoft Flight Simulator 2004 and X. This is intended for use on Project Opensky's models, but should work decent on other freeware and payware 757s in FS. The interior sounds are from a passenger perspective (As if you were in first class). Once you load your aircraft with these sounds, you'll hear the APU System in the cabin. You hear the famous RB211 whistle sound at idle after you have started the engines. You spool up the engines at takeoff and then hear the buzzsaw-like sound of the RB211 engine's fans at full throttle. As you throttle down for climb power the buzzsaw intensifies like on a real plane! Pretty much every engine sound in this sound pack has been recorded from a real RB211-535E4 engine! Once you lift off and put up the landing gear, you will hear a chime from the cabin. It features realistic cockpit sounds like the autopilot deactivation siren, stall clicker, overspeed siren, gear up warning sound buzzer, flaps, rattles and bumps with tire-roll on takeoff/landing, and rattles on touch-down. I am sure that if you are a frequent Boeing 757 aircraft flyer, or if you're a pilot or flight crew on board a RB211-powered 757 aircraft, that you will be very impressed by these sounds! Give this sound pack a try, I promise you won't be disappointed! By: Adam Murphy - Skyhigh Sound Systems
Posted Oct 19, 2010 10:41 by Adam Murphy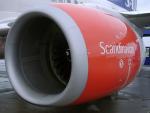 57.65Mb (4983 downloads)
FS2004 737NG CFM56-7b sounds. Not tested on FSX. I hope you will love this sound pack! Made by Kriss Armstrong
Posted Sep 5, 2010 17:40 by Kriss Armstrong