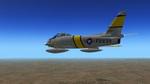 15.92Mb (1457 downloads)
X-Plane 9.70+ North American Aviation F-86E-6 Sabre 2. This plane is based on the Canadair Sabre 6 posted earlier. To convert to a Korean war airplane some changes were made in the model. The wings have a narrower chord. The cockpit is black instead of gray. The engine has been changed to 5200 lb. thrust to represent a J47-GE-13. By Jack Wilkinson.
Posted Dec 6, 2013 02:14 by uploader
24.50Mb (1135 downloads)
X-Plane 9.70 T-38C Talon II. The T38C features the Avionic Update Program "glass" cockpit and Propulsion Modernization Program (PMP) increased thrust engine. Boeing flight test chase, NASA austronaut trainer, U. S. Navy Test Pilots School, Vance AFB and Whiteman AFB B-2 companion trainer liveries. By David Austin
Posted Nov 22, 2013 03:35 by uploader
11.94Mb (877 downloads)
X-Plane 9 F-4G "Wild Weasel", 81st TFS/52nd TFW Spangdahlem AB, 9.50. The "Wild Weasel" F-4G (Phantom II) was designed to seek out and supress, electronically, or destroy with High Speed Anti-Radiation (HARM) missiles an adversaries missile guidance and early warning radars. Apparently worked quite well too. Haven't figured out how to model all that in X-Plane 9 though. By David Austin
Posted Nov 22, 2013 00:40 by uploader
17.90Mb (1001 downloads)
X-Plane 9 B-1B Lancer v9.50. An updated B1B Lancer (aka the B-One or "Bone"). All the parts, nacelles and fuselage, have been converted into one integrated object with Plane-Maker, reducing their total drag to zero, and gaining back all the supersonic performance lost in the constant "improvements" made to the X-Plane flight model since v9.10. There are now, also, more liveries since the v9.10 file, some fictional. By David Austin.
Posted Nov 22, 2013 00:27 by uploader
10.05Mb (985 downloads)
X-Plane 9 Boeing R/WB-50 Superfortress v9.50. This is the plane the author's father started his Air Force flying career with, in 1955. The RB-50 photo recon and WB-50 weather recon aircraft were developed from the WWII B-29 Superfortress. Jacques Brault gave permission to adapt his v8.6 B-29 panel photo for this model update. The exhaust flames were a 'gift" from Anthony Booher. By David Austin.
Posted Nov 22, 2013 00:27 by uploader
15.01Mb (732 downloads)
X-Plane 9 XB-70 Valkyrie 9.31. This latest update to the Valkyrie file restores flight performance that disappeared in the step from 9.21 to 9.31 by tweeking the models airfoils, co-efficient of drag and adding additional engine thrust. The model performs very close to specification at its all up gross weight of approx. 600,000 lbs. Check out the readme file for flying tips. There's lots more to look at and read in the "reading room" folder as well. By David Austin.
Posted Nov 22, 2013 00:18 by uploader
16.65Mb (1599 downloads)
X-Plane 9.70 F-16B Viper. Among the many uses of the F-16s the two seat F-16B's are use for flight training by the Singapore Air Force at Luke AFB; flight test chase aircraft at Edwards AFB and dissimilar air combat training by the U.S. Navy at Fallon NAS. By
Posted Nov 21, 2013 09:04 by uploader
14.58Mb (1259 downloads)
X-Plane 9.70 A-6E Intruder. A quick conversion of the A-6A Intruder file. Adds the Forward Looking Infrared (FLIR) camera to the instrument panel. The ball turet below the nose was called the Target Recognition Attack Multisensor (TRAM). Also includes some additional liveries. By David Austin.
Posted Nov 21, 2013 09:00 by uploader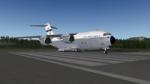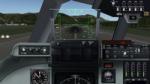 11.84Mb (2529 downloads)
X-Plane 9.50 C-17A Globemaster 3 (2011) v3. The Boeing C-17 Globemaster III is a large military transport aircraft. It was developed for the United States Air Force (USAF) from the 1980s to the early 1990s by McDonnell Douglas. By David Austin.
Posted Nov 21, 2013 08:50 by uploader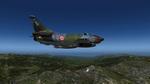 17.65Mb (1240 downloads)
X-Plane Fiat G-91Y (Yankee) 10.22. The Fiat G-91Y was an Italian ground attack and reconnaissance aircraft that first flew in 1966. Resembling its predecessor, the Fiat G-91, the aircraft was a complete redesign, a major difference being its twin-turbojet engines. By Paolo Dessani.
Posted Sep 15, 2013 07:07 by uploader