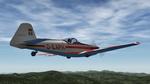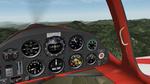 20.58Mb (1338 downloads)
X-Plane 9 Zlin Z 526 AFS. The Zlin Z 526 AFS "Akrobat Special" was developed by Moravan (Czechoslovakia) in the 1970's as a continuation of the legendary Zlin Trener series. It was a worthy competitor at the end of the golden age of smooth and elegant classic aerobatics. The Zlin Z 526 AFS is one-seat, low wing monoplane designed specifically for aerobatic purposes. It is powered by a 132 kW (180 hp) inverted air cooled 6-cylinder Avia M137A engine and the Avia V503A automatic propeller. It has semi-retractable main gear and steerable tail wheel. Maximum permitted G-loads for aerobatics are +7.0/-4.5. By Ivan Smilauer.
Posted Sep 15, 2013 06:22 by uploader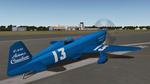 1.70Mb (385 downloads)
X-Plane 9.60+ Caudron C.450. The Caudron C450 Rafale ("Squall") was a French racing aircraft built to participate in the "Coupe Deutsch de la Meurthe" race of 1934. It was a low-wing cantilever monoplane of conventional configuration derived from the Caudron C.362 flown in the previous years race. In the event, the C.450 took first place, piloted by Maurice Arnoux, and one of the C.460s took third, piloted by Albert Monville. By Fabrice Kauffmann.
Posted Sep 15, 2013 05:40 by uploader