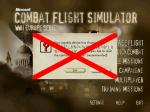 0.15Mb (1904 downloads)
CFS1 patch for Windows 7and up This patch will correct the controls non-recognition problem of recent OS (Vista, 7, 8...). You need a valid CD of the game to apply the patch and play the game. By Guy Gauvreau from an idea of aproblem_asolution.
Posted Nov 4, 2013 03:14 by Guy Gauvreau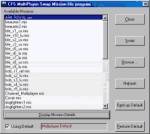 0.61Mb (1887 downloads)
Show - Image Viewer and Converter. Show is a general purpose image viewing and converting program. All main image types supported plus the added advantage, for FS/CFS users, of reading and writing the R8 Texture Format. Convert direct from jpeg (or any supported format) to R8 with good quality remapping and automatic resizing to 256x256. Convert R8 to bmp or any other format for editing. Browse folders of images. Print images via WYSIWYG dialog with mouse placing/sizing. Image adjustment features. By Martin Wright.. File size 646359
Posted Jun 10, 2008 11:32 by archive
0.06Mb (1012 downloads)
The Setclass utility changes the Surface Type parameter of the default Combat Flight Simulator terrain texture files. This will allow water landings without exploding! File size 63615. Author: B Potvin
Posted Jun 10, 2008 11:32 by archive

0.05Mb (966 downloads)
CFS Static Object Generator v1.11. Increases the number of possible objects from 30 to 203. It also displays a texture for many objects, and allows the user to change the size of objects. Requires Visual Basic 4.0 drivers from main Utilities section. File size 49k. By Chuck Dome.
Posted Jun 10, 2008 11:32 by archive
2.84Mb (1456 downloads)
CFS Mission Editor v3.0.0. CFS Mission Editor is based on MS Mission Editor EXCEL spreadsheet. Features improved ground layout and stationary objects loading, editing and saving; refined point assignment for individual stationary objects; add/delete stationary objects to/from a layout; selective path overlays; option to build a catalog of mission files; option to compact the database; drag/drop mission (loading) and aircraft; added ability to decrease/increase sound volume; improved documentation. By Cor Dikland. Part 1. File size 2989322 Part 2. File size 2974863 Upgrade for this file (276375) Mission Editor Update v3.0.0.3 Part 1(524698) Part 2 (279943) Part 3 (680947)
Posted Jun 10, 2008 11:32 by archive
1.40Mb (1358 downloads)
QCall. Reviews every plane in your Aircraft folder, then makes a QC File allowing each to be used in Quick Combat. File size 1473110
Posted Jun 10, 2008 11:32 by archive
0.05Mb (873 downloads)
Gunsite re-paint utility. Requires VB4 runtime files from utilities. File size 50420
Posted Jun 10, 2008 11:32 by archive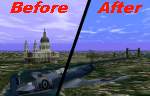 0.02Mb (2102 downloads)
Bluesky for CFS. Instant recolor of the default sky into something mre realistic looking. Shareware. 24k I Murray
Posted Jun 10, 2008 11:32 by archive

0.02Mb (1276 downloads)
Static Object Generator. Places planes, buildings, etc into scenery. File size 16196. C Dome
Posted Jun 10, 2008 11:32 by archive
0.05Mb (1265 downloads)
Scale- up. This utility will 'scale up' the planes you add for quick combat & missions to be a more realistic size from your window. File size 56420
Posted Jun 10, 2008 11:32 by archive