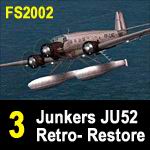 6.97Mb (1342 downloads)
FS2004 JU52 Retro Restore Project Pt3. Welcome to Part 3 of the Retro-Restore Project (FS2004 to FS2002). This zip file contains additional files for the project. Although a separate self contained float plane you require part 1 for gauges and instructions. Packaged by Ross McLennan. 7.1MB
Posted Jun 23, 2008 14:31 by archive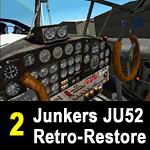 5.33Mb (1285 downloads)
FS2004 PART 2 of the JU52 RETRO-RESTORE PROJECT: This part of the project activates the aircraft HB-HOS IWC. A splashScreen and 3 panel designs are provided. You can fly directly from the FS2004 version 6 virtual cockpit in FS2002 without returning to the 2D panel to change settings or look at the GPS map. Thank you to Mr Primavesi for your very liberal approach allowing others to change and modify the factory product provided the outcome remains freeware. Documentation and instructions in Part 1. Freeware and packaged by Ross McLennan. FILE NAME: JU_Retro_Pt2.zip : 5.4MB
Posted Jun 23, 2008 14:31 by archive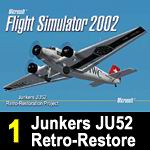 9.09Mb (1881 downloads)
FS2004 JU52 Retro Restore Project Pt 1 of 2: A project to fly the FS2004 v6 Junkers JU52 (with wheels) in FS2002. Retro-Restoration from FS2004 back to FS2002 is under license from the JU52 Factory, Managing Director: Pierino Primavesi. Thank you Mr Primavesi for your very liberal approach allowing others to change and modify the factory product provided the outcome remains freeware. The factory v6 FS2004 JU52 aircraft are the best since CFs2 and FS2002 flyers have, until now, missed out. You can fly directly from the FS2004 v6 virtual cockpit in FS2002 without returning to the 2D panel to change settings or look at the GPS map. Fly to a FS2002 flight plan for time and fuel consumtion, day or night. Instructions, documentation, and test flights provided. This part only activates v6 D-ANOY using a version 3 panel with no GPS and a fly and hold autopilot. Freeware and packaged in 2 parts by Ross McLennan. FILE NAME: JU_Retro_Pt1.zip 9.1MB
Posted Jun 23, 2008 14:31 by archive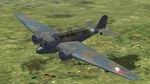 1.75Mb (1523 downloads)
FS2002/2000 Martin B10B 139W Royal Nethertlands Airforce. Flown in Indonesia in 193 By Richard Alexander van Hien. 1.8MB
Posted Jun 23, 2008 14:31 by archive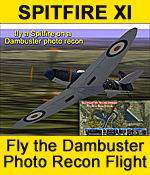 2.30Mb (3186 downloads)
FS2002 Spitfire PR XI: Not suitable for FS2004. Aircraft based on converting the CFS1 MkIX and using Bob Bongiovanni's "Display in FS2002" model modification. Even though not used for the Dambuster photo recon missions this aircraft has a simulated Rolls Royce Merlin 70 engine, the high altitude version of the Merlin 66. The light weight PR sim is tuned to fly at 30000ft with a maximum speed of 408mph. With blister tanks the Mk XI had a fuel capacity of up to 476 USG and a sim range of 1587Nm. Monitoring gauges by Jerry Beckwith. THE PANEL: Not suitable for FS2004 is an updated version of my Spitfire IX or XVI panel with taxi views AND an option so the pilot can fly accurately to take photographs of the ground. THE FLIGHT: A Dambuster Photo Recon Flight from RAF Benson on the 17 May 1943 is included (celebrate it this year!). Packaged as part of the Historic Warbirds Collection by Ross McLennan. FILE NAME: PR11_DB.zip SIZE: 2.3MB
Posted Jun 23, 2008 14:31 by archive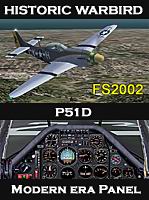 1.88Mb (4584 downloads)
FS2002 P51D With Packard Merlin V-1565-7: Not suitable for FS2004. Aircraft based on converting the CFS1 P51D and using Bob Bongiovanni's "Display in FS2002" model modification. Aircraft file manually adjusted to represent a Packard Merlin V-1565-7 engine using monitoring gauges by Jerry Beckwith. THE PANEL: Restored Historic Aircraft panels can be quite different from those of the war years (see provided images). If your paying a millon bucks for the aircraft then you have the right to design a panel using modern instruments for safe flying in the 21st century. Packaged as part of the Historic Warbirds Collection which is dedicated to those who own and maintain such aircraft by Ross McLennan. FILE NAME: P51D_PM7.zip SIZE: 1.9M.
Posted Jun 23, 2008 14:31 by archive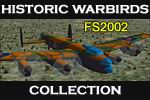 0.05Mb (2426 downloads)
FS2002 The Historic Warbirds Collection. This file provides new aircraft.cfg files for my previously uploaded FS2002 "restored" warbirds (above). The aircraft will then appear under the classification of "Historic Warbirds" rather than separately under each manufacturer. Covers only the Dambuster Lancasters, Dornier 335, Me262, Spitfires IX & XIX (torpedo tank activated). The PD51D & PR Mk XI Spitfire will be uploaded into the same collection. A package by Ross McLennan for FS2002 only. FILE NAME: HWC.zip SIZE: 52KB.
Posted Jun 23, 2008 14:31 by archive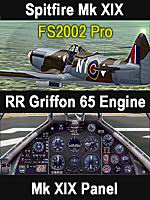 2.01Mb (3436 downloads)
FS 2002 Pro Griffon 65 Powered Spitfire PR MkXIX . The photorecon version of the Spitfire F Mk XIV was designated the PR Mk XIX. Identical except for additional fuel and tank switching. Simulated Rolls Royce Griffon 65 with operating data derived from "AP 1565 T&W-PN 2nd edition, Pilots Notes for Spitfire XIV & XIX" using the FS2002 Pro Spitfire Mk XIV with sliding bubble canopy by Andrew C. Wai. Artwork painted by Alessandro Biagi. Engine performance was setup using monitoring gauges by Jerry Beckwith. The aircraft file HAS NOT been optimized for use with FS2004. PANEL: New layout based on AP 1565 Figure 1, includes Mk XIX tank switching and modern era autopilot update. Useable with Mk XIV and other Spitfires. Panel optimized for FS2004 is not supplied with this download. Packaged for Mk XIX by Ross McLennan for FS2002. Filename: Spt_PR19.zip 2.1MB
Posted Jun 23, 2008 14:31 by archive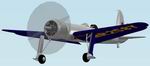 7.13Mb (2756 downloads)
FS2002/2000 Hughes H-1, "The World's Fastest Airplane" - The FSDS aircraft model and the panel are the original work of Dave Carroll. I put the instrument panels together using CFG Edit. The gauges are FS2000 (Professional Edition) default except for the Sperry MK III by Bill Rambow and Arne Bartels. Their released files are in the panel.h1.M3 gauges directory. The sound set is by Mike Hambly, Sound Designer (Blue Arrow). His readme is included in the sound directory. 7.3MB
Posted Jun 23, 2008 14:31 by archive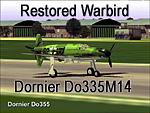 3.10Mb (2076 downloads)
FS2002 Restored Dornier Do335M14 Warbird: ((not fully fs2004 compatible - if used click no when asked to disable non compatible stuff)) This aircraft is the original FS98/CFS1 aircraft of March 2000 by Bernd Rossner, gauges by Stefan Geissler, HGHB, Andreas Jaros FPDA and sound by Bernd Drefahl (Dornier335m14.zip) converted for flying in FS2002. The original files are included for designer acknowlegement and are the source files for the conversion in the FS2002 editor. In this aircraft the output files have been modified to improve flying. Fly with the original panel layout or with my updated flyers panel which for convience employs a simple autopilot based on FS2000 Concorde components (concorde gauge here). . Test flights provided. Packaged by Ross McLennan. FILE NAME: Do335r.zip SIZE: 3.2MB Update: Daimler Benz DB603 Engines for the Do335: This update powers the Do335 with representative DB engines. Revised aircraft file and panel layout to include engine monitor gauges by Jerry Beckwith and my "Pack of Cards" Flight Plans. Packaged by Ross McLennan. FILE NAME: Do335r_DB.zip SIZE: 285K
Posted Jun 23, 2008 14:31 by archive