3.95Mb (18 downloads)
This is an evolution of the previous MSFS Logbook Exporter that was available on the web. It is a Windows software, companion to Microsoft Flight Simulator 2020, that gives you the ability to: View All your Flights, read directly from Flight Simulator's Internal Logbook, without having to open Flight Simulator View Flight Routes on Google Earth® and on OpenStreetMap® Create Altitude Profile Charts Export the FS Logbook to .CSV, .XML, and .KML files (which can be imported into Excel, Google Earth, Volanta, LittleNavMap, etc...) Perform Grouping-Analysis on Flights by 'Flight Attributes' Backup and Restore Microsoft's Flight Simulator Logbook Edit Flight Simulator's Logbook to Permanently Remove Unwanted Flights
Posted Nov 16, 2023 14:09 by Fabiano Chamone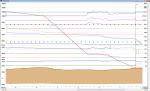 4.20Mb (40 downloads)
Flight Analyzer Utility FsQC v7.50 Flight Data Recorder - with Logbook. FOR: MSFS P3D, FSX(Steam) and FS2004 Now with improvements and more features Very easy to use, just make a flight plan in the simulator or in this utility. It gives you huge information in three graphical charts: TakeOff-, full Flight- and Landing- Chart. What this program also does: quickly change the settings of MSFS2020/P3D/FSX/FS2004, such as time, date, fuel, weight, traffic etc. Start a failure sytem, such as gear, flaps, engine, etc. runway detecting system to see wich runways are in use. Quickly look at Airport Info for all possible info such as: ILS, Radio, RW length, Elevation, etc, etc. This is all fully freeware. Full manual at: www.fsqc.eu Note: requires paid activation for full use of the Flight Analyzer and Logbook. Register and you have 1 month free. Program fully works without registration at airport Athens and Iraklion (Greece). By Evander Tholen
Posted Jul 28, 2023 10:03 by Evander Tholen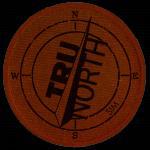 0.01Mb (14 downloads)
The purpose of this mod is to remove the "Clear prop" callout made when you open the start button cover. This mod requires the payware version of the Spartan Executive by HCG Digital Arts LTD.
Posted May 30, 2023 08:04 by TruNorthSim
0.46Mb (87 downloads)
This mod requires the PayWare version of the SWS Kodiak 100. With these changes, the aircraft is now capable of cruising at 12,000 ft @ >160 knots (results may vary with your payload and weather) as well as climb to it's service ceiling with the payload listed above. Furthermore, the aircraft's ability to takeoff and land at small airfields with a full payload is significantly better. Also, in my opinion, it's not overpowered, which is what I was going for with this mod.
Posted Oct 18, 2022 01:09 by TruNorthSim
0.31Mb (70 downloads)
The purpose of this mod is to simplify the seating options in the SWS Kodiak 100 to just 'Passengers', 'Baggage', and 'Cargo'. This mod requires the Payware version of the aircraft. I personally use this mod for my own aircraft. It makes it much easier to load my aircraft with the correct weight in accordance with FSAirlines when flying for my virtual airline without exceeding CG and MTOW. The default pilot and copilot weight is also change from '170' to '200'. Don't forget to visit my Facebook @TruNorthSim to leave a comment or request support!
Posted Aug 7, 2022 20:34 by TruNorthSim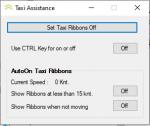 0.06Mb (252 downloads)
Set taxi ribbon On or Off with the CTRL key or automatically
Posted Feb 1, 2022 15:12 by Evander Tholen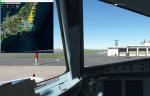 1.33Mb (558 downloads)
MSFS utility FS2020BMAP. This application shows a position of your aircraft on BingMaps. AI traffic (AI plane and Ships) and flight plan are also plotted. Version 1.2.0.0 runs a same computer or a second computer in network By Koji Tsubakimoto
Posted Sep 12, 2021 07:00 by Koji Tsubakimoto
35.71Mb (436 downloads)
Flightplan Visualizer (FV) version 1.19.0. FV comes with 1164 pre-imported AI flightplans (of which +380 are BizJet flightplans, the rest are commercial). However you are able to import additional (AI) flightplans yourself. Once imported these (AI) flightplans can be visualized on a map-view, and the user will be able to search accross all these. Hence you can use the program as inspiration as to which routes to fly. E.g. you can search across all imported flightplans to find all flights in an A321 flying into/out from LDDU, or simply to look for all flights in a Boeing 747-8F. Copyright 2018-2021 by Pelle F. S. Liljendal
Posted May 3, 2021 10:51 by Thx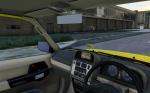 5.42Mb (508 downloads)
If you would like to make fun as a follow-me car or drive in a realistic world in MFS 2020 by a car, it's the best moment to download this car :) This is the very first version of this car- converted from FSX. It's drivable with no problem. Some things can work not properly such as rolling when spawning until the parking brake will be pressed. I will try to work on it in further updates. Creators of the FSX addon: Mike Keller & Mitsuya Hamaguchi. Current Version 1.2.1 by MrFace
Posted Apr 15, 2021 09:26 by 2cas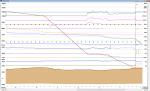 18.23Mb (403 downloads)
Flight Analyzer Utility FsQC v7.28 Flight Data Recorder - with Logbook. FOR: MSFS P3D, FSX(Steam) and FS2004 Now with improvements and more features Very easy to use, just make a flight plan in the simulator or in this utility. (But please read the readme.txt file) What this program does: quickly change the settings of MSFS2020/P3D/FSX/FS2004, such as time, date, fuel, weight, traffic etc. Start a failure sytem, such as gear, flaps, engine, etc. runway detecting system to see wich runways are in use. Quickly look at Airport Info for all possible info such as: ILS, Radio, RW length, Elevation, etc, etc. This is all fully freeware. Full manual at: www.fsqc.eu Only Limited demo for: The flight analyzing/data recording, Logbook and the PDF Flightreport. Flight analysis start recording at the moment when you begin taxiing. It gives you huge information such as: - takeoff- and landing-weight. - takeoff- and landing-roll in m. and ft. - separate fuel consumption in taxi, climb, cruise and descent. - maximum banking in flight. - which speed you using the flaps and gear. - when autopilot on or off. - vertical speed on touchdown. - reverser set after landing. - wich speed you cancel reverser. - bouncing at landing. - graphical landingchart with Touch&Go and Missed Approach. - graphical Climb-, Descent- and Full- flightchart. - and lots of more. You can better look the example of the pdf document. Requirements: Computer with Windows7 or higher and internet access.(XP also supported look in the help/manual) Flightsimulator MSFS2020, P3D, FSX(Steam), or FS2004 and FSUIPC installed. Note: requires paid activation for full use of the Flight Analyzer and Logbook. Register and you have 1 month free. Program fully works without registration at airport Athens and Iraklion (Greece). By Evander Tholen
Posted Mar 20, 2021 16:07 by Evander Tholen