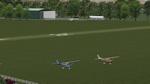 3.98Mb (313 downloads)
Clacton Aero Club is privately owned club since 1988 and specialises in PPL training, tailwheel and nosewheel.
Posted Dec 22, 2013 11:38 by xplaner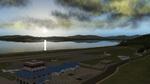 2.03Mb (545 downloads)
X-Plane 10 Scenery - Oban Airport (EGEO), Scotland, UK, v1.0. Oban Airport is located 5 nm northeast of Oban, near the village of North Connel, Argyll and Bute, Scotland. Operated by Argyll and Bute council, it has a CAA licence as a commercial airport following recent upgrading. OpenSceneryX required. By Rene Bruun (Renair).
Posted Dec 15, 2013 18:37 by xplaner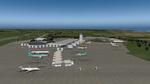 1.26Mb (772 downloads)
X-Plane 10 Scenery--Jersey Airport (EGJJ), Channel Islands, UK, v1.5. Jersey Airport is located in the parish of Saint Peter, 4 nm west northwest of Saint Helier in Jersey, in the Channel Islands. Special thanks to GOLF1 for red and white barriers. Requires OpenSceneryX. By Rene Bruun (Renair).
Posted Dec 15, 2013 18:34 by xplaner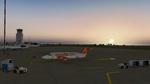 0.11Mb (687 downloads)
X-Plane 10 Scenery--Guernsey Airport (EGJB), Channel Islands, UK, v1.5. Guernsey Airport is the largest airport in the Bailiwick of Guernsey and is the only airport on the island of Guernsey. It is located in the Forest, a parish in Guernsey, 2.5 nm west southwest of St. Peter Port. Uses default objects from the XP Library and OpenSceneryX. By Rene Bruun (Renair).
Posted Dec 15, 2013 04:30 by xplaner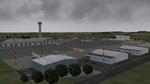 1.16Mb (1235 downloads)
X-Plane 10 Scenery EGGW London Luton, UK, v1.0. London Luton Airport is an international airport located 1.5 miles east of Luton town center in the Borough of Luton in Bedfordshire, England. Requires Openscenery and special thanks to Walter Blinney for the fuel tank objects. By Rene Bruun (Renair).
Posted Dec 6, 2013 02:56 by uploader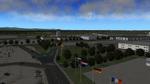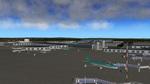 42.28Mb (1266 downloads)
X-Plane 10 Scenery EIDW - Dublin Extreme 2.2, Dublin, Ireland. One of the most comprehensive sceneries made with OverlayEditor along with OpenScenery 2.0 and RUScenery for XP10. This scenery has over 2500 individually placed objects and not only includes the airport but: Dun Laoghaire Harbour, Dublin Port,Howth Harbour, Malahide Yacht Club, Skerries Dinghys, Skerries Windmill, Dublin Buses, Clongriffin Eco Park, Baldoyle Cyclepath, Baldoyle Village, new fuel depot, Harristown Bus Depot. Special thanks to GOLF1, Walter Blinney, and Mercedes for additional objects. By Rene Bruun (Renair).
Posted Dec 6, 2013 02:15 by uploader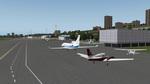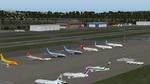 3.97Mb (838 downloads)
X-Plane 10 Scenery - Boeing Field (KBFI), Washington (WA), USA, v1.0. Boeing Field, officially King County International Airport, is a public airport owned and operated by King County, five miles south of downtown Seattle, Washington. Uses OpenScenery and RUScenery. By Rene Bruun (Renair).
Posted Nov 25, 2013 04:34 by Dave French
65.40Mb (1077 downloads)
X-Plane 10 Scenery--LSZA Lugano V10.25 XP 10.25r1. The LSZA Lugano is a scenery, not only an airport, with the city of Lugano, and the villages around the lake of Lugano, Agno, Magliaso, Caslano, Pura, Porto Ceresio and Melide. I reworked The LSZA Lugano scenery from october 24th for a couple of reasons: a) there was an obj. "parasole migros" creating a loading warning. Resolved! b) added many nice details inside the boarding area, have a look at it, it is as real as possible, even the letterbox is in the right place. c) improved some night textures, now it looks a little bit more realistic. d) added a seaplane ramp just in front of the city of Lugano. Again, all objects are made from picture taken in the area and reflect the typical house style of the south of Switzerland. Cranes and sailboats are from my dear friend "Helgo" Dieter Rosenkranz with his permission. A special thanks to Dieter who was my teacher in the use of SketchUp initializing the passion for building scenery. To run this scenery you do not need libraries of any sort, just drop the file as it is into your Custom Scenery folder. It is possible that even after several checks some objects may show up misplaced, there are so many that it is almost impossible to check it all. Just report it, it will be taken care in a future version. Note: the scenery was build for XP 10 and tested on V 10. 25 r1, could not test if it works also with V 9 as i do not have V 9 installed anymore. Hope you will enjoy flying around the area I live in as I do, with all the mountains and valleys making a VFR flight a one time experience. By Antonio Menotti
Posted Nov 23, 2013 02:59 by uploader
14.11Mb (429 downloads)
X-Plane 10 Scenery--St. Johns International Airport (CYYT), Newfoundland, Canada, v1.0. Made for X-Plane 10.25. Uses OpenSceneryX and default library objects. By Rene Bruun (Renair)
Posted Nov 20, 2013 02:37 by Dave French
6.59Mb (866 downloads)
X-Plane 10 EDXW Sylt Airport v1.1. This airport is located on the top rated seaside resort island of Sylt in the North Sea off the northern coast of Germany close to the Danish border. The airfield dates from 1919, after 1945 it was also known as Airfield B. 170 used by RAF Sylt. The military part was closed in 2005 and is demolished by now therefore not included in this scenery pack. All buildings are custom made, ATC taxi routes and night textures are added even though the airport closes 30 minutes after sunset. The scenery includes the main terminal/tower building for scheduled flights mainly, the general aviation terminal (GAT), the repair facilities of Flugwerft Sylt and the local glider scene by Aero-Club Sylt. Uses OpenSceneryX, but not required. By Manfred Muller.
Posted Nov 19, 2013 03:22 by uploader