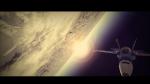 0.75Mb (452 downloads)
Screenshot of the FSX Acceleration Boeing F/A-18 Hornet, over the Mountains of Alaska close to Talkeetna. I was just doing low flying between the mountains, and went to 60,000 ft to see the whole area.
Posted Jan 5, 2011 20:40 by Filippe Barros
21.68Mb (275 downloads)
Formation flying of two ICP Savannahs. Ultralights created by Mr. Massimo Taccoli. Scenery of Proença airfield created by Mr. João Ferreira. Thank you both for your great work.
Posted Nov 12, 2010 20:16 by
0.33Mb (660 downloads)
I used a Pitts Biplane in a few loops With some smoke over peaceful Friday harbor. installation is easy all you have to do is put the file in my documents/Flight Simulator X folder. when finished start up flight sim x. Then in FREE FLIGHT hit fly now. Once flying hit the ALT. key hit options and hit load flight vidio. Enjoy!!!
Posted Sep 1, 2010 00:10 by Austin Sedivy
25.82Mb (661 downloads)
my first st maarten takeoff with fsx default 737-800 by ercüment sert
Posted Aug 10, 2010 12:03 by Ercüment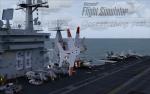 0.69Mb (538 downloads)
Sorry folks, this is the splashscreen that was intended to be uplopaded here at simviation.com This one has added Heat Blur effects.
Posted Jul 28, 2010 08:38 by HOTZONER
0.81Mb (509 downloads)
Two T45's showing their skills. Uses Dino Cataneo T-45 Goshawks.
Posted Jul 21, 2010 10:28 by HOTZONER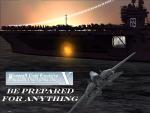 0.76Mb (695 downloads)
Celebrating the Naval element of FSX. Compiled By HOTZONER
Posted Jul 3, 2010 10:42 by HOTZONER
(40 downloads)
By Hotzoner.
Posted Jul 3, 2010 08:25 by HOTZONER
52.55Mb (898 downloads)
How did they do the missions in moonlight? With incredible flying skill & determination! The video, with sub titles, tells the story of the RAF 617 Squadron Dambuster Raid on the Moehne and Eder Dams. All the simmer needs to know about the Dambusters in 7 minutes. The outward flight is flown in FS2004 and the attacks on the walls in FSX using the FS2004 Operation Ready Plane-Design Dambuster Lancaster AJ-G version 2. An addendum gives details of the Upkeep weapon and statistics of the raid based on the Lancasters taking part. Captured in 4:3 aspect and edited to 16:9 widescreen by Ross McLennan. Set to music played by Ray Cooper at the keyboard of the Lowrey Prestige Organ - The Dambuster March and Come Fly with Me. Enjoy the Merlin's AND the music!
Posted Jul 1, 2010 02:49 by Ross McLennan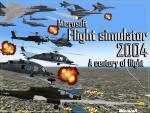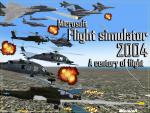 0.78Mb (369 downloads)
Military splash screen for FS2004. By Claudio Pizzirani
Posted May 31, 2010 06:03 by Claudio Pizzirani