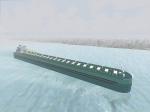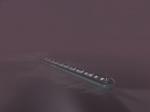 8.52Mb (83 downloads)
FSX SE 1000 Foot Great Lakes Freighter version 4. Features- !ATTENTION HAS TWO ALTERNATE _LM TEXTURES FOR UPLOAD 02 03 MISTAKES FIXED ON Funnel, Updecks, Windows(Blue/Brgndy) - LM! Landable deck platforms lights and effects built in GMAX and exported with LM textures. Meant for BGL or mobile scenery purposes two source BGLs and model files for placement included. Originally placed in FSX Deluxe Edition with Object Placement Tool for use in FSX SE. Needs air file and Bridge work to be Pilotable. Has default fuel truck sounds. Part of Great Lakes Scenery im working on. GMAX save file included. Model and textures by Greg Ebnit.
Posted Sep 16, 2021 00:01 by Greg Ebnit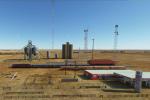 128.60Mb (161 downloads)
Object libraries for scenery developers. All objects in these libraries are 100% original the result of several 100 hrs of effort. Some adapted from FSX models then processed through Blender. All objects from the real world. All objects use LOD (Level Of Detail)to keep frame rates high. Final long distance models have a large triangle added below ground to stop them disappearing in the distance. PBR materials used extensively. Included are 2 PDF files with photos of every object to make selection easy. Republish these files in any freeware scenery if required. ---------------library-cbj Cones x4 Gables x3 Fences (8 types farm chainlink x3 mesh horse hand-rail paling) x64 Gas (petrol) station x3 Gliders x4 Grain storage hoppers silos x 4 Power poles x2 Rail platforms station x5 Rail locomotive passenger_carriage grain_hoppers x5 Towers radio x5 Weather station small x4 -------------library2-cbj Grain bunkers - large piles of grain covered with canvas x5 Hangars small airfield x14 Pivot irrigator x3 Sheds x4 Shelters x2 Terminals - small airfield x12 Water tanks x3 Towers water x4 Tractors farm x3.
Posted Jun 11, 2021 05:11 by Colin Jeffery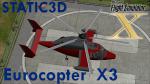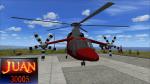 1.40Mb (141 downloads)
Eurocopter X3 static 3D model - by juan30005 for: Flight Simulator X This package contains the scenery object model Eurocopter X3 Install model: copy content. Microsoft Flight Simulator X\Addon Scenery \ scenery. add the model to scenery with: Object Placement Tool , save scenery file (.xml)
Posted Oct 22, 2018 01:16 by juan30005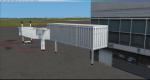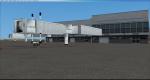 3.26Mb (1048 downloads)
This mod is an object library of extension pieces for the default Jetway. There are 7 objects in total; 5 different sizes of extension bridge, 1 support column, and the last object is a 90į Elbow joint. These objects are best used when the terminal building is a good distance away from the jetway itself and you need something to bridge the gap. Instructions on adding this object library to Airport Design Editor and a guide on how to use them are included. This objects library uses the textures for the default jetway so everything you need is included with this download. Feel free to use this object library in your own scenery work. Intended for FSX, should also work with P3D.
Posted Sep 23, 2018 00:24 by CountryFlyboy
5.68Mb (708 downloads)
Introducing my second scenery objects library for the enjoyment of the Sim community. There are a variety of buildings which I am sure will be to you. MY usual thanks to Peter Broom for checking out the models before publishing and of course the authorís for their books that I referenced to ensure I got my models reasonably accurate, British Military Airfield Architecture by Paul Francis and Graham Buchan Innes and his British Airfield Buildings Vols 1 & 2.
Posted Oct 2, 2017 11:11 by Terry Boissel
13.30Mb (1071 downloads)
This is my first sojourn into scenery objects and was prompted by the need of an object which was not available. In the end that led me in to doing that one and doing other objects for fun and so here is my first library for my fellow simmers to use and I hope to enjoy. Feedback is always welcome. However, I would not be publishing anything at all if wasn't for the help and advice I received from the walking encyclopaedia that is Mr Peter Broom so thank you Peter for testing all my models. In addition; it would be remis of me not to mention the authorís and their books that I referenced to ensure I got my models reasonably accurate, British Military Airfield Architecture by Paul Francis and Graham Buchan Innes and his British Airfield Buildings Vols 1 & 2.
Posted Sep 8, 2017 09:53 by Terry Boissel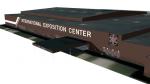 4.69Mb (125 downloads)
Cleveland Exposition Center library object. Also includes a version of the Cleveland Hopkins terminal using Denver Intl textures. Tested and used in FSX and can be imported into ADE. Original sketchup file by Google Geo Files and Walker S. (fixed version)
Posted Jul 30, 2017 20:48 by Jason Zhang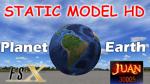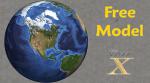 4.03Mb (1169 downloads)
This package contains the model Planet Earth and texture high quality 4096 x 2048 px LibraryObject name: planeta-tierra-by-juan30005 GUID: ( 0 ) da2b6606-c29e-4051-ae5e-093c3d5f0a85 install model: copy content. Microsoft Flight Simulator X\Addon Scenery\ scenery and texture. add the model to scenery with: Object Placement Tool , save scenery file (.xml) agrega el modelo al escenario usando: Object Placement Tool compila en bgl con "BGL Compiler SDK" Watch this video, this teaches you how to add the models of the scenery Tutorial FSX: efectos y object placement tool https://youtu.be/W1KCvqQja4Y
Posted Jun 21, 2017 23:35 by juan30005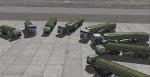 2.59Mb (424 downloads)
This addon built for FSX (may also work in P3D), includes a collection of several fuel tank trucks used by the German Air Force. Easy to use as library objects using Airport Design Editor or Instant Scenery. Current vehicle usage: - Iveco Eurotrakker 40to artic straight, steered left, steered right - Iveco 20to tank lorry. Retro vehicle usage (1970s, 1980s) - Magirus Deutz 40to artic straight, steered left, steered right - Magirus Deutz 20to tank lorry. By Manfred Schyma
Posted Jun 9, 2017 16:55 by Manfred Schyma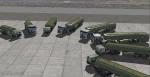 3.91Mb (140 downloads)
This addon built for F2004 includes a collection of several fuel tank trucks used by the German Air Force. Easy to use as library objects using Airport Design Editor or Instant Scenery. Current vehicle usage: - Iveco Eurotrakker 40to artic straight, steered left, steered right - Iveco 20to tank lorry. Retro vehicle usage (1970s, 1980s) - Magirus Deutz 40to artic straight, steered left, steered right - Magirus Deutz 20to tank lorry. By Manfred Schyma
Posted Jun 9, 2017 16:54 by Manfred Schyma