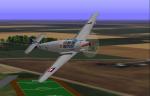 6.25Mb (416 downloads)
The Messerschmitt Bf 108 Taifun was a German single-engine sports and touring aircraft developed by Bayerische Flugzeugwerke (Bavarian Aircraft Works). The Chilean Air force operated his only one Messerschmitt Bf 108 during the years 40s, mainly in transport duties, reconnaissance and liaison. This machine was taken to Chile by a german lawyer and arrive to this country around of 1937. After served as training of pilots of FACH and LAN-CHILE, the beginning of the World War II in Europe, renders difficult the arrival of spare parts from Germany, and due to the refuse of USA to providing american engines for "german planes", the Messerschmitt Bf 108 was sold to a Chilean-German citizen (Otto Weiss), that was living in Osorno, and flew until it could by lack of parts, being sold after to an American. Today was in a USA Museum (Week Museum) waiting of his restoration. A shame that it did not remain in Chile. Original model creator: Guy Gauvreau a.k.a. Hubbabubba 2005. Repainted with chilean colors as FACH BF 108 "Taifun" # 1, 1941: Edmundo Abad 2010.
Posted Jan 17, 2011 06:12 by Edmundo Abad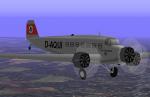 4.12Mb (1487 downloads)
The Junkers Ju 52 (nicknamed Tante Ju) - was a German transport aircraft manufactured from 1932 to 1945. It saw both civilian and military service during the 1930s and 1940s. In a civilian role, it flew with over 12 air carriers including Swissair and Lufthansa as an airliner and freight hauler. In WWII, it flew with the Luftwaffe as a troop and cargo transport and briefly as a medium bomber. The Ju 52 continued in postwar service with military and civilian air fleets well into the 1980s. This virtual model represent the Junkers Ju52/3m #D-AQUI, one of the six Ju52 that remain in oparation, four of which operate pleasure flights from Dübendorf airport. This aircraft has 1938 civil registration which was carried both above the top and below the wings, with the Reich flag in the rudder. Original FS5 model creator: Mike Hill. All reworked to CFS1 with new textures (with Junker's typical corrugated skinning), damage profile (1 x 7.9 mm upper mg) and moving propellers: Edmundo Abad 2010.
Posted Jan 17, 2011 06:04 by Edmundo Abad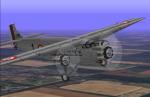 1.59Mb (255 downloads)
New version of Chilean National Air Lines Ford TriMotor, now with all missing gauges for panel. This new version replaces the old zip file uploaded.The Chilean National Air Lines LAN operated the Ford TriMotor between 1930 to 1939. This three-engined an all-metal construction liner with capacity for 12 passengers, was destined to flight the routes Santiago-Arica and Santiago-Puerto Montt. Original by: Roger von Ahrens, Jr., Steve Small and Sergio Kaiser (peruvian version). Panel by: Jorge Alsina Sounds By: Trev Morson Chilean textures and DP: Edmundo Abad Dec. 2009 Also special thanks to Juan Concha & Roberto Ibarra, former FACH officers, by the great provided information for the development of this virtual model.
Posted Jan 17, 2011 05:58 by Edmundo Abad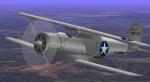 2.56Mb (952 downloads)
CFS/FS98 Beechcraft G-17S/GB-1 "Staggerwing" USMC The Beech GB-1 was the Navy and Marines Version of the Beech G-17. The Beechcraft Model 17 Staggerwing is an American biplane with an atypical negative stagger (the lower wing is further forward than the upper wing), that first flew in 1932. During WWII, the United States Army Air Corps purchased 270 Model 17s for service within the United States and overseas as the UC-43. These differed only in minor details from the commercial model. To meet urgent wartime needs, the government also purchased or leased (impressed) additional "Staggerwings" from private owners including 118 more for the Army Air Force plus others for the United States Navy. In Navy service the planes were designated as GB-1 and GB-2. Original FS5/FS98 model creator: Robert Parrick/Tom Miller. All reworked to CFS1 with metalized textures, ficcional armament, damage profile and moving parts: Edmundo Abad 2010.
Posted Jan 17, 2011 05:55 by Edmundo Abad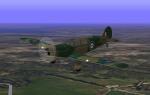 0.29Mb (293 downloads)
The Percival Proctor was a British trainer and communications aircraft of the Second World War. The Proctor Mk IV was a single-engine, low-wing monoplane with seating for four. Repainted as RAF Proctor Mk IV # RM221, yet today airworthy and based at Biggin Hill. I have included a damage profile for use with CFS1, with ficcional armament of 2 wings .30 machine gun and bombs. FS98 Aircraft Designers: : Frank Elton & PEGASUS AVIATION DESIGN. RAF BMP textures and DP for CFS: Edmundo Abad Jan. 2011.
Posted Jan 17, 2011 05:51 by Edmundo Abad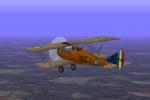 0.26Mb (283 downloads)
The Ansaldo S.V.A. 5 was a sturdy two-seater reconnaissance aeroplane used on this and other duties, in service in the Aeronautica Militare Italiana during WWI. This plane, decorated with the "Dares Greater" constellation on his tail and flown by Italian poet Gabriele D'Annunzio and his pilot Captain Natale Palli, lead the squadron "La Serenissima" on August 9, 1918, over Vienna. In their literary raid of Vienna, D'Annunzio and his mates, dropped leaflets containing the poet's writings, about the austrian defeat by the italian forces, and flew more than 620 miles, almost 500 over enemy territory. FS98 Aircraft Designer: Angelo Moneta Reworked BMP textures, moving parts and DP for CFS: Edmundo Abad Dec. 2010
Posted Jan 13, 2011 06:52 by Edmundo Abad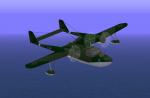 0.25Mb (171 downloads)
The Blohm & Voss BV 138 Seedrache (Sea Dragon) was a World War II German flying boat that functioned as the Luftwaffe's main long-range maritime reconnaissance aircraft. Original FS5 version by M. D. Anderle Reworked to CFS, with moving parts, damage profile and new textures, by Edmundo Abad, 2010.
Posted Jan 13, 2011 06:47 by Edmundo Abad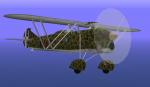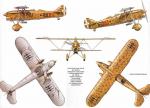 0.51Mb (331 downloads)
The Fiat_CR-32 was a biplane fighter used by the Italian Regia Aeronautica from the Spanish Civil War until beginning of World War II. This virtual plane represent the CR-32 quater # 150-10, of 50º Stormo Assalto (attack unit), North Africa (Lybia), 1940-41. This virtual model is up-scaled to obtain a better view in Combat Flight Simulator. (for accurate scale in FS98, replace the file Fiat_CR-32.mdl by Fiat_CR-32.old.mdl and rename this as Fiat_CR-32.mdl) Original aircraft designers: Oscar Pedrosa/Mike Colclough, 2002 Repaint with 50º Stormo textures: Edmundo Abad, Dec. 2010.
Posted Jan 13, 2011 06:44 by Edmundo Abad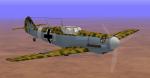 0.51Mb (279 downloads)
Messerschmitt bf 109 E-4 Trop of JG27, North Africa, 1941-42. This virtual model is up-scaled (8) to obtain a better view in Combat Flight Simulator. Original design by Richard Osborne/Corrado La Posta - IS4G collection. Desert textures by Edmundo Abad, 2010.
Posted Jan 13, 2011 06:42 by Edmundo Abad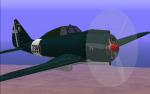 0.45Mb (354 downloads)
The Reggiane Re.2002 Ariete was a best Italian "Assaltatore" (assault plane) developed during World War II. The aircraft was a development of the Re.2000 and was mainly used by the Regia Aeronautica (Italian Air Force) and Aeronautica Cobelligerante (Allied - post armistice - Italian Air Force), but it also saw limited use with the German Luftwaffe. Original FS98 design: Bertil Nilsson \ Andrei Kobakhidze (2000) First IS4G (I Soliti Quattro Gatti) repaint: TJD, November 2000 New bmp textures of 239ª Squadriglia Regia Aeronautica, reworked non textured parts, guns profile (2x12.7mm + 2x7.7mm + bomb release), modified Radio Navigation panel: Edmundo Abad, 2010.
Posted Jan 13, 2011 06:40 by Edmundo Abad