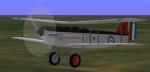 0.17Mb (223 downloads)
CFS1 - The Fairey IIIF The Fairey IIIF was first flown in March 1926 and was soon to become the most numerous aircraft in british military service, the Hawker Hart, Demon, Audax, Hardy, Osprey and Hind were all different aircraft so don't count. Powered by a Napier Lion, the flying of the IIIF was refered to as a gentleman's pursuit as it was so well behaved. Les Stone 14th April 2011
Posted Oct 5, 2011 06:51 by Les Stone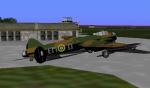 1.91Mb (793 downloads)
CFS1 Avro Manchester Mk1 The Manchester was known for two things, the first was that it was the forunner of the Avro Lancaster and the second reason was that because of the engines fitted it was notoriously unreliable. The Rolls Royce vulture engines were underdeveloped when placed in production and as a result any aircraft fitted was doomed to fail. The Rolls Royce Vulture used the four cylinder blocks from the Rolls Royce Peregrine arranged in an X layout, a simple idea to produce a high power engine but it needed a lot of development at a time when the main priority was the increased production of the Rolls Royce Merlin. There were several other problems which included lack of stability around the yaw axis, this was rectified by a larger tailplane and larger fin and rudders resulting in the Mk1A. Another problem was the poor reliability of the hydraulics with several aircraft lost due to the feathering controls being faulty. The Manchester had an exceptional airframe, hence the decision to mount four Rolls Royce Merlins to produce the Manchester mk3 or Lancaster. Avro Manchesters were allocated to squadrons, which they served well until the advent of the Lancaster when they continued in service in the bomber squadrons in the training role being an ideal conversion aircraft for the Avro Lancaster. They were finally used in OTU squadrons until struck of charge during 1943, there are no survivors. The aircraft is all my own work but the panel and the sound files are a result of others hard work and as such their original restrictions apply. As for my files you may not upload to any payware site or make any money from the files. The Manchester flies fines on my PC but if you think the files may have harmed your PC in any way then tough! Please enjoy this aircraft Les Stone 2011
Posted Oct 5, 2011 06:49 by Les Stone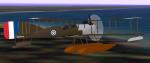 0.13Mb (187 downloads)
CFS1 Shorts 184 The Shorts 184 was first flown in 1915 complete with a 14" torpedo weighing some 900lbs. The aircraft was powered by a 225hp Sunbeam Mohawk engine although when it went into production there were various other engine used as well. These were apart from the Sunbeam Mohawk, were Sunbeam Maori mks I, II and III up to 260hp, Sunbeam Gurkha of 240hp and a Renault of 240hp (this engine was a copy of a captured Mercedes and was often referred to as the Renault-Mercedes). The last engine was well liked by the 184 pilots as it was slow revving and above all more reliable than the Sunbeams. Some aircraft were built with one engine and fitted with another later on in life so standardisation was something not bothered with. Even though the 184 was designed to be a torpedo bomber it rarely carried torpedoes, mainly because if you carried a torpedo you didn't carry a gunner. There were examples of successful torpedo attacks but the usual offensive load was 4 X 65lb bombs or 4 X 100lb bombs. The 184 was used as a patrol and an anti-submarine attack aircraft and possibly did sink a U-boat, it definitely damaged many. The main problem being the speed of the 184, the pilot was very lucky if he could get 70mph out of his aircraft, this gave the U-boat Captain ample time to submerge and elude his stalker. The reliability of the engines also played a part in the non-successes as there were several pilots and gunners captured by the U-boat crews when the aircraft engine failed at a most important time. The aircraft flies well on my PC, even though it is very sluggish. Please enjoy this aircraft Les Stone 2011
Posted Oct 5, 2011 06:48 by Les Stone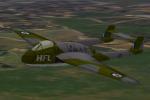 1.64Mb (736 downloads)
De Havilland Vampire F Mk1 for CFS1 The DH100 Vampire was the second jet fighter designed for service with the Royal Air Force but was too late to see service in WW2. Powered by a DH Goblin 2 it could fly at over 500mph Les Stone 16th February 2011
Posted Oct 5, 2011 06:47 by Les Stone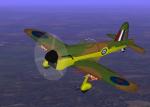 5.94Mb (242 downloads)
CFS1 Miles M20 The Miles M20 was originally designed as an emergency fighter for production during the Battle of Britain. The idea being to use non essential tradesmen from the furniture and cabinet making trade. This wouldn't make any demands on the overstretched aircraft industry. The prototype flew within 65 days of the first drawing being started on the 15th September 1940. The M20 was armed with eight 0.303 browning machine guns although it was possible to fit twelve. The feared shortage of fighters for the RAF never materialised so the M20 never went into production. Please enjoy a most unusual aircraft. Les Stone 2011
Posted Oct 5, 2011 06:45 by Les Stone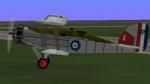 0.18Mb (88 downloads)
The Westland Wapiti - CFS1 The Westland Wapiti was a two-seat general-purpose biplane and as requested by the Air Ministry, incorporated in its design, several de Havilland D.H.9A component parts. The prototype Wapiti first flew in March 1927 and was awarded an initial order of 25 production Mk I included one that specially modified with a more luxurious rear cockpit for the Prince of Wales to fly in. Mk I was powered by a 425hp Bristol Jupiter VI engine, but subsequent Mk II and Mk IIA had 450hp Jupiter VI and 475hp Jupiter VIIIF or similar engines. There were a small number of lengthened Wapiti Mk V and some unarmed Mk VI trainers which brought the total produced for the Royal Air Force to 501. The Westland Wapiti also served the Air Forces of Australia, South Africa (where Wapitis were built under licence), Canada, India and China. Les Stone 1st Dec 2010
Posted Oct 5, 2011 06:44 by Les Stone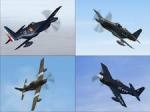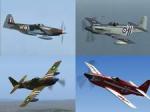 7.28Mb (150 downloads)
This download contains fourteen skins for the TRA_MB5, an AlphaSim FS9/FSX MB.5 that I have converted to CFS2. All but the PROTOTYPE are fictional....as the aircraft never went into production. However, the squadron skins are authentic, even if in reality used on other aircraft types. REQUIRED FILE: TRA_MB5.ZIP These repaints are by AlphaSim and Nick Bradin (except those noted), and were converted for CFS2 by Rich Ruscoe. I am just posting them.
Posted Mar 13, 2011 06:45 by Tom Sanford, Tango_Romeo
1.64Mb (380 downloads)
De Havilland Vampire F Mk1 for CFS1 The DH100 Vampire was the second jet fighter designed for service with the Royal Air Force but was too late to see service in WW2. Powered by a DH Goblin 2 it could fly at over 500mph Les Stone 16th February 2011
Posted Feb 22, 2011 08:38 by Leslie Stone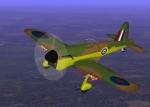 5.93Mb (153 downloads)
CFS1 Miles M20 The Miles M20 was originally designed as an emergency fighter for production during the Battle of Britain. The idea being to use non essential tradesmen from the furniture and cabinet making trade. This wouldn't make any demands on the overstretched aircraft industry. The prototype flew within 65 days of the first drawing being started on the 15th September 1940. The M20 was armed with eight 0.303 browning machine guns although it was possible to fit twelve. The feared shortage of fighters for the RAF never materialised so the M20 never went into production. Please enjoy a most unusual aircraft. Les Stone 2011
Posted Feb 22, 2011 08:36 by Leslie Stone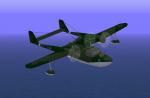 0.25Mb (504 downloads)
The Blohm & Voss BV 138 Seedrache (Sea Dragon) was a World War II German flying boat that functioned as the Luftwaffe's main long-range maritime reconnaissance aircraft. Original FS5 version by M. D. Anderle Reworked to CFS, with moving parts, damage profile and new textures, by Edmundo Abad, 2010.
Posted Jan 17, 2011 06:35 by Edmundo Abad