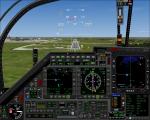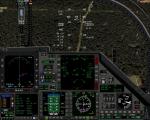 22.85Mb (1393 downloads)
FS2004 Alpha sim F-111 Aardark HUD Navigation/Situation awareness cockpit with massive amount of digital data. Must have ALPHASIM F-111 Aardvark to build up this complete and separate F-111. Has both Pilot and WSO Panels HUD 3 MFD 3 GPS type moving maps autopilot TFR bomb missile flares dump and burn exhaust trail effects. MFD's comprise 18 selectable pages of data. HUD overlay available in ALL views and helmet visor in virtual cockpit. All data is clearly readable size. Aircraft carrier capable . Configuration ensures crisp and extremely precise controlled flight even down to 10 ft AGL . Approx 40 pge detailed FLIGHT MANUAL. This panel will set a new benchmark of the amount and type of data provided and its presentation . Possibly the best pilots aircraft ever. By Karol Chlebowski.
Posted Jul 17, 2009 12:28 by Karol Chlebowski
2.88Mb (1051 downloads)
The Carranado Cessna c206 Transmandu Airlines from Ciudad Bolivar, Venezuela, textures. This aircraft used usually for flight to Canaima, Kavac and the Angel's fallen. Requires the payware Carenado Cessna Stationair 6 II U206G. Textures by Gustavo La Cruz
Posted Jul 8, 2009 10:30 by Gustavo La Cruz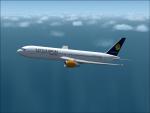 2.01Mb (521 downloads)
Santa Barbara Airlines Venezuela TF-FIB DXT3 textures only for LevelD B767-300. Please read the "Readme" for the installation, Textures by Luis Fernando Quimbayo
Posted Jul 7, 2009 20:05 by Luis Fernando Quimbayo
5.56Mb (907 downloads)
Textures only for the new crj700 for Conviasa. Requires the payware Wilco/Feelthere CRJ700. Texture by Gustavo La Cruz.
Posted Jul 6, 2009 11:51 by Gustavo La Cruz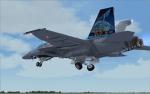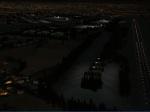 2.67Mb (1298 downloads)
This package includes textures for the payware VRS F/A-18E Superbug. You will need to purchase this product to use these textures. The textures are a representation of a CF-18 with the 50th Anniversary livery for the 4th Fighter Wing. The Canadian Air Force has never flown this paint scheme on a E model Hornet. The scheme is real, but was probably on a CF-18 A model. Anyway, I enjoyed creating this repaint and I hope you also enjoy it.
Posted Jun 26, 2009 22:39 by Kevin Jessee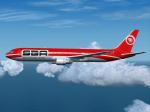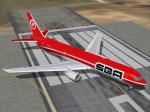 9.89Mb (1341 downloads)
Santa Barbara Airlines Boeing 767-3Y0ER, registration YL-LCY, a new aircraft in the SBA fleet, for international flights. Textures only for the Level-D Simulations Boeing 767-300ER,(payware package). Look at http:// www.leveldsim.com/ for detailed info. Fully textures, tail and wings, reworking the public paintkit by John Tavendale and Gary Hayes. Thanks to Roberto Leiro for the extra support layers. Textures supplied in DXT3 and 32 bits format. By Juan Ernesto Oropeza.
Posted Jun 24, 2009 15:32 by Juan Ernesto Oropeza
5.72Mb (832 downloads)
This repaint is designed for Wilco Boeing 737-300 aircraft. Repaint is attempt to make as real texture as possible on current model.
Posted Jun 20, 2009 08:52 by Krzysztof Rzeminski
5.26Mb (1047 downloads)
I am very proud to present this much storied Alaska Airlines Boeing 737-490 textures for the payware 50 North B737-490, which was painted to celebrate the 50th year of Alaska's statehood. This aircraft livery was the result of a statewide contest detailed on the website http://www.painttheplane.com, in which children from Alaska submitted their designs depicting their concept of Alaska. The winning design was created by a 16 year old named Hannah Hamberg from Sitka, Alaska. Her design was adapted to be painted on this aircraft by artist Mark Boyle of Teague Industrial Design of Seattle. This is a highly detailed repaint. All of the artwork and logos on this aircraft were hand painted except the Alaska Airlines logo. The repainted textures in this package are 32-bit with no mipmaps for best clarity and quality. I hope you enjoy flying this wonderful aircraft as much as I did creating it. This has been my most challenging project to date and it was a true pleasure to produce. This is a textures only package; requires the 50North Boeing 737-400. Repaint by Jeffrey S. Bryner, Model by 50North.
Posted Jun 18, 2009 20:35 by Jeffrey S. Bryner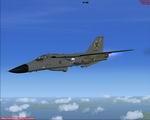 3.08Mb (692 downloads)
FSX/FS2004 Alphasim F-111 Green and Grey Textures. RAAF F-111 # A8-138 accurately detailed. Very close colour likeness to actual military grey. Ordinance MIL green and very many detail changes. Includes tail number and emblem or flash. Requires the payware Alphsim F-111. By Karol Chlebowski.
Posted Jun 15, 2009 03:18 by Karol Chlebowski
7.36Mb (668 downloads)
a texture for Iraqi air force Mil Mi-24 Hind, used by Iraqi air force effectively during the 1980's and specially above the battlefield during the 1st gulf war. the Mi-24 Hind was an effective attack gunship used by the former Iraqi air force, this ugly looking killing machine is one of the iconic gunships, and keeping in service in more than 30 Army. you need the pay ware LAGO mil mi-24 to use this repaint with. thank you
Posted Jun 1, 2009 15:34 by Hanaw .H.Ahmed