88.79Mb (129 downloads)
This is David Wooster and my ancient Martin T4M Torpedo Truck completely reskinned using what I've learned about painting textures in the seventeen years since the 2006 release. This is the complete aircraft, on wheels and floats.
Posted May 12, 2023 14:17 by Mick Morrissey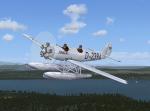 16.38Mb (339 downloads)
FSX/Acceleration Junkers A50 Junior German two seater sportsplane from 1929 with wheels or with floats. It was a whole metal Aluminium plane with a 5-cylinder radial engine and was supposed to become a "Volkswagen" for the skies. Then, the world economic crisis destroyed the plans of Hugo Junkers and only 69 planes were build and only 50 sold. Even so the great plane was sold to different countries including float plane versions. My wheelplane is designed regarding the model I have seen in the Deutsche Museum Munich. The passenger in the front seat can be toggled using Tailhook. Probably the model will also fly in FS2004 and P3dV3 (not glossy textures in P3d!) but it is not tested and no guarantee and support ist given. FSDS model by Erwin Welker
Posted Apr 30, 2023 03:52 by Erwin Welker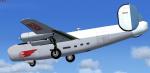 8.06Mb (394 downloads)
Built as a Liberator Mk 1 for the Royal Air Force, AM927 was involved in a landing incident, major enough for the aircraft to be returned to Consolidated for repair, and then conversion to the prototype LB-30. Retained by Consolidated, it was used to shuttle parts and executives between factories. In November 1948, AM927 was sold to the Continental Can Company as N1503 and outfitted with sleeping berths and reclining chairs to transport executives from its hometown of Morristown NJ. I have copied an old photograph of N1503 as she originally looked in service with Continental Can. In 1959 she was sold to Pemex, a Mexican oil company as XC-CAY. In 1969 the Confederate Air Force bought her, and, as N12905, she joined the Warbird circuit. Now, converted back to B-24A/LB-30B configuration, and registered as N24927, "Diamond Lil" continues to wow spectators at airshows both at home and overseas. Painted on to the Jim Nelson/Jaap de Baare/Alphasim Liberator Express model, I have also used Krzysztof Malinowski's B-24 panel as I like it better than the original. Enjoy.
Posted Feb 7, 2023 05:16 by turbodak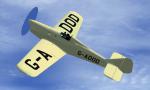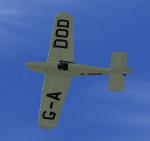 23.56Mb (234 downloads)
The only Miles M2U built, G-ADOD was ordered by Ruth Fontes with the intention of beating her brother Luis (flying M2L G-ADGP) in the 1935 King's Cup Air Race. Unfortunately, Miss Fontes turned inside a pylon during the 800 mile race and was disqualified. Returning for the 1936 race, piloted by the 1935 winner, Tommy Rose, G-ADOD came second. Then A.E. Clouston and F.E. Tasker bought the aircraft and entered her in the 1936 Schlesinger Race from Portsmouth to Johannesburg. Sadly, engine trouble forced Mr Clouston to crash land 150 miles short of the finish, wrecking the aircraft. Only the dH Gypsy Six R racing engine was salvaged. Painted on to Keith Paine's beautiful Hawk Speed Six, I have used the panel from Keith Paine's Miles Mohawk and the sounds from Derek Palmer's dH Dove. The repaint shows G-ADOD before the start of the Schlesinger Race, and, no matter what I have tried, the canopy stubbornly remains black! Enjoy.
Posted Jan 28, 2023 12:07 by turbodak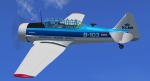 6.71Mb (410 downloads)
Licence built by Noorduyn in 1943, 14A-1459 was delivered to the RAF in April 1944 as a Harvard IIb, but was not taken on charge and returned to the US Government. It was then supplied to the Royal Netherlands Army Air Force as FT419, later becoming B-103. From August 1948, B-103 served with the Belgian Air Force/Belgische Luchtmacht until its return to the Royal Netherlands Air Force/Koninklijke Luchmacht in August 1949. After the KLu retired B-103 in 1962 as a ground instructional airframe, it went to the Anthony Fokker School in 1963 and on to the KLM Apprentice School in 1972. In 1985, a new owner moved B-103 to the Militaire Luchvaart Museum and after it was restored at Valkenberg Air Base in 1986/87 it moved to the Nationaal Militaire Museum at Soesterberg for display in false markings as Marine Luchtvaartdienst UT-6, 099/K, where she remains to this day. Painted on to J. E. Narzico's admirable T-6, I have shown B-103 as she was in her KLM colors.
Posted Jan 4, 2023 00:48 by turbodak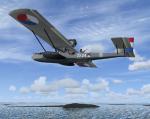 29.49Mb (806 downloads)
FSX/Acceleration Dornier Wal J-II Flying boat military versions. The Wal (Whale) was Dorniers most successful seaplane. In the 20th it became a famous airplane for different purposes like: Military, record flights, Trans-Atlantic flights and Roald Amundsens North Pole exploration with 2 whales. This addon comes with two models of the military Wal-J-II: An armed version with animated weapons in the colours of The Netherlands and Roald Amundsens N25 which did not reach the North Pole because of an emergency landing on an ice field but which returned to Spitzbergen/Norway three weeks later after a repair and with the rescued crew of the damaged N24. The replic of N25 can be seen in the Dornier museum Friedrichshafen/Lake Konstanz/Germany. Ten FSX camera views let you watch the animations or some VC-views. FSDS model and 2D panel by Erwin Welker
Posted Jun 6, 2021 07:49 by Erwin Welker
24.82Mb (1109 downloads)
FSX/FS2004 Spitfire Mk XIV clipped bubbletop: The Mk XIV was the most important of the Griffon powered Spitfires, and the only one to see significant wartime service. It used the two-speed two-stage supercharged Griffon 61 or 65, giving 2,050 hp. It had a significantly improved performance at speed and higher altitudes when compared to the earlier Merlin powered Spitfires . Model by A.F.Scrub
Posted Apr 18, 2021 05:37 by A.F.Scrub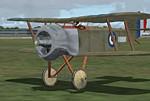 14.71Mb (348 downloads)
FS2004 Sopwith Bee. Aeroplane Heaven Danish Sopwith Bee package
Posted Mar 24, 2021 12:58 by Aeroplane Heaven
0.09Mb (168 downloads)
FS2004 Aeroplane Heaven Sopwith Bee Manual, for use with AHSOPWITHBEE.ZIP.
Posted Mar 24, 2021 12:03 by Aeroplane Heaven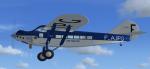 7.11Mb (325 downloads)
FS2004 Latecoere 28.1H 941 "Ouragan". Single-engine transport plane. 16 examples built for Aeropostale which used them on the Toulouse-Casablanca route. High wing monoplane. Wooden and metal wing, metal fuselage, canvas on the back. The Latecoere 28 was a successful French long-haul mail plane and passenger airliner of the 1930s. It was the main-stay of Air France's predecessor, Aeropostale in its efforts to establish intercontinental air mail services and support French colonialism and French cultural influence between the wars. By Denis Fouchard.
Posted Mar 21, 2021 05:55 by uploader