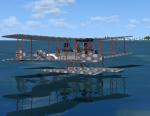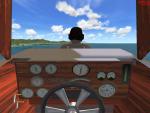 7.92Mb (468 downloads)
FS2004/FSX Gotha WD-11 float biplane. The WD-11 was large twin-engined reconnaissance and torpedo-bomber seaplane, It was powered by two 6-cyl 172 hp Mercedes D.III engines, and had a max. speed of 120 kph (75 mph). It could carry a 1598 lb Whitehead torpedo, and saw service in the North Sea and Baltic. 12 units were built. GMAX mdl by A.F.Scrub.
Posted Jan 12, 2020 08:06 by A.F.Scrub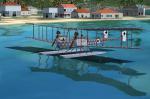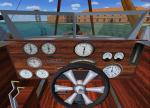 10.13Mb (533 downloads)
FS2004/FSX Gotha WD-14 Wasserdoppeldecker reconnaissance and torpedo bomber, 1916 Large twin-engined torpedo bomber seaplane, built by Gothaer Waggonfabrik A.G. in 1916, powered by two 6-cyl 230 hp Benz Bz IV engines. Max. speed was 80 mph, and it could cary a 1598 lb Whitehead torpedo. It saw service in the North Sea and Baltic, and was later used for long distance marine reconnaissance and as minelayer. 69 units were built. GMAX mdl by A.F.Scrub
Posted Jan 1, 2020 10:06 by A.F.Scrub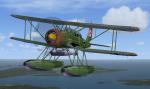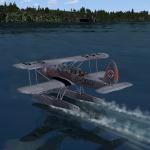 45.86Mb (959 downloads)
FSX/FS2004/Acceleration/P3dV3 German prewar biplane Arado-95. That floatplane was supposed as coastal patrol, reconnaissance and light attack fighter. The first prototype, an all-metal biplane, was powered by a BMW 132 radial engine, flew in 1936. The prototype of the Ar-195 with wheels instead of floats was proposed for carrier operations on the never completed German aircraft Carrier Graf Zeppelin. FSDS 3.5 model by Erwin Welker
Posted Dec 27, 2019 03:53 by Erwin Welker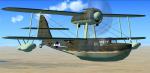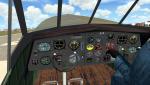 19.28Mb (1024 downloads)
The Supermarine Sea Otter was a British designed anphibian biplane intended to replace the once venerable Supermarine Walrus in the Royal Air Force reconnaissance and search and rescue missions. It had the distinctions of being the last biplane flying boat to achieve front line service in Great Britain's armed force. The package features an entirely resorked VC and 2D panel with all new gauges. Credits go to A.F. Scrub for the original model and to Hans van Spelde for the Dutch repaint. Panel updates and new gauge configuration by Michael Pook. The model may work in FS2004 and P3D (v.3). This is the whole aircraft.
Posted Dec 26, 2019 09:18 by Michael Pook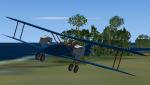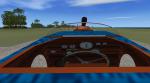 9.15Mb (401 downloads)
FS2004/FSX Albatros G.III Grosskampfflugzeug, 1917 Of elegant lines and clean design, this little known, limited production version of Albatros Flugzeugwerke´s medium sized, twin engined tactical bomber biplane was built in 1917, based on their 1916 G.II prototype. It entered service in Macedonia and elsewhere in 1917. Powered by two Benz Bz.IV engines rated at 230 hp each, it had a payload of 720 lb and a top speed of 93 mph kt. It was faster and easier to fly than the more famous Gotha, AEG or Friedrichshafen "G" series bombers. FS9/FSX mdl by A.F.Scrub
Posted Dec 9, 2019 15:27 by A.F.Scrub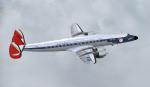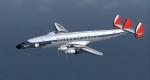 3.87Mb (219 downloads)
FS9/FSX Aeroflentes Internacionales textures for the Manfred Jahn L-1049H Constellation. Aeroflentes Internacionales textures by Gary Harper.
Posted Nov 5, 2019 17:04 by Gary L Harper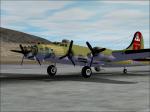 11.41Mb (1256 downloads)
In memory of the fatal crash of Nine-0-Nine I repainted the B-17 giving FULL credit to the aircraft designer/creator. Model by Alphasim. I added a black stripe on the right wing next to the "A" logo, includes stripe under wing as well. I also added a memorial with 7 lit candles on the right side front fuselage representing the 7 lives lost on that horrific day, includes the date. RIP 9-0-9 and thank you for serving our country for so many years. May all rest in eternal peace
Posted Oct 8, 2019 10:05 by Georgette Kostopoulos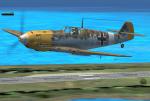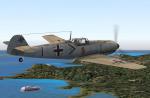 17.44Mb (1234 downloads)
FS2004/FSX Bf 109E 7 In late 1938, the Bf 109E entered production. It was the standard Luftwaffe fighter in the first years of WW2. The Bf 109 (designed by Willy Messerschmitt) and the later variants were some of the greatest fighter aircraft of the war. They are certainly the most famous of all German aircraft ever built. Normal and trop variants included. GMAX mdls by A.F.Scrub.
Posted Oct 3, 2019 04:28 by A.F.Scrub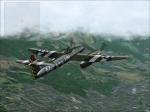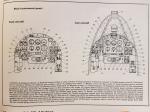 41.83Mb (791 downloads)
Westland Whirlwind for FS9. Original model by Gerald Lindell, updated for CFS2 by Andrew Wai, Phanis and rince33 and re-converted and updated for FS9 by me. I modified the 2D-cockpit and put in some extra panels, put in all the (5)textures and extra (gun)effects. VC with working gauges. Enjoy!
Posted Jul 28, 2019 10:58 by erik hertzberger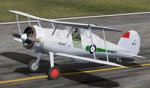 13.72Mb (1221 downloads)
The Gloster Gladiator was a British-built biplane fighter; its last such fighter. It was used by the Royal Air Force and the Fleet Air Arm and was exported to a number of other air forces during the late 1930s. First flown in 1934 it was rendered obsolete by newer monoplane designs even as it was being introduced to the RAF in 1937 with its new enclosed cockpit and four guns. By David Molyneau
Posted May 16, 2019 11:06 by mlietz