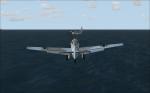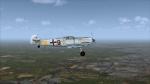 21.60Mb (412 downloads)
Messerschmitt Me-109T, another great CFS2 plane updated for FS9. Only static VC with non-working gauges, but that is better than nothing. All credits go to the original author, JR Lucariny . All I did was making it flying ok in FS9. Updated the mdl.file, the aircraft.cfg and the air.file, reworked the panels to make the gauges work, putting in some extra panels and put in a new soundfile. Cockpit opens&close, flaps, cowlflaps and tailhook work also. Gun & cannon effects for fun.
Posted Feb 25, 2018 17:01 by Erik Hertzberger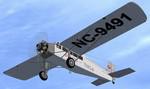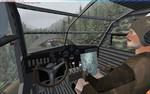 24.86Mb (458 downloads)
This is a re-upload of Craig Richardson's Metal Aircraft Corporation Flamingo. The re-upload consists of the original Flamingo package released by Craig Richardson, as found in an obscure website written in spanish about the history of the airplane.
Posted Feb 20, 2018 10:19 by uploader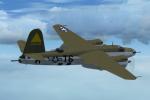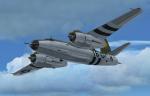 112.55Mb (590 downloads)
B-26B/C Martin Marauder for FS9 by Milton Shupe, Tom Falley, Martial Feron, "Mick" at SOH, William Ellis, Pierre-Jean Carosin and Sounds by Nigel Richards. Original Pilot figures by Jan Visser. Radios by Richard "Real_Old_Salt" Murray. Thanks to "Gaucho_59" for the OH trimwheel textures. Pkg incl models B-26B/C and JM-x likeness, VC and custom panel, R-2800 sounds, custom FS9 Flight Model, and features exterior paints by "Mick" at Sim-outhouse. Milton Shupe February 2018
Posted Feb 6, 2018 10:56 by Milton Shupe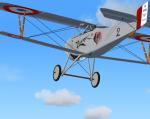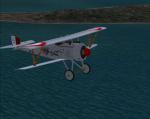 4.82Mb (453 downloads)
The Nieuport 24 bis was a French sesquiplane fighter aircraft during World War I designed by Gustave Delage. Author: Tsyntsar Victor. Model version 2.0
Posted Jan 14, 2018 09:33 by Tsyntsar Victor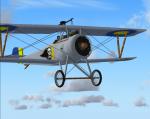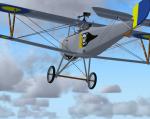 4.89Mb (378 downloads)
The Nieuport 17c was a French sesquiplane fighter aircraft during World War , designed by Gustave Delage. West Ukrainian People's Republic aviation corps. Author: Tsyntsar Victor. Model version 1.0
Posted Jan 14, 2018 09:28 by Tsyntsar Victor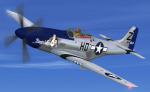 2.32Mb (327 downloads)
This is just an extra texture set for an already existing Alphasim P-51D package. Credit to ALPHASim.
Posted Jan 7, 2018 16:37 by Andre Ludick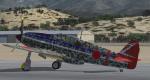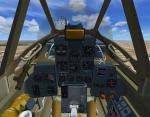 6.29Mb (486 downloads)
FS2004/FSX Kawasaki Hien The Ki-61 Hien was named "Tony", by the United States War Department .It was the only mass-produced Japanese fighter of the war to use a liquid-cooled inline V engine. Over 3,000 Ki-61s were produced. Initial prototypes saw action over Yokohama during the Doolittle Raid on 18 April 1942, and continued to fly combat missions throughout the war. Model by A.F.Scrub
Posted Jan 2, 2018 09:32 by A.F.Scrub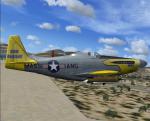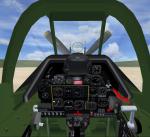 20.37Mb (1613 downloads)
FS2004-FSX-St Ed Mustang P51H version3 The ultimate version of the Mustang was the P-51H, which was the fastest Mustang variant to see service and one of the fastest (if not the fastest) piston-engined fighters to enter production during the Second World War. However, it was destined never to see any combat, having entered service too late to participate in the final action against Japan. Working landing light, new textures, modified effects. GMAX mdl with new VC by A.F.Scrub
Posted Dec 16, 2017 09:12 by A.F.Scrub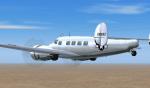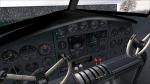 57.23Mb (1142 downloads)
The Lockheed Model 10 Electra is an American twin-engine, all-metal monoplane airliner developed by the Lockheed Aircraft Corporation in the 1930s to compete with the Boeing 247 and Douglas DC-2. The type gained considerable fame as one was flown by Amelia Earhart on her ill-fated around-the-world expedition in 1937 Many Electras and their design descendants (the Model 12 Electra Junior and Model 14 Super Electra) were pressed into military service during World War II, for instance the USAAF's C-36. By the end of the war, the Electra design was obsolete, although many smaller airlines and charter services continued to operate Electras into the 1970s.
Posted Dec 14, 2017 07:28 by Peter Mercy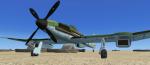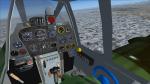 8.06Mb (833 downloads)
FSX/Acceleration/FS2004 Upgrade For Kazunori Ito's FS2002 / FS2004 high altitude interceptor Blohm&Voss BV-155. The modified model has now a VC and a 2D panel regarding very rare photographs from the year 1945. The only change on the exterior model are the rocket pods and improved wheels and FSX prop discs. Kazunori Ito is my idol for almost twenty years. It is a pity that he was forced to stop to continiue with his great hobby in building an incredible high amount of aircrafts. Honouring his work but beeing afraid that this very rare and special aircraft of the last days of WWII will be lost for actual or newer simulators like Acceleration or P3D I allowed myself to upgrade this BV-155. Original model by Kazunori Ito, 2D panel and VC by Erwin Welker
Posted Nov 16, 2017 04:43 by Erwin Welker