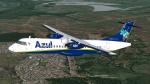 23.92Mb (258 downloads)
ISDT ATR 72-600 Brazilian textures, Azul, Passaredo/Voepass. Some of textures wasn't all made by me, i took the base and edited for the latest painting most recent of them. comes with 2d painel.
Posted Oct 14, 2023 10:37 by Rafael Matias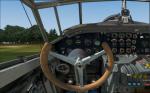 152.07Mb (185 downloads)
This a rework of Oliver Fischers excellent Junkers Ju 52 for FS2004. It depects the Junkers Ju52 as it was still produced after war in france by Ateliers Aeronautiques de Colombes as AAC1 I added a completly new 2D panel with a lot of new gauges frome third party authors and done by me happy landings yours Michael Vader
Posted Oct 12, 2023 05:41 by Michael Vader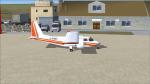 14.09Mb (301 downloads)
FSX Britten Norman Islander (Fans Mod) package. The BN2 Islander is perhaps one of Britain's only aviation success stories. Its performance in rugged operations is second to none, making it an attractive choice for airlines. This variant is the result of a design that never took off: The BN2 Islander with ducted fans instead of propellers. This variant has an increased range, operating ceiling and cruise speed, along with a lower takeoff distance. Cruise: 150kts, Runway Length: 189m, Altitude: 14000ft, Range: 892nmi Model and paint by Marcel Kuhnt for FS2004. Updated and tweaked for FSX by David Chanter. No VC.
Posted Oct 9, 2023 11:42 by David Chanter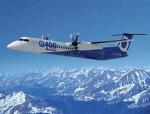 21.72Mb (1086 downloads)
FSX Bombardier Dash8-Q400 This aircraft is another success story for Bombardier, it is well liked by airlines and passengers. On short haul routes the Q400 combines the gate to gate journey times of a jet with the lower operating costs of a turboprop. 75 seat advanced twin turbo-prop regional airliner. All new model with full moving parts, doors with airstair and animated pilots. Accurate and pleasant flight dynamics. Fully modelled interior. Full documentation including manuals and check/ref lists. Custom panel and VC with digital (glass cockpit) gauges, custom sounds. Complete package for FSX/SP2 (DX9 graphics). Three liveries included, Flybe (UK), Horizon & Qantas Airlink. More liveries and paint kit available soon on www.premaircraft.com By Jean-Pierre Brisard and Bob May - Premier Aircraft Design.
Posted Apr 17, 2023 01:53 by Dean Stuart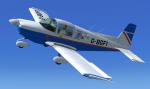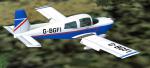 5.97Mb (456 downloads)
Developed from the successful AA-1, the AA-5 was an enlargement of the outside and the cabin of the AA-1 to create a four seater with 2/3 commonality of parts. The design was further improved by more powerful engines to create the AA-5B and AG-5B. This 1978 model was delivered to Cabair in 1979 as G-BGFI and went through various owners in this novel color scheme before moving to Germany in 2015 as D-EBGA. Painted on to Tim "Piglet" Conrad's AA-5, the color scheme reminds me of a certain large airline.
Posted Dec 22, 2022 01:39 by turbodak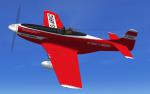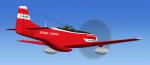 7.42Mb (353 downloads)
In 1961, United Dominiums Trust announced its intention to beat the Sydney to London record held by Comet G-ACSS since 1934. Two times Le Mans winning racing driver, Ron Flockhart bought Commonwealth CA-17 Mustang Mk20 ex A68-5 and VH-BVM, and had it prepared for the attempt. The route was Sydney-Alice Springs-Darwin-Sourabaya-Singapore-Rangoon-Calcutta-Karachi-Bahrain-Beriut-Brindisi-Nice-London. Leaving Sydney on February 28, 1961, all went to plan until he diverted from Brindisi to Athens due to bad weather. At Athens the engine overheated and blew a head gasket whilst awaiting a delayed clearance from Athens ATC. The attempt was abandoned, Lockhart flying on to London by airliner. He was three days ahead of the record at the time. G-ARKD was later damaged by fire whilst being taxied at Athens and subsequently cut up for scrap. However, not all the bits made it to the scrappers and are being used in a rebuild of G-ARKD in the UK. Painted on to AF Scrub's modified AlphaSim P-51 Mustang this is my homage to a remarkable attempt. Sadly you don't get the exhaust smoke unless the lights are on. This may also work in P3D.
Posted Dec 14, 2022 12:09 by turbodak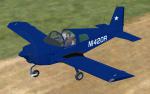 9.24Mb (392 downloads)
Jim Bede's first design was originally intended for home assembly. However, no kits were produced and certification as a fully assembled aircraft was long and expensive. This ended with Jim Bede being removed from the company and it being renamed American Aviation. They developed the prototype into the AA-1 Yankee Clipper and the AA-1 Trainer. Grumman bought the company in 1971 renaming it Grumman American, and produced the AA-1B Trainer and TR-2. Gulfstream bought the company in 1977 and upped the power from 108HP to 115HP in the AA-1C. AA-1 production ceased in 1978, with the current type certificate being held by True Flight Holdings LLC. Painted on to Ron Watson's excellent AA-1C, this represents a one owner aircraft, delivered in 1975 with its registration expiring on 21st March 2018; a total of 43 years of service!
Posted Dec 8, 2022 07:46 by turbodak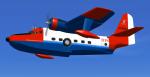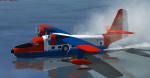 22.71Mb (557 downloads)
Ship number 293 was delivered to the US Navy on July 22, 1953, as 131910 and assigned to NAS Bermuda. July 13, 1970 saw her retirement from the service and storage at Davis -Monthan. Civilian life meant registration as N7052J and a variety of owners before being sold to International Test Pilots School, London, Ontario, retaining her US registration. Painted onto Greg Pepper and Michael Verlin's Grumman HU-16, I have used the default DC-3 panel to give 293 a flavor of her age, along with the default Beech Baron radio as a gesture towards modernisation. On this model there is also engine smoke from both engines on start-up.
Posted Nov 30, 2022 03:47 by turbodak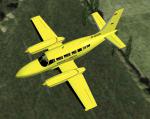 1.09Mb (457 downloads)
Initially registered N5375C, D-IDOS was delivered to Hansa Luftbild in May 1984. Unusual amongst survey aircraft in having two openings in the cabin floor allowing clients to use two high precision remote sensors during a single flight saving both time and money. Such flexibility enables aerial image capture and laser scanning to be done at the same time. Painted on to Mike Stone's Cessna 404 Titan, this works in both FS2004 and FSX and may work in FS2002.
Posted Nov 24, 2022 12:49 by turbodak

9.37Mb (703 downloads)
Built in 1964, BA-693 was first registered as N372PW. Several owners later, she was re-registered as N372PS, reflecting its then owners identity. She passed through several owners being photographed at Chino in 1993 with its tri-gear and in its original white and green livery. In August 2013, she appeared at Oshkosh in this splendid pseudo military scheme: the aircraft never served with the US Navy. Now a resident of Ione,CA., N372PS returned to Oshkosh in both 2015 and 2016. Painted on to Brian Gladden's FSX update of his Volpar Beech 18, I have had to use some artistic licence with the nose markings to avoid bleed through on to the nosewheel doors.
Posted Nov 3, 2022 10:44 by turbodak