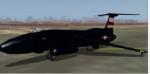 61.37Mb (144 downloads)
Martin's XB-51 competed for the contract to equip the U.S. Air Force with a new jet attack bomber to replace the A-26 Invader in the night interdiction role. The package includes authentic skins for five of the color and markings schemes worn by the first prototype during its long career at the Air Force Flight Test Center and ten speculative skins in the colors and markings of B-57 operators that would have flown the B-51 had it won the production contract. Model by David Wooster, skins painted by Mick.
Posted Oct 19, 2023 12:14 by David Wooster & Mick
105.90Mb (229 downloads)
This package includes models of four versions of the Northrop "Flying Wing" bombers of the Classic Era: XB-35, EB-35B, YB-49, and YRB-49A for FS9. By David Wooster with skins by Mick.
Posted Jul 18, 2023 01:01 by David Wooster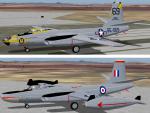 260.71Mb (61 downloads)
This is an AI-only version of our flyable North American B-45 & RB-45 Tornado. To reduce processing requirements the models have no VC, interiors or external stores, no water injection system on the RB, and of course no 2D panel or sounds. All of the original skins are present, but to reduce the number of models, some that differed from others in only tiny details have been omitted and their skins reassigned to nearly identical models. If you don't have it already, you can find the the full-featured flyable B-45 & RB-45 in the library here on this site. Models by David Wooster, skins by Mick.
Posted May 27, 2023 02:35 by Mick Morrissey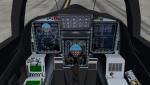 32.62Mb (390 downloads)
Swedish-built and designed Saab JAS 39 Gripen is a single-engine, single-seat multi-role all-weather fighter. Originally intended to replace the aging J-37 Viggen, it surpasses its older, larger brother in many ways. The new Gripen (Swedish for Gryphon) utilizes fourth-generation technology, an efficient augmented turbofan engine, all-digital fly-by-wire controls, and canard wing control surfaces. The Gripen is capable of carrying nearly all ordnance available to NATO allies.
Posted May 6, 2023 10:40 by virtavia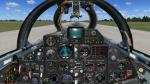 30.48Mb (587 downloads)
Made a separate Su-15 model with a modified wing for FSX. It is not possible to combine all Su-15 modifications into one file for FSX, since the Su-15 with a delta wing without influx, and the Su-15 with a modified wing, have different takeoff and landing dynamics. Since the Su-15 with a modified wing did not have a separate name, in order not to confuse it with the regular Su-15 FSX called it the Su-15M. Model Designer : Brett Hoskins Panel : Jan Moravec.
Posted Apr 13, 2023 11:02 by Golubenko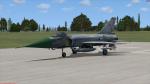 26.84Mb (454 downloads)
FSX/FS2004 Sukhoi Su-15A in Red Falcons, Red 47, and Red 11. Model Designer : Brett Hoskins Panel : Jan Moravec. Redone 2D cockpit and flight dynamics.
Posted Apr 8, 2023 23:44 by Golubenko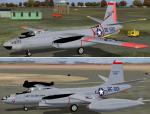 340.85Mb (257 downloads)
The North American B-45 Tornado was one of the most important American aircraft of the early Cold War period, and one of the least remembered today. It was the first bomber-sized jet bomber in service anywhere in the world, first jet to drop a live atomic bomb, first jet to cross the North Pacific non-stop (Alaska to Japan,) first jet to fly the North Atlantic (with stops), NATO forces' first and for some time only nuclear deterrent, first reconnaissance plane to fly deep penetration missions over North Korea, the People's Republic of China, and the Soviet Union, and first aircraft to routinely use in-flight refueling on combat missions. The package includes twenty models and three dozen authentic skins depicting every major variant and numerous minor and sub-variants as they appeared throughout the type's service life. A detailed manual explains some of the type's unique operational procedures. Mostly by David Wooster with some help and skins painted by Mick.
Posted Feb 15, 2023 19:13 by David Wooster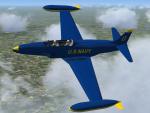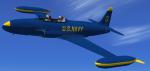 4.77Mb (385 downloads)
Built by Canadair in Montreal,Quebec, this aircraft went to the Royal Canadian Air Force as 21192 in 1956. Upon retirement, she went to Flight Test Research as N156X and then on to Flight Systems as N304FS. She was then sold to T-33 Inc who painted her in this color scheme representing the Blue Angels commentator's machine. Early in 2022, she was sold again becoming N133C. Painted onto Tim "Piglet" Conrad's excellent Lockheed T-33, it works well in FSX but, as usual, there are problems with the glass.
Posted Dec 8, 2022 03:44 by turbodak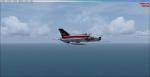 43.08Mb (342 downloads)
Eight different historical textures for Ivan Jurcaga's MiG-21 F-13 in the colors of Egypt No. 26 Squadron, East Germany, North Korea, USAF 4477th Test Squadron, Czech and Albania
Posted Aug 13, 2022 00:53 by Nilsson.J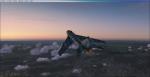 20.08Mb (597 downloads)
Textures for various Eastern Bloc and Arab countries for Yan Tao's MiG-19. Works in FSX, P3D up to v3 and FS2004
Posted Aug 5, 2022 01:33 by Nilsson.J