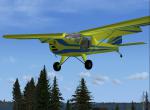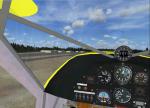 10.04Mb (1910 downloads)
The Ai-10 Ikar is a Ukrainian two-seat ultralight cabin monoplane, designed and built by the Ikar Aero Club of Kiev. With new flight dynamics. Author: Tsyntsar Victor.
Posted Dec 25, 2018 11:58 by Tsyntsar Victor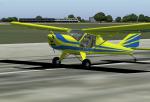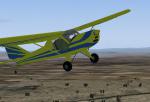 10.72Mb (947 downloads)
The Ai-10 Ikar is a Ukrainian two-seat ultralight cabin monoplane, designed and built by the Ikar Aero Club of Kiev. Author: Tsyntsar Victor. Model version 1.0
Posted Dec 17, 2017 11:18 by Tsyntsar Victor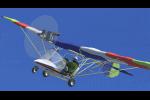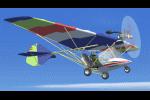 5.33Mb (2182 downloads)
The first Spanish ultralight is the Tango (2 axes), versions I, II and II GT, riding Rotax 503 or 582 engines and allowed to fly only 40 km / h, which was initiated, meets the requirements tickets or school in fact I think it's the most ULM pilots formed in Spain. I managed not Gauges error adding some of the Cessna C172, since some of the originals were designed for FS98. Texture by Juan Villamor.
Posted Apr 13, 2015 20:53 by Juan Villamor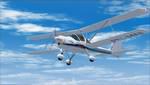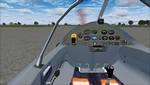 65.05Mb (1408 downloads)
Aviasud Mistral. The Aviasud Mistral is a French two-seat ultralight biplane built by Aviasud Engineering. This plane is notable as it has forward swept wings and side-by-side seating. The lower wings are movable and are used as the roll control. Model and VC. By OIMD
Posted Dec 26, 2014 08:31 by oimd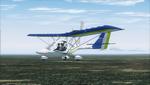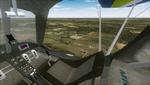 20.41Mb (2384 downloads)
The ML400 is a Brazilian microlight aircraft that was designed and produced by Microleve of Rio de Janeiro. When it was available the aircraft was supplied as a complete ready-to-fly-aircraft or as a kit for amateur constructionThe ML 400 complies with the Federation Aeronautique Internationale microlight rules. It features a strut-braced parasol wing, a two-seats-in-side-by-side configuration enclosed cockpit, fixed tricycle landing gear and a single engine in pusher configuration. Includes VC.
Posted Dec 11, 2014 05:17 by Garnier D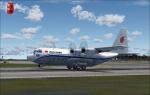 15.38Mb (836 downloads)
Air China textures for the payware Captain Sim C-130
Posted Jul 23, 2014 19:25 by Liao Yitong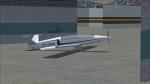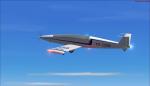 3.58Mb (1685 downloads)
This is the FS2002/FS2004 Moni Motorglider by Monnett Experimental Aircraft Company. This model features an opening canopy, detailed Virtual Cockpit with functioning instruments, FS2002 Panel adaption folder, animated control surfaces, working suspension, turning pilots head, and a 3d panel. Original modeled in Gmax by William Ortis. Texture by Armando Yanez YV-REPAINT'S
Posted Jul 12, 2012 23:24 by Jose Armando Yanez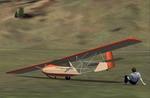 0.26Mb (1189 downloads)
FS2004 Hol's Der Teufel Glider (updated) A German training sailplane designed by Lippisch. The plane served the first Hungarian Glider Club MOVERO also in 1929 without instruments. The start mode was " toy-catapult " . FS model by Naoki Uehara. Accurate flight dynamics, polar datas, repaint, panel by George Csillag.
Posted Sep 1, 2011 08:59 by George Csillag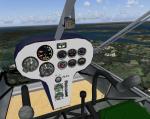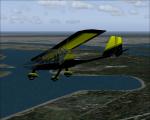 23.46Mb (4103 downloads)
After I looked all over the net to find the perfect LSA for FS I decided that I was gonna need to make one of my own, one that represents the real world, low and slow flying. The Rans S12 is a gorgeous aircraft, with excellent view from the cockpit, but because of the massive wing and tail surfaces, she does handle like a ultralight.With are over a thousand sold and god knows how many flying the S12 is a very successful aircraft. To bring more realism to the model, I recalibrated the gauges and made a pair of Becker comm and XPDR, it has both VC an 2D panels but I never used the 2D for anything. The Sound Package if from Diego Furlan, (give the man the credit he deserves!!!) It's a two stoke sound but because of the high revs of the 912 the 2T is a lot closer to the real thing then the lycommings'.By Ralph Wishart
Posted Aug 30, 2011 07:21 by Ralph Wishart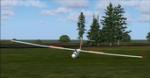 0.64Mb (949 downloads)
FS2004 SZD 30 Pirat Glider Manufactured in Poland, popular Polish Club Class sailplane The HA-4379 served the Hungarian Posta Aero Club FS2K Designed by Oscar Pedrosa, gauges by Wolfgang Piper Mods for FS2K4 works by George Csillag
Posted Aug 29, 2011 11:56 by George Csillag