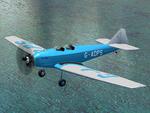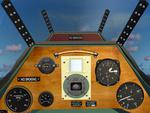 16.27Mb (189 downloads)
Built by British Aircraft Manufacturing Co. in the 1930s, the BA Swallow II was a robust and extremely stable aircraft that could be flown slow at 25-30 mph and still be under complete control, being almost impossible to stall. The majority were sold to private owners or flying schools within the United Kingdom. Only a handful are still in flying condition today. The model was once hosted on Classic British Files, but after the site became defunct, it has not been available on any site for over 10 years. Now, with the author's permission, it has been re-uploaded and is available once again. This pack includes the Pobjoy engine version as well as authentic sound files and 8 liveries representing aircraft from the UK, Ireland and Australia. By Paul Gausden and Doug Kightley.
Posted Mar 2, 2021 00:16 by lastivka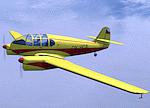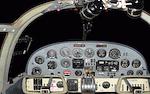 19.82Mb (599 downloads)
FS2004 Aero Ae-45S. The Aero Ae-45S was a twin-piston engine civil utility aircraft produced in Czechoslovakia after World War II. Aero Vodochody produced the aircraft in 1947-1951, after which the Let Kunovice rolled out these planes until 1961. In 1958 the Ae-45S became the first Czechoslovak plane to cross the Atlantic Ocean. It was the first product of the nation's postwar aviation industry and proved a great success, with many of the 590 produced being exported. This pack contains the Aero Ae-45S together with various upgrades, including a 2D wide panel and 12 liveries, representing aircraft from Czechoslovakia, East Germany, Hungary, Romania, Slovakia, and the UK. By Pavel Karasek.
Posted Feb 26, 2021 16:33 by lastivka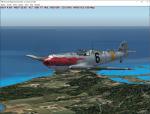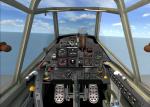 7.05Mb (752 downloads)
FSX/FS2004 Messerschmitt Bf 109T Messerschmitt Me 109T was a projected carrier version of the Me 109E model. Prior to the war, the Kriegsmarine had become fascinated with the idea of the aircraft carrier. The Graf Zeppelin carrier wasn't completed and 63 of 70 T-1s were built as T-2s without carrier equipment. These fighters were assigned to I/JG.77, deployed in Norway on landing strips which were both short and subject to frequent, powerful cross-winds. At the end of 1941 the unit was ordered to return their aircraft to Germany and received E-3s as replacements. Mdl by A.F.Scrub
Posted Feb 4, 2021 13:19 by A.F.Scrub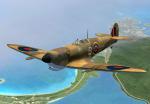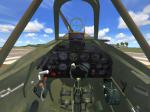 13.93Mb (742 downloads)
FSX/FS2004 Spitfire Mk VcTrop The basic Mk V was a Mk I with the Merlin 45 series engine. This engine delivered 1,440 hp (1,074 kW) at take-off, and incorporated a new single-speed single-stage supercharger design. Several Mk I and Mk II airframes were converted to Mk V standard by Supermarine and started equipping fighter units from early 1941. This MkVc is armed with 4 cannon. Model by A.F.Scrub
Posted Jan 30, 2021 13:14 by A.F.Scrub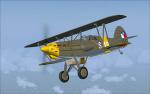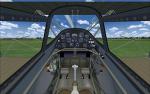 8.38Mb (357 downloads)
Avia B-534 IV. An original build of a Czech WWII Avia B-534 IV biplane fighter/fighter bomber for Fs9, by Two versions of this advanced biplane fighter, one with bombs and one without. With pilots ani's and LOD's, and VC. Chris Lampard. SOH Nov 2020
Posted Dec 2, 2020 11:30 by uploader
0.73Mb (80 downloads)
Fix For hughessprucegoose_fs9.zip for Hughes H-4 "Spruce Goose". Corrected textures now in DXT3 instead of DXT5. With my many development files I mixed my own FSX textures with that one I prepared for FS9 users. Sorry for inconvinience! Erwin Welker
Posted Nov 1, 2020 12:28 by Erwin Welker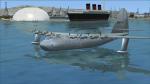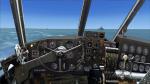 37.72Mb (826 downloads)
FS2004 Flying Ship Hughes H-4 "Spruce Goose". This updated version will work also in FSX and has improved detailes, a corrected shape and improved FDEs. The Hughes Aircraft Company H-4 was due to WWII designed as strategic airlift; the biggest flying boat ever proposed as troup transporter. Lack of Aluminium the world hugest aircraft was made almost entirely of birch wood and this made her communly known as "Spruce Goose". It was a joint project of Henry J. Kaiser and Hughes Aircraft Company. By 1944, it had lost its strategic importance. Howard Hughes himself made only one test flight with ground effect in about 10 m/33 feet height and for less than one mile, on Nov.2,1947. In the 80th the "Spruce Goose" was displayed in Long Beach/California under a large dome and next to the former ocean liner "Queen Mary". Since 1993 the "Spruce Goose" can be visited in the Evergreen Aviation & Space Museum McMinnville/ Oregon. The model comes with a photorealistic 2D panel and the VC showes the complete cockpit including all the crew desks and equipments and the passenger seats for the invited persons of the test flight. When on water surface, special animations sends a motor yacht to the exit door whilst Howard Hughes waits for the boat. Seventeen FSX cameras showes you the giant from its best sides and let you explore the huge cockpit. FSDS 3.5 model by Erwin Welker
Posted Oct 30, 2020 04:42 by Erwin Welker

1.21Mb (515 downloads)
Name: Fix For The nose and the keel of the Hughes H-4 Hercules, known as "Spruce Goose". This are two small corrections which requires hughessprucegoose.zip. Just overwrite! Attention: Fly this airplane with realism MEDIUM or EASY. Not flyable in HARD! You can change the settings in the Menu "Aircraft". Erwin Welker
Posted Oct 22, 2020 03:46 by Erwin Welker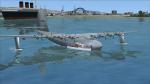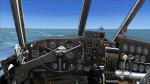 34.43Mb (1080 downloads)
FSX/Acceleration/FS2004 Flying Ship Hughes H-4 "Spruce Goose". The Hughes ASircraft Company H-4 was due to WWII designed as strategic airlift. Lack of Aluminium the world hugest aircraft was made almost entirely of birch wood and this made her communly known as "Spruce Goose". It was a joint project of Henry J. Kaiser and Hughes Aircraft Company. By 1944, it had lost its strategic importance. Howard Hughes himself made only one test flight with ground effect in about 10 m/33 feet height and for less than one mile, on Nov.2,1947. In the 80th the "Spruce Goose" was displayed in Long Beach/California under a large dome and next to the former ocean liner "Queen Mary". Since 1993 the "Spruce Goose" can be visited in the Evergreen Aviation & Space Museum McMinnville/ Oregon. The model comes with a photorealistic 2D panel and the VC showes the complete cockpit including all the crew desks and equipments and the passenger seats for the invited persons of the test flight. When on water surface, special animations sends a motor yacht to the exit door whilst Howard Hughes waits for the boat. Seventeen FSX cameras showes you the giant from its best sides and let you explore the huge cockpit. FSDS 3.5 model by Erwin Welker. SEE FIX ABOVE
Posted Oct 21, 2020 02:14 by Erwin Welker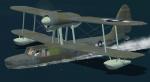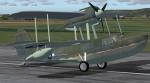 5.09Mb (3230 downloads)
FSX/FS2004 Supermarine Sea Otter amphibian. The Supermarine Sea Otter was a British designed amphibian biplane intended to replace the once venerable Supermarine Walrus in the Royal Air Force reconnaissance and search and rescue missions. It had the distinctions of being the last biplane flying boat to achieve front line service in Great Britain's armed force. GMAX model by A.F.Scrub
Posted Sep 21, 2020 09:40 by A.F.Scrub