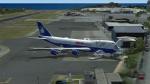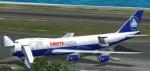 11.25Mb (540 downloads)
CLS 747-200F Liberty express cargo textures only. For the payware CLS Boeing 747-200.
Posted May 24, 2009 12:19 by Miguel Peña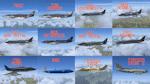 10.46Mb (489 downloads)
This is a texture pack for the FS9 version of Alphasims Supermarine Scimitar containing 12 repaints.
Posted May 24, 2009 10:55 by Bruce Martin / Alphasim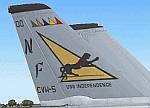 5.10Mb (1484 downloads)
This repaint depicts the VF-21 Freelancers CAG ("00") bird, circa 1994. The squadron was home in Japan preparing for their last deployment aboard USS Independence. VF-21 was disesablished in 1996, ending 37 years of service. Payware F-14 Tomcat by IRIS. Master textures by Dag Roger Stangeland. Repaint by Bill Casey & Perry Hayes.
Posted May 22, 2009 10:11 by Bill Casey and Perry Hayes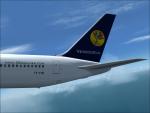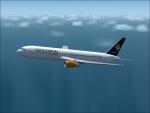 2.01Mb (404 downloads)
Santa Barbara Airlines Venezuela TF-FIB DXT3 textures only for LEVELD 767-300, please read the Readme.txt for the installation. Textures by Luis Fernando Quimbayo
Posted May 3, 2009 21:10 by Luis Fernando Quimbayo
2.46Mb (646 downloads)
Mikoyan Mig-21 Fishbed Long range, with addetional feul tank Iraqi Air Force Camo Repaint. It's working with the Pay ware Mig-21 UM by [Captain Sim MiG-21UM] a very Realistic and outstanding model with many functional cockpit buttons. The paint based on the Iraqi Mig paint During 1980's
Posted Apr 27, 2009 21:00 by Hanaw .H.Ahmed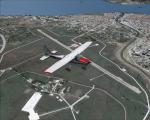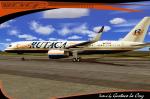 7.40Mb (561 downloads)
FS2004 MAAM B-25J Fuerza Aérea Venezolana Textures only Requires the payware MAAM B25J. Textures by: Rubén Henríquez.
Posted Apr 26, 2009 18:28 by Ruben Henriquez
3.46Mb (748 downloads)
Textures for the Nemeth Design Mi-17. [http://nemethdesigns.com/]
Posted Apr 20, 2009 20:34 by Hanaw H.Ahmed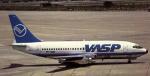 2.66Mb (693 downloads)
Textures for the payware Aerosim Boeing 737-200 .
Posted Apr 17, 2009 13:42 by Michel
0.99Mb (689 downloads)
This is a repaint of Abacus Chopper Havoc westland Gazelle Pay ware add on, it's my first repaint work using the Payware Abacus FS Repaint by http://www.abacuspub.comrnIraqi Air force IQAF has used the Gazelle effectively in the Iraq-Iran war, and this texture is based on a real paint used by Iraqi camo aircraft Skins, thank you all.
Posted Apr 17, 2009 09:46 by Hanaw H.Ahmed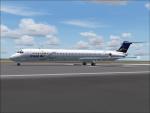 4.20Mb (2765 downloads)
JCA MD83 Insel Air Curaçao PJ-MDA textures for the Jet City Aircraft MD-83. Textures by Luis Fernando Quimbayo
Posted Apr 5, 2009 18:45 by archive