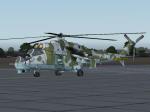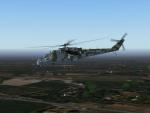 7.50Mb (1211 downloads)
Textures for the Nemeth Designs for FS2004 showing Mi-24D no.584 with 3rd sqr. 49th Combat Helicopters Regiment in Pruszcz Gdaski (90's years)
Posted Nov 14, 2008 19:30 by Rafa³ Miko³ajczyk
7.28Mb (1044 downloads)
Angel Wings V.A. textures for PMDG payware Boeing 737-700.
Posted Oct 15, 2008 13:35 by Olenici Marius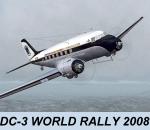 3.74Mb (776 downloads)
This is a repaint of the FS2004/FS2002 MAAM-SIM Passenger DC-3 in a specially commissioned livery for the 2008 DC-3 World Rally, organised by the team at DC-3 Airways VA. Visit www.dc3airways.com for information about this exciting event in October 2008. Thereafter, you can keep this lovely lady as a souvenir of how well you flew! Requires a base install of the FS2004/2002 R4D-6/DC-3A package available from Mid-Atlantic Air Museum Simulations at www.maam.org. This livery is also available for the default FS2004 DC-3 as wr8_fs9.zip. By Mark Beaumont, VP Fleet, DC-3 Airways.
Posted Oct 13, 2008 10:38 by Mark Beaumont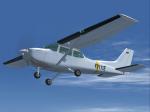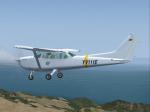 9.73Mb (1639 downloads)
Cessna 172R Skyhawk registration YV111E, trainer aircraft from Aeroclub Valencia, Venezuela. Original model and default textures by Flight One Software, (payware package). Includes panel files with registration. Textures only. By Juan Ernesto Oropeza.
Posted Sep 18, 2008 20:09 by Juan Ernesto Oropeza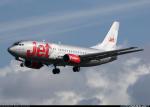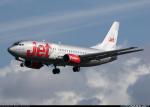 2.36Mb (1911 downloads)
Textures for the Feelgood Boeing 737-300 in Jet 2 livery.
Posted Sep 14, 2008 11:19 by Reece Longden
2.15Mb (1335 downloads)
Spanish army (FAMET) textures for the payware Eurocopter Tiger created by AFS available http://www.afs-design.de/e1/1177731.htm Only tested for FS2004 By Alberto Garcia-Lledo, with AFS permission.
Posted Sep 12, 2008 15:46 by Alberto Garcia-Lledo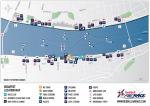 0.72Mb (761 downloads)
This is the track Red Bull Air Race Budapest FS9. Requires Budapest Lago scenery.
Posted Sep 12, 2008 03:37 by Siscot Yves
4.49Mb (779 downloads)
Douglas DC-3 Aeroejecutivos, registration YV-440C and named Caballo Viejo (Old Horse), was one of the Aeroejecutivos aircraft, for charter and touristical flights inside the venezuelan territory. Actually rest at the Caracas Airport, waiting its finally destiny. Based on repaint templates by Mark Beaumont and original textures by Jan Visser, this texture set in the Aeroejecutivos livery requires the base DC-3 package available from Mid Atlantic Air Museum Simulations (MAAM-SIM) at www.maam.org. Requires previous installation of OY-BPB C-47 package (BPB_FS9.ZIP). Installation instructions are included. By Roberto Leiro and Juan Ernesto Oropeza.
Posted Sep 6, 2008 04:18 by Juan Ernesto Oropeza

3.59Mb (913 downloads)
FS2004 FS Earth (Demo). This program acts as an interface between Flight Simulator 2004 and Google Earth, letting to follow a flight in real time, over the satellite images generated by Google Earth. Flights can be saved, and many options are available for fine tuning the performance, as well as the map's style (zoom, tilt, orientation). Works on a single computer running FS2004 and Google Earth all together or, for best experience, can be used on two networked computers running respectively FS2004 (master) and Google Earth (slave). AI and Multiplayer traffic is also displayed in Google Earth, with course prediction and other information. Requires Flight Simulator 2004 and Google Earth. The program running in trial mode works only around Anchorage, Alaska, (PANC / ANC) for a maximum of five minutes per flight session. Visit http://www.wideview.it/ for additional information.
Posted Sep 6, 2008 03:14 by FS Earth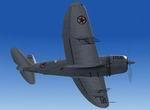 1.00Mb (262 downloads)
CFS2/FS2004 Republic F-47D-40-RE. Serial: 56 (13056). Yugoslavian Air Force. Displayed at the Yugoslav Aeronautical Museum, Belgrade. No additional information available. This repaint is for the ALPHASIM P47D model which can be found at: http://www.alphasim3.com/store/advanced_search_result.php?ke .. . Repaint by Evan G. Butterbrodt (revev).
Posted Sep 6, 2008 03:09 by Evan G. Butterbrod