3.46Mb (750 downloads)
Textures for the Nemeth Design Mi-17. [http://nemethdesigns.com/]
Posted Apr 20, 2009 20:34 by Hanaw H.Ahmed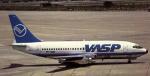 2.66Mb (695 downloads)
Textures for the payware Aerosim Boeing 737-200 .
Posted Apr 17, 2009 13:42 by Michel
0.99Mb (694 downloads)
This is a repaint of Abacus Chopper Havoc westland Gazelle Pay ware add on, it's my first repaint work using the Payware Abacus FS Repaint by http://www.abacuspub.comrnIraqi Air force IQAF has used the Gazelle effectively in the Iraq-Iran war, and this texture is based on a real paint used by Iraqi camo aircraft Skins, thank you all.
Posted Apr 17, 2009 09:46 by Hanaw H.Ahmed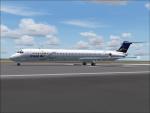 4.20Mb (2765 downloads)
JCA MD83 Insel Air Curaçao PJ-MDA textures for the Jet City Aircraft MD-83. Textures by Luis Fernando Quimbayo
Posted Apr 5, 2009 18:45 by archive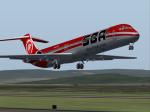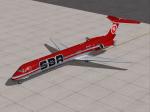 0.90Mb (537 downloads)
Santa Barbara Airlines McDonnell-Douglas MD-82, registration YV153T, a new aircraft in the fleet for international flights. Textures only for the Flight One Software CoolSky Super80 Douglas MD-82, (payware package). Flight Dynamics by Jerry Beckwith, Aircraft Model & Texture by Terry Gaff. Look at http://www.flight1.com/ for detailed info. Fully reworked textures, tail and wings. By Juan Ernesto Oropeza.
Posted Mar 27, 2009 18:33 by Juan Ernesto Oropeza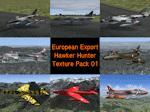 11.13Mb (1152 downloads)
This is my 6th Texture Pack of the Alhasim Hawker Hunter, there are 8 repaints covering Belgium, Denmark, Netherlands, Sweden and Switzerland.
Posted Mar 26, 2009 19:43 by Bruce Martin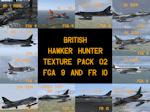 15.09Mb (551 downloads)
This is my 5th texture pack for the Alphasim Hawker Hunter, This pack covers British FGA.9 (x10 repaints)and FR.10 (x2 repaints) variants . For FS2004 Only.
Posted Mar 26, 2009 05:29 by Bruce Martin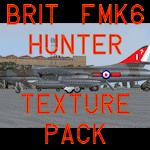 24.48Mb (564 downloads)
This is my fourth texture pack for the Alphasim Hawker Hunter, this pack covers the British F mk6 variant it includes 15 paints for FS2004 only.
Posted Mar 23, 2009 14:30 by Bruce Martin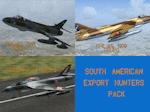 4.50Mb (605 downloads)
This is my third pack of Textures for the Alphasim Hawker Hunter, this comprises of the South Americas, Chile and Peru. FS2004 only
Posted Mar 17, 2009 07:33 by Bruce Martin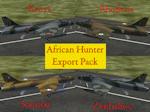 5.41Mb (514 downloads)
This is my second pack of textures of exported Hawker Hunters for the Alphasim Hawker Hunter, This one covers the African continent, Countries included are Kenya, Rhodesia, Somalia and Zimbabwe. FS2004 only
Posted Mar 16, 2009 06:42 by Bruce Martin