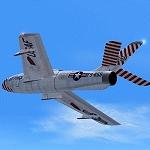 1.37Mb (1014 downloads)
These are textures only for the ALPHASIM FREEWARE F-84F Thunderstreak package. This repaint represents Republic F-84F Thunderstreak S/N 51-1659 as it flew in the markings of the 389th Fighter Bomber Squadron (part of the 366th Fighter Bomber Wing at Alexandria AFB, Louisiana) in 1955. The original plane is now beautifully restored in these striking squadron colors and resides at the Combat Air Museum, Topeka - Kansas. / Jaap de Baare
Posted Feb 11, 2009 17:42 by Jaap de Baare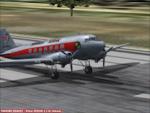 10.16Mb (443 downloads)
Robinson textures onlyfor the MAAM Douglas DC3, Robinson was the predecessor to Mohawk Airlines. Requires the payware MAAM Douglas DC3.
Posted Jan 25, 2009 07:20 by Duane Tarbox (D.L. Textures)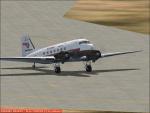 6.33Mb (1286 downloads)
New Textures for the MAAM payware Douglas DC3 in Mohawk " route of the Air Chiefs" Texture" Photo realistic " Air Chief Algonquin -N4070"
Posted Jan 21, 2009 16:55 by Duane Tarbox
4.41Mb (1486 downloads)
FS2004 50North Boeing 737-476 QANTAS/Jetconnect NC, registration JK-JTR. If you like flying in New Zealand but in the Qantas livery, that means flying a QANTAS/Jetconnect B737-300 or 400. QANTAS Jetconnect is based in Auckland, New Zealand (NZAA) and is a subsidiary of Qantas. I love flying in and out of Queenstown, New Zealand (NZQN), so that was the inspiration for this repaint. Besides, there are no repaints of the QANTAS Jetconnect B737-400's in the new QANTAS livery. QANTAS Jetconnect operates a fleet exclusively comprised of Boeing 737's. As of Jan 2009, they operate 5 376 models and 3 476 models for a total fleet of 8 aircraft. This 476 model, bearing registration JK-JTR, is the first in the fleet to be repainted in the new Qantas livery with a restyled kangaroo, new font for the QANTAS name, and the missing gold band in front of the red on the aft section of the fuselage. Most repainted textures in this package are 32-bit with no mipmaps. This is a textures only package. Payware 50North Boeing 737-400 required. Repaint by Jeffrey S. Bryner, Model by 50North.
Posted Jan 20, 2009 22:23 by Jeffrey S. Bryner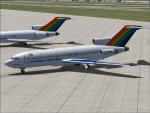 2.34Mb (774 downloads)
AeroSim Boeing 727-100 Transbrasil Textures only. By Michel O. Florindo.
Posted Jan 20, 2009 15:19 by Michel O.Florindo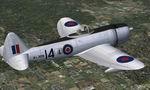 1.23Mb (400 downloads)
CFS2/FS2004 Republic Mk.II Thunderbolt Bubble Top, KL328/14, 73rd Operational Training Unit RAF, Fayid, Egypt Textures only for the Alphasim payware model. This all bare metal paint scheme was taken from an actual photograph. This repaint is for the ALPHASIM model which can be found at: http://www.alphasim3.com/store/advanced_search_result.php?ke .. Repaint by Evan G. Butterbrodt
Posted Dec 20, 2008 04:16 by Evan G. Butterbrodt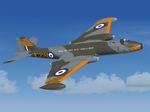 3.60Mb (530 downloads)
FS2004 EE Canberra WK162, No. 90 Signals Group, RAF circa 1963. Textures for the payware Alphasim aircraft. The English Electric Canberra was first flown in 1950, and yet there were still versions of this fine aircraft in service at the outset of the 21st century. An excellent design overall, the type was also adopted and manufactured in the United States as the Martin B-57. A large number of variants were produced, including high-altitude reconnaissance, attack, nuclear strike, night interdiction, and trainers. The type was initially intended to fly very high and fast and was thus equipped with no defensive armament. Several speed and altitude records were garnered by the Canberra in the years immediately following its introduction into service. In 1957, a rocket-boosted Canberra flew to over 70,000 feet, a staggering altitude at the time. Repaint by Ben Hartmann of UKMIL
Posted Dec 19, 2008 11:57 by Ben Hartmann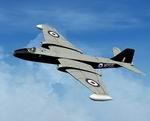 2.86Mb (527 downloads)
FS2004 EE Canberra WP515, 231 OCU, RAF circa 1957. Textures for the payware Alphasim aircraft. The English Electric Canberra was first flown in 1950, and yet there were still versions of this fine aircraft in service at the outset of the 21st century. An excellent design overall, the type was also adopted and manufactured in the United States as the Martin B-57. A large number of variants were produced, including high-altitude reconnaissance, attack, nuclear strike, night interdiction, and trainers. The type was initially intended to fly very high and fast and was thus equipped with no defensive armament. Several speed and altitude records were garnered by the Canberra in the years immediately following its introduction into service. In 1957, a rocket-boosted Canberra flew to over 70,000 feet, a staggering altitude at the time. Repaint by Ben Hartmann of UKMIL
Posted Dec 19, 2008 11:56 by Ben Hartmann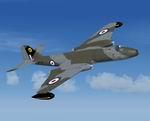 3.48Mb (431 downloads)
FS2004 EE Canberra WT303, 249 Sqn, RAF circa 1966. Textures for the payware Alphasim aircraft. The English Electric Canberra was first flown in 1950, and yet there were still versions of this fine aircraft in service at the outset of the 21st century. An excellent design overall, the type was also adopted and manufactured in the United States as the Martin B-57. A large number of variants were produced, including high-altitude reconnaissance, attack, nuclear strike, night interdiction, and trainers. The type was initially intended to fly very high and fast and was thus equipped with no defensive armament. Several speed and altitude records were garnered by the Canberra in the years immediately following its introduction into service. In 1957, a rocket-boosted Canberra flew to over 70,000 feet, a staggering altitude at the time. Repaint by Ben Hartmann of UKMIL
Posted Dec 19, 2008 11:54 by Ben Hartmann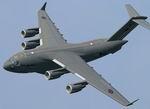 2.92Mb (968 downloads)
FS2004 North American AT-6C/AT-6G N3676F Photoreal Textures only. Textures for the payware Alphasim aircraft This is a repaint only for Alphasim's Texan/Harvard.The North American T-6 Texan was an excellent design that served as a basic transitional combat trainer in all branches of U.S. service as well as in countries worldwide. U.S. Navy pilots utilised the type under the SNJ designation, the most common versions being the SNJ-4, SNJ-5 and SNJ-6. The RAF was very taken with the design and adopted it as the Harvard. Later versions were manufactured in Canada and the type saw service in countries worldwide. An excellent all-round trainer, the type was quite good at teaching new pilots to avoid the accelerated stall, as a wing would snap round quite unexpectedly if the pilot was unwary. Approximately 17,000 of the type were built and some 350 are still airworthy. Repaint is based on Alphasim's paintkit. Repaint by Ben Hartmann of UKMIL
Posted Dec 19, 2008 11:53 by Ben Hartmann