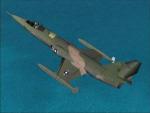 7.55Mb (1716 downloads)
This is an original F-104G for CFS2 based Massimo Taccoli's original source file. I did the CFS2 MDL, DP and CFG files. The aircraft is armed with the original 20mm Vulcan Rotary Cannon and an AlphaSim ~AIM-9L Sidewinder payload with an 8-Second Airburst DP and Effects by myself and included in the download.** The US Vietnam-era textures are by Henry William, panel by Marco Spada, sound by Eric Cantu and flight dynamics by Romain Lucas, modified by myself for CFS2.
Posted Jun 16, 2009 02:35 by Tom Sanford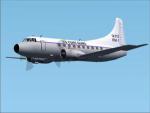 1.10Mb (815 downloads)
This is an original model of the RM-1, military version of the Martin 404, based on a source file by D. Waldron. The aircraft is fully animated with a VC and is multi-LOD. She has basic 2D panel with compass and GPS, as well. The panel was adapted from the C-119 panel by D. Reimer. The Martin 404/RM-1 went into service in 1950 as the first pressurized twin-passenger liner. She replaced the initial model 202.
Posted Jun 16, 2009 01:55 by Tom Sanford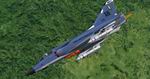 2.03Mb (1134 downloads)
CFS2 MIRAGE III EBR F.A.B. 26 This aircraft was originally made for FS2002 by Denis and Daniel da Silva. The Mirage features fully control surfaces, gear, and canopy. The CFS2 conversion, by Chuck Dyer, features custom weapons in two loadouts. INTERCEPT and STRIKE. Panel and fx included. Sound aliased to stock zero, need jet sound (here) or see details in file. 2.1MB
Posted Jun 10, 2008 11:31 by archive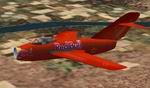 5.70Mb (920 downloads)
Fs2002/CFS2 Mig 15 'RedBull' This Mig 15 'RedBull' is flown at airshows by Bill Reesman. GMAX model is fully animated with rolling wheels and working suspension. Dynamic virtual Cockpit, multi-res, and breaking parts with damage maps. It has a navigation panel for both the Pacific and European Theaters. The MiG-15 first saw operational flight in 1948. Most Warsaw act nations bought and flew the MiG-15. By Ed Wilson and J-P Demmerle 03/01/2002 Repaint by Sebastian Hecker. 5.8MB
Posted Jun 10, 2008 11:31 by archive
1.28Mb (2164 downloads)
FS2002/CFS2 Blake Media Sikorsky S-92. This repaint is of a Sikorsky S-92 that is shown in the new movie Mr.Deeds. With this repaint you now have a Blake Media logo(Fictional) in the front of the S-92, leather seats, and a new cockpit. Contains full helicopter, no need to download anything. 3D Model built with AD2000 by Herve Devred. Repaint By Michael Phillips. New Panel By Michael Phillips. 1.3MB
Posted Jun 10, 2008 11:31 by archive
0.09Mb (1088 downloads)
DP file for the Airwolf by Alan Devin's. (get it here)Posted with permission. It will give the Airwolf 4-7.62 MG, 2-30mm cannon in the side weapons bays and 3-40mm cannon in the drop down weapons bay. The DP will also put the blue flame effect at the rear turbo outlets. The air file will give you speeds up to 750mph at sea level and Max Speed at 30,000+ of 1990mph. She does want to shimmy pretty bad in CFS2 (above 80,000ft she gets a bit uncontrollable)- CFS2 is not designed for such fast speeds. It may do better in FS2000. The Airwolf does want to takeoff like a plane though (Rats!). It will slow rapidly when you use the "/" key or deploy the flaps. You'll need to reduce speed by throttling back as you deployed flaps...then she hovers reasonably well. Craig Bowers. 90K
Posted Jun 10, 2008 11:31 by archive
0.05Mb (456 downloads)
8000 MPH plus Air file. VERY stable flight dynamics. Sea level flight is maintained around 3400 MPH. 140,000 - 143,000 feet, stable sustained speed around 7000 MPH. File size 52KB
Posted Jun 10, 2008 11:31 by archive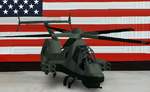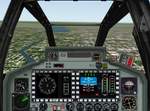 6.43Mb (8760 downloads)
FS2000/FS2002 RAH-66 Comanche Sikorsky/Boeing RAH-66 Comanche has Full Moving parts, Panel, Inside 7 views right to left, sounds, animated gear and gear doors, animated rotor, turbo fan, panels, gauges and a mean look. This Version is set up for CFS2 and FS2000. By Kirk Long. 6.6MB
Posted Jun 10, 2008 11:31 by archive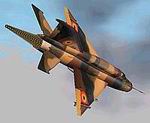 1.39Mb (1391 downloads)
CFS2 Mikoyan MiG-21 Fishbed "K" version 1.1 Romanian Air Force Repainted in the colors of the Romanian Air Force, this MiG-21 is optimized for the air defense mission. It can carry four air to air missiles, an external fuel tank and two 23mm cannon. Based on original by Kirk Olsson. AIR file by Jim Coarse. Repaint by Justin Lamb. DP by Chris Coarse by Chris Coarse. 1.4MB
Posted Jun 10, 2008 11:31 by archive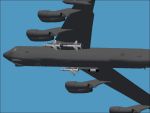 6.47Mb (2359 downloads)
B-52H Stratofortress For CFS2 Only B-52H Stratofortress built using FSDS and animated using a combination of Aircraft Animator and SDL edit. Features realistically moving parts, Realistic Lighting, Deployable Drag Chute, Working Spoilerons, Bomb Bay, Multi-LOD Model. This model is at least 90% authentic to the real B-52H. Tested by real Pilots and Crew Chiefs. Features 6 different paint schemes. A full assortment of weapons and realistic DP file included. By Kotaro Akikawaa. 6.6MB Update: Gauge files for this aircraft. 6.2MB
Posted Jun 10, 2008 11:31 by archive