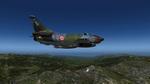 17.65Mb (1165 downloads)
X-Plane Fiat G-91Y (Yankee) 10.22. The Fiat G-91Y was an Italian ground attack and reconnaissance aircraft that first flew in 1966. Resembling its predecessor, the Fiat G-91, the aircraft was a complete redesign, a major difference being its twin-turbojet engines. By Paolo Dessani.
Posted Sep 15, 2013 07:07 by uploader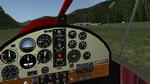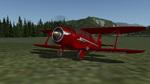 10.61Mb (831 downloads)
X-Plane 9 Beechcraft Staggerwing. There were 781 of these aircraft produced, with at least 250 still in existence, and 150 still in flying condition. Most of these are owned by airline pilots. The flight characteristics of this plane makes it unique. In flight it is stable down to 100 mph. Below 90, the solid feel becomes a bit soggy. The wing is very resistant to stall because the lower wing has incidence, and the top one does not, so that the lower wings stalls first. This makes it hard to stall altogether. A very classy aircraft, with performance bettering that of most modern private planes, it represents the "Golden Age of Aviation." By Heinz Dziurowitz.
Posted Sep 15, 2013 06:54 by uploader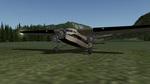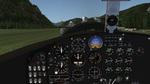 5.75Mb (763 downloads)
X-Plane 9 Ford Trimotor. Remapped some parts to create the new paint scheme. Takes advantage of the new INN and OUT sounds for the engines. This gives you the ability to hear inside the aircraft while the outside sounds gives you the full roar of the engines with a little extra prop sound thrown in. A few upgrades to the exterior, a bit better shaping and new object landing gear. By Heinz Dziurowitz.
Posted Sep 15, 2013 06:38 by uploader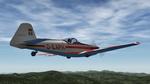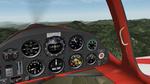 20.58Mb (1303 downloads)
X-Plane 9 Zlin Z 526 AFS. The Zlin Z 526 AFS "Akrobat Special" was developed by Moravan (Czechoslovakia) in the 1970's as a continuation of the legendary Zlin Trener series. It was a worthy competitor at the end of the golden age of smooth and elegant classic aerobatics. The Zlin Z 526 AFS is one-seat, low wing monoplane designed specifically for aerobatic purposes. It is powered by a 132 kW (180 hp) inverted air cooled 6-cylinder Avia M137A engine and the Avia V503A automatic propeller. It has semi-retractable main gear and steerable tail wheel. Maximum permitted G-loads for aerobatics are +7.0/-4.5. By Ivan Smilauer.
Posted Sep 15, 2013 06:22 by uploader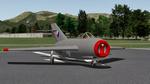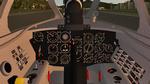 6.36Mb (1240 downloads)
X-Plane 10 MiG-15 v1.1. Here is the MiG-15, one of the best known jet fighter of the Soviet Union. Mig-15 features: full 3D model, clickable 3D cockpit, precise setting of every parameter. Two versions included, one with standard cockpit and one without gunsight for a better view. Tested on X-Plane 10.21 (64 bit). By Radek Kovarik.
Posted Sep 15, 2013 06:06 by uploader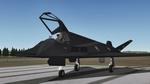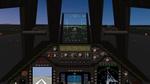 10.49Mb (2894 downloads)
X-Plane 9.60+ Lockheed F-117 Nighthawk. The F117 was the first true stealth aircraft released. The unique design of the single-seat F-117A provides exceptional combat capabilities. The twin-engine aircraft is powered by two General Electric F404 turbofan engines and has quadruple redundant fly-by-wire flight controls. By Fabrice Kauffmann.
Posted Sep 15, 2013 05:55 by uploader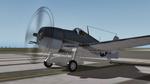 3.94Mb (1222 downloads)
X-Plane 9.70+ Grumman F6F-5 Hellcat v1.0. The Grumman F6F Hellcat was a carrier-based fighter aircraft developed to replace the earlier F4F Wildcat in United States Navy (USN) service. Although the F6F resembled the Wildcat, it was a completely new design powered by a 2000 hp Pratt and Whitney R-2800. Some tagged it as the "Wildcat's big brother". The Hellcat and the Vought F4U Corsair were the primary USN fighters during the second half of World War II. By Fabrice Kauffmann.
Posted Sep 15, 2013 05:49 by uploader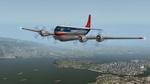 10.74Mb (1308 downloads)
X-Plane 9.70+ Boeing B-377 Stratocruiser v1.7. The Boeing B377, also called the Stratocruiser, was a large long-range airliner built after World War II. It was developed from the C-97 Stratofreighter, a military derivative of the B-29 Superfortress used for troop transport. The Stratocruisers first flight was on July 8, 1947. By Fabrice Kauffmann.
Posted Sep 15, 2013 05:46 by uploader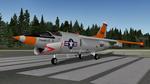 3.01Mb (699 downloads)
X-Plane 9.60+ Vought XF8U-3 Crusader III. The Vought XF8U-3 Crusader III was an aircraft developed by Chance Vought as a successor to the successful F-8 Crusader program and as a competitor to the F-4 Phantom II. Though based in spirit on the F8U-1 and F8U-2, and sharing the older aircrafts designation in the old Navy system, the two aircraft shared few parts. By Fabrice Kauffmann.
Posted Sep 15, 2013 05:46 by uploader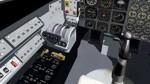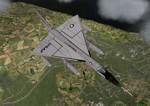 11.90Mb (1099 downloads)
X-Plane 10.22 Convair B-58A Hustler v2.0. The aircraft reaches Mach 2 at 43,000 feet of altitude. Takeoff and approach to the 200. The virtual cockpit does not require much explanation, but do take a look at small PDF included. By depas57.
Posted Sep 15, 2013 05:40 by uploader