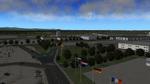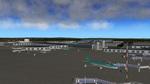 42.28Mb (1236 downloads)
X-Plane 10 Scenery EIDW - Dublin Extreme 2.2, Dublin, Ireland. One of the most comprehensive sceneries made with OverlayEditor along with OpenScenery 2.0 and RUScenery for XP10. This scenery has over 2500 individually placed objects and not only includes the airport but: Dun Laoghaire Harbour, Dublin Port,Howth Harbour, Malahide Yacht Club, Skerries Dinghys, Skerries Windmill, Dublin Buses, Clongriffin Eco Park, Baldoyle Cyclepath, Baldoyle Village, new fuel depot, Harristown Bus Depot. Special thanks to GOLF1, Walter Blinney, and Mercedes for additional objects. By Rene Bruun (Renair).
Posted Dec 6, 2013 02:15 by uploader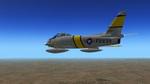 15.92Mb (1361 downloads)
X-Plane 9.70+ North American Aviation F-86E-6 Sabre 2. This plane is based on the Canadair Sabre 6 posted earlier. To convert to a Korean war airplane some changes were made in the model. The wings have a narrower chord. The cockpit is black instead of gray. The engine has been changed to 5200 lb. thrust to represent a J47-GE-13. By Jack Wilkinson.
Posted Dec 6, 2013 02:14 by uploader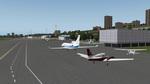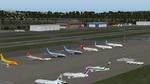 3.97Mb (787 downloads)
X-Plane 10 Scenery - Boeing Field (KBFI), Washington (WA), USA, v1.0. Boeing Field, officially King County International Airport, is a public airport owned and operated by King County, five miles south of downtown Seattle, Washington. Uses OpenScenery and RUScenery. By Rene Bruun (Renair).
Posted Nov 25, 2013 04:34 by Dave French
65.40Mb (1026 downloads)
X-Plane 10 Scenery--LSZA Lugano V10.25 XP 10.25r1. The LSZA Lugano is a scenery, not only an airport, with the city of Lugano, and the villages around the lake of Lugano, Agno, Magliaso, Caslano, Pura, Porto Ceresio and Melide. I reworked The LSZA Lugano scenery from october 24th for a couple of reasons: a) there was an obj. "parasole migros" creating a loading warning. Resolved! b) added many nice details inside the boarding area, have a look at it, it is as real as possible, even the letterbox is in the right place. c) improved some night textures, now it looks a little bit more realistic. d) added a seaplane ramp just in front of the city of Lugano. Again, all objects are made from picture taken in the area and reflect the typical house style of the south of Switzerland. Cranes and sailboats are from my dear friend "Helgo" Dieter Rosenkranz with his permission. A special thanks to Dieter who was my teacher in the use of SketchUp initializing the passion for building scenery. To run this scenery you do not need libraries of any sort, just drop the file as it is into your Custom Scenery folder. It is possible that even after several checks some objects may show up misplaced, there are so many that it is almost impossible to check it all. Just report it, it will be taken care in a future version. Note: the scenery was build for XP 10 and tested on V 10. 25 r1, could not test if it works also with V 9 as i do not have V 9 installed anymore. Hope you will enjoy flying around the area I live in as I do, with all the mountains and valleys making a VFR flight a one time experience. By Antonio Menotti
Posted Nov 23, 2013 02:59 by uploader
24.50Mb (1051 downloads)
X-Plane 9.70 T-38C Talon II. The T38C features the Avionic Update Program "glass" cockpit and Propulsion Modernization Program (PMP) increased thrust engine. Boeing flight test chase, NASA austronaut trainer, U. S. Navy Test Pilots School, Vance AFB and Whiteman AFB B-2 companion trainer liveries. By David Austin
Posted Nov 22, 2013 03:35 by uploader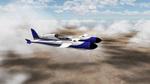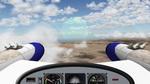 5.12Mb (621 downloads)
X-Plane 9.70 Pond Racer (Reno Racer). An update of the v8.50 version that handles better, is easier to takeoff and land--still fast (400+ mph fast) and sounds like its about to blow itself apart. Yeh! Anthony Booher provided the exhaust flame object for this update. By David Austin.
Posted Nov 22, 2013 03:31 by xplaner
11.94Mb (836 downloads)
X-Plane 9 F-4G "Wild Weasel", 81st TFS/52nd TFW Spangdahlem AB, 9.50. The "Wild Weasel" F-4G (Phantom II) was designed to seek out and supress, electronically, or destroy with High Speed Anti-Radiation (HARM) missiles an adversaries missile guidance and early warning radars. Apparently worked quite well too. Haven't figured out how to model all that in X-Plane 9 though. By David Austin
Posted Nov 22, 2013 00:40 by uploader
17.90Mb (920 downloads)
X-Plane 9 B-1B Lancer v9.50. An updated B1B Lancer (aka the B-One or "Bone"). All the parts, nacelles and fuselage, have been converted into one integrated object with Plane-Maker, reducing their total drag to zero, and gaining back all the supersonic performance lost in the constant "improvements" made to the X-Plane flight model since v9.10. There are now, also, more liveries since the v9.10 file, some fictional. By David Austin.
Posted Nov 22, 2013 00:27 by uploader
10.05Mb (901 downloads)
X-Plane 9 Boeing R/WB-50 Superfortress v9.50. This is the plane the author's father started his Air Force flying career with, in 1955. The RB-50 photo recon and WB-50 weather recon aircraft were developed from the WWII B-29 Superfortress. Jacques Brault gave permission to adapt his v8.6 B-29 panel photo for this model update. The exhaust flames were a 'gift" from Anthony Booher. By David Austin.
Posted Nov 22, 2013 00:27 by uploader
15.01Mb (696 downloads)
X-Plane 9 XB-70 Valkyrie 9.31. This latest update to the Valkyrie file restores flight performance that disappeared in the step from 9.21 to 9.31 by tweeking the models airfoils, co-efficient of drag and adding additional engine thrust. The model performs very close to specification at its all up gross weight of approx. 600,000 lbs. Check out the readme file for flying tips. There's lots more to look at and read in the "reading room" folder as well. By David Austin.
Posted Nov 22, 2013 00:18 by uploader