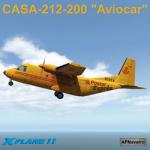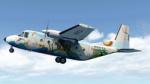 56.33Mb (1038 downloads)
XP-11.30+ CASA-212-200 'Aviocar'. -200 Series is more powerful than -100 and was expanded in the civil market. I know that we are in the age of sophisticated 3D models, and VR cockpits, however, some users have contacted me requesting a XP-11 version of this plane, made in PlaneMaker with 2D photorealistic instrument panel, some years ago. A Navarro
Posted Mar 7, 2019 00:28 by xplover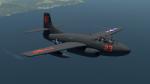 6.90Mb (367 downloads)
X-Plane 11.30+ Douglas F3D-2 Skynight 1.0. The Douglas F3D Skynight is an American twin-engined, mid-wing jet fighter aircraft manufactured by the Douglas Aircraft Comany in El Segundo, California. The F3D was designed as a carrier-based all-weather night fighter and saw service with the United States Navy and United States Marine Corps. The aircraft presented here is an aircraft of the Marine VMF(N)-513 squadron VMF(N)-513 Flying Nightmares. Credit goes to Beber for the use of his pilots. By Philippe Gastebois.
Posted Feb 12, 2019 01:14 by xplover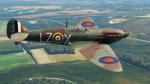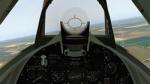 78.50Mb (1009 downloads)
X-Plane 11.30 Supermarine Spitfire MK 1A 1.1. I'm currently working on this Spitfire MK 1, but it's a huge job and I'm not sure I have the courage to finish it by myself. If somebody would like to help me with the animations, I would be really interested and grateful. If you feel you can't help with the animations, I would still very much like to hear from you, as I would like to know your opinion on the appearance of the aircraft and also the flight dynamics. Please use the comments section below. Thank you. By Stephane Toledo.
Posted Feb 4, 2019 09:32 by xplover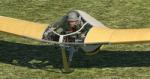 114.77Mb (216 downloads)
X-Plane 11.25+ Horten Ho IVa High Performance Glider 1.0 The Horten Ho IV was a high performance, all wing, competition glider designed to compete with the best gliders of its time. It featured a high aspect wing for optimum gliding performance and a prone pilot position, minimizing drag while providing a unique flight experience. 4 were built in the 1940s and one was used in competitions in the 1950s (taking prizes a number of times). This X-Plane model features: highly accurate model based on historical, research and restoration data, full flying wing aerodynamic model using original Horten airfoils, a bell-shaped lift distribution and custom fuselage airfoils to model the entire aircraft for a realistic flight experience, custom airfoils analysed with X-foil across the Reynolds number regimes of the aircraft, custom flight controls using X-Plane's override_control_surfaces feature to simulate the triple differential elevon and dual drag/dive brake control surfaces of the Ho IV design, plus many more additional features. Documentation included in the package. By Fred Highland.
Posted Feb 1, 2019 00:29 by xplover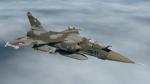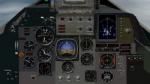 8.23Mb (1224 downloads)
X-Plane 11.30+ Dassault Mirage F1CT 3.0. The Dassault Mirage F1 is a French fighter and attack aircraft designed and manufactured by Dassault Aviation. Powered by a single SNECMA Atar 9K-50 turbojet engine, which provided about 7 tonnes-force (69 kN; 15,000 lbf) of thrust, and armed with an array of French and American-sourced armaments, the Mirage F1 has been operated as a light multipurpose fighter and has been exported to around a dozen nations. The Mirage F1CT is a ground attack version of the Mirage F1C-200. Following their replacement in the air defence role by the Mirage 2000, the French Air Force had a number of surplus Mirage F1C-200s, and in 1988 it launched a conversion programme to turn these aircraft into interim ground attack aircraft to replace elderly Mirage IIIEs and Mirage Vs. Credit goes to Beber for the use of his pilots. By Philippe Gastebois.
Posted Jan 31, 2019 07:16 by xplover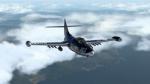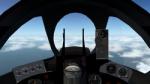 9.17Mb (681 downloads)
X-Plane 11.25+ Grumman F9F-5 Panther 1.1. The Grumman F9F Panther is one of the United States Navy's first successful carrier-based jet fighters, as well as Grummanís first jet fighter. A single-engined, straight-winged day fighter, it was armed with four 20 mm (0.79 in) cannons and could carry a wide assortment of air-to-ground munitions. The Panther was used extensively by the U.S. Navy and Marine Corps in the Korean War. The aircraft presented here is an aircraft of VF-122 squadron assigned to USS Oriskany and took part of the Korean War. Credit goes to Beber for the use of his pilots. By Philippe Gastebois.
Posted Jan 31, 2019 07:07 by xplover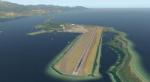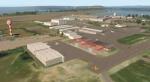 28.54Mb (472 downloads)
This is an X-Plane 11 scenery package for Norman Manley International Airport (IATA: KIN, ICAO: MKJP), formerly Palisadoes Airport, which is an international airport serving Kingston, Jamaica and is located south of the island 19 km away from the centre of New Kingston. It is the second busiest airport in the country after Sangster International Airport, recording 1,502,973 arriving passengers in 2015. There are over 130 international flights a week that depart from Norman Manley International Airport. Named in honour of Jamaican statesman Norman Manley, it is a hub for Caribbean Airlines and Fly Jamaica Airways. It is located on the Palisadoes tombolo in outer Kingston Harbour; it fronts the city on one side and the Caribbean Sea. Among the main airlines operating from here, we have: Aerogaviota, Air Canada Rouge, American Airlines, British Airways, Caribbean Airlines, Cayman Airways, Copa Airlines, Delta Air Lines, Fly Jamaica Airways, InterCaribbean Airways, JetBlue Airways, Spirit Airlines, and WestJet. Rui Mesquita
Posted Jan 31, 2019 06:52 by xplover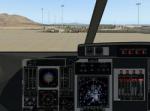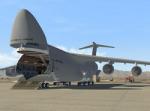 11.32Mb (1270 downloads)
X-Plane 11.25+ Lockheed C-5B Galaxy 1.0. The Lockheed C-5 Galaxy is a large military transport aircraft originally designed and built by Lockheed, and now maintained and upgraded by its successor, Lockheed Martin. All credit and kudos goes to the original author of this C5 aircraft, Carlos Lopez Garcia (carlopg), who did all the work. This updated version simply adds X-Plane 11 compatibility plus an updated cockpit and instruments. There are also a couple of battle tanks in the main cargo hold. These can be revealed from both the front and rear loading doors (shift-F1 and shift-F2 respectively). Note: these are the default keyboard assignments. By Gary Hunter.
Posted Jan 29, 2019 05:05 by xplover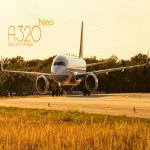 158.75Mb (1223 downloads)
PW1100 engine sounds , Dynamics , cockpit and weather noises for XPlane 11 JarDesign A320 V3 . Video : www.youtube.com/watch?v=BnBiSGT6uF0
Posted Jan 5, 2019 23:28 by Kairi Akai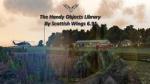 176.03Mb (385 downloads)
X-Plane The Handy Objects Library 6.91. The Handy Objects Library holds the various objects created by the author over the last couple of years, with more than 2000 usable items now available, 2078 to be exact. There are 16 Forest (plants, bushes, trees), 24 Facades, 1853 Objects, 6 Ground Textures and 185 Strings, so hopefully plenty of items for you to enjoy. To install, download the file, unzip the folder and place directly into your Custom Scenery folder. You can then use WED or Overlay Editor to view and place the various objects in your scenery as you require. Just remember to reference it if you export to the community so that others know you have used it and they need to also download it. By Stuart McGregor.
Posted Jan 1, 2019 09:05 by xplover