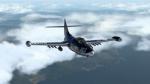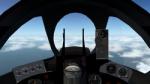 9.17Mb (755 downloads)
X-Plane 11.25+ Grumman F9F-5 Panther 1.1. The Grumman F9F Panther is one of the United States Navy's first successful carrier-based jet fighters, as well as Grummanís first jet fighter. A single-engined, straight-winged day fighter, it was armed with four 20 mm (0.79 in) cannons and could carry a wide assortment of air-to-ground munitions. The Panther was used extensively by the U.S. Navy and Marine Corps in the Korean War. The aircraft presented here is an aircraft of VF-122 squadron assigned to USS Oriskany and took part of the Korean War. Credit goes to Beber for the use of his pilots. By Philippe Gastebois.
Posted Jan 31, 2019 07:07 by xplover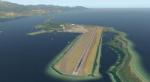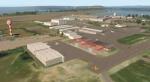 28.54Mb (514 downloads)
This is an X-Plane 11 scenery package for Norman Manley International Airport (IATA: KIN, ICAO: MKJP), formerly Palisadoes Airport, which is an international airport serving Kingston, Jamaica and is located south of the island 19 km away from the centre of New Kingston. It is the second busiest airport in the country after Sangster International Airport, recording 1,502,973 arriving passengers in 2015. There are over 130 international flights a week that depart from Norman Manley International Airport. Named in honour of Jamaican statesman Norman Manley, it is a hub for Caribbean Airlines and Fly Jamaica Airways. It is located on the Palisadoes tombolo in outer Kingston Harbour; it fronts the city on one side and the Caribbean Sea. Among the main airlines operating from here, we have: Aerogaviota, Air Canada Rouge, American Airlines, British Airways, Caribbean Airlines, Cayman Airways, Copa Airlines, Delta Air Lines, Fly Jamaica Airways, InterCaribbean Airways, JetBlue Airways, Spirit Airlines, and WestJet. Rui Mesquita
Posted Jan 31, 2019 06:52 by xplover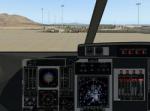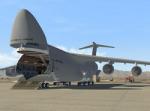 11.32Mb (1433 downloads)
X-Plane 11.25+ Lockheed C-5B Galaxy 1.0. The Lockheed C-5 Galaxy is a large military transport aircraft originally designed and built by Lockheed, and now maintained and upgraded by its successor, Lockheed Martin. All credit and kudos goes to the original author of this C5 aircraft, Carlos Lopez Garcia (carlopg), who did all the work. This updated version simply adds X-Plane 11 compatibility plus an updated cockpit and instruments. There are also a couple of battle tanks in the main cargo hold. These can be revealed from both the front and rear loading doors (shift-F1 and shift-F2 respectively). Note: these are the default keyboard assignments. By Gary Hunter.
Posted Jan 29, 2019 05:05 by xplover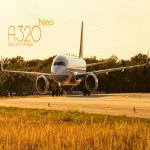 158.75Mb (1329 downloads)
PW1100 engine sounds , Dynamics , cockpit and weather noises for XPlane 11 JarDesign A320 V3 . Video : www.youtube.com/watch?v=BnBiSGT6uF0
Posted Jan 5, 2019 23:28 by Kairi Akai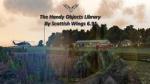 176.03Mb (451 downloads)
X-Plane The Handy Objects Library 6.91. The Handy Objects Library holds the various objects created by the author over the last couple of years, with more than 2000 usable items now available, 2078 to be exact. There are 16 Forest (plants, bushes, trees), 24 Facades, 1853 Objects, 6 Ground Textures and 185 Strings, so hopefully plenty of items for you to enjoy. To install, download the file, unzip the folder and place directly into your Custom Scenery folder. You can then use WED or Overlay Editor to view and place the various objects in your scenery as you require. Just remember to reference it if you export to the community so that others know you have used it and they need to also download it. By Stuart McGregor.
Posted Jan 1, 2019 09:05 by xplover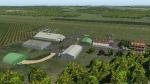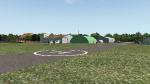 67.84Mb (234 downloads)
X Plane Scenery: A lovely little airfield in the Dordogne in south-west France. It has a single grass runway (10/28) and supports clubs and schools for both gliders and GA aircraft. There's a fine restaurant adjacent to the airfield housed in a building of very distinctive design. Modelled accurately and in great detail, 'just like being there'.
Posted Feb 3, 2018 08:42 by Roger Mole (Rollerball)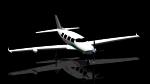 13.32Mb (2165 downloads)
The Piper Meridian M600 is a sleek single turboprop that can cruise up to 30,000 ft. and speeds up to 250 ktis. Just unzip file into a temp folder and copy the folder named MK_Piper_Meridian into your default Aircraft\Extra Aircraft folder and you should be set.
Posted Jul 23, 2017 10:34 by Michael Kelley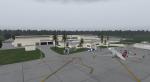 89.08Mb (602 downloads)
Gainesville Regional Airport (Gainesville, Florida, USA). Complete remake of KGNV by LKPDesigns.org. Below is a list of airport features: Airport Details and Features > Realistic traffic flows > All airport buildings modeled after real life buildings > General Aviation covered parking > Service vehicles at all gates and parking (X-Plane 11 Only) > Night ramp lighting > Taxiways signs modeled after real life
Posted Jun 8, 2017 10:42 by LKP Designs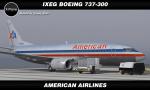 27.86Mb (1534 downloads)
IXEG Boeing 737-300 in American Airlines livery. Texture only for the payware IXEG model. High quality textures in PNG. Description and instruction in the archive. Repaint by Sergey Gleba aka serg09. Link to my products on SimMarket: http://secure.simmarket.com/paintsim.mhtml
Posted Mar 28, 2017 06:51 by Sergey Gleba aka serg09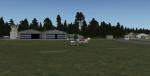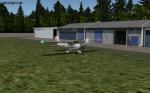 43.55Mb (154 downloads)
EPGO GORASZKA 2007 SCENERY FOR X-PLANE 9 ----- ABOUT THE AIRPORT ----- EPGO Goraszka airport is located 12nm (20km) south-east of Warsaw downtown and Warsaw Frederic Chopin International Airport. It was built in 1994 and belongs to General Aviation company, which offers aero-taxi flights, air transport and special flights (air photo, patrol) and airport services. The airport has a 800m-long runway and a lightened helipad, which can be used by helicopters up to 5700kg weight. General Aviation's fleet includes Antonov AN-2, PZL-104 Wilga 80, Bell 407 and 427. Since 1996 the International Air Picnic Goraszka is organized every year by "Polish Eagles" Foundation created on initiative of Zbigniew Niemczycki. ----- SCENERY FEATURES ----- This airstrip has never been included in any of X-plane series default airports list and this is the first, detailed scenery of EPGO. Main features of the scenery are: -Ground photo texture for the surrounding area - perfect for VFR approaches (four seasons + night textures) -Airport ground high resolution textures - feel the grass when taxiing (four seasons + night textures) -Highly detailed 3D objects, all photo textured - we made over 300 photos to have them all realistically textured -Detailed autogen for the whole area - almost every building and every tree -Tower view - feel like an air traffic controller
Posted Oct 27, 2015 08:01 by Drzewiecki Design