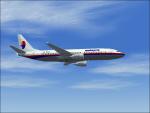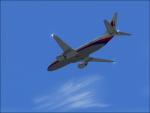 1.68Mb (5806 downloads)
This is my first repaint for FS2004 and is a Malaysian Airlines repaint for the default Boeing 737-400. This design is the original livery for Malaysia Airlines. Enjoy!
Posted Jul 7, 2008 00:22 by archive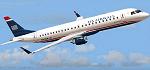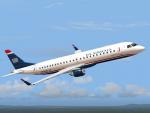 12.05Mb (17832 downloads)
FS2004 U.S.Airways Express Embraer 190-LR 98-114 seat regional airliner. Full package for FS9. By Barry Blaisdell, Jean-Pierre Brisard, Bob May, Kevin Pardy and Danny Crance - Premier Aircraft Design.
Posted Jun 27, 2008 11:37 by archive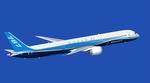 5.54Mb (25830 downloads)
FS2004 Boeing House Colors Boeing 787 Super 11, including 3 aircrafts with different new Animated Ground Servicing (AGS). 2 major airlines have asked Boeing to "move forward with a successor plan for the 777-300, seating 400-425 passengers".The study will be base on the 787-8 experience, with a larger cabin design (3-4-3),(3-5-3) in charter version, resulting in a huge aircraft also the biggest commercial twin jet for Flight Simulator, longer and larger then the Boeing 777-300 and the Airbus A350-1000...even longer and larger then the 4 engines Airbus A340-600, Boeing 747-400 and Airbus A380-800. Model design and paint by: Camil Valiquette
Posted Jun 26, 2008 11:15 by archive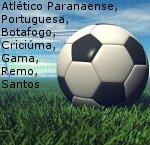 8.61Mb (1518 downloads)
This is my last kit (Part 4/4) for you all out there who enjoy Football/Soccer: a repaint of Embraer EJet E190 on my last 7 Brazilian team colors: "Atlético Paranaense" + "Botafogo" + "Criciúma" + "Gama" + "Portuguesa" + "Remo" + "Santos". Enjoy Repaint by Rui Mesquita. Part 1 is needed Needed files: http://www.simviation.com/simviation/download.php?ID=342
Posted Jun 24, 2008 19:34 by archive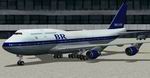 4.26Mb (9565 downloads)
FS2004 FS2002 BR - Boeing 747-400 FS2004/Fs2002 Repaint of MelJet's Boeing 747-400 showing the Microsoft Airline livery of 'BR' as seen on the default Boeing 747-400. The Package includes instructions, 3D model and repaint. Credits: Model and Paint kit by Melvin Rafi (Meljet) Repaint by Alex Mendes. 4.3MB
Posted Jun 23, 2008 14:30 by archive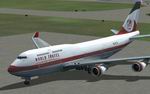 3.28Mb (5738 downloads)
FS2004 Texture fixes for the various default b747-400 paintwork which appear blurred as they come in the box. These day and night texture fixes clears up the paintwork to what they should be. Fixed by Tony Gould. 3.3MB
Posted Jun 23, 2008 14:30 by archive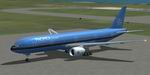 3.25Mb (5213 downloads)
FS2004 Texture fixes for the various default b777-300 paintwork which appear blurred as they come in the box. These day and night texture fixes clears up the paintwork to what they should be. Fixed by Tony Gould. 3.3MB
Posted Jun 23, 2008 14:30 by archive

0.78Mb (10043 downloads)
FS2002/FS2004 Delta Airlines Boeing 767-400 (GE) (New Colors) A 767-400 from AI Aardvark designed especially for AI traffic. Features 12 LOD models and moving parts. Very detailed, includes animated gear, flaps & spoilers, thrust reversers, antennas, flap canoes and simulated gear bays and specular highlights. Extremely frame rate friendly. Includes optional reflective model. Model by Craig Crawley Paint by Boback Shahsafdari FDE by David Carter. 795K
Posted Jun 23, 2008 14:30 by archive

0.77Mb (5910 downloads)
FS2002/FS2004 Delta Airlines Boeing 767-400 (GE) (Mid '90s Colors) A 767-400 from AI Aardvark designed especially for AI traffic. Features 12 LOD models and moving parts. Very detailed, includes animated gear, flaps & spoilers, thrust reversers, antennas, flap canoes and simulated gear bays and specular highlights. Extremely frame rate friendly. Includes optional reflective model. Model by Craig Crawley Paint by Boback Shahsafdari FDE by David Carter. 792K
Posted Jun 23, 2008 14:30 by archive

0.75Mb (11075 downloads)
FS2002/FS004 Continental Airlines Boeing 767-400 (GE) A 767-400 from AI Aardvark designed especially for AI traffic. Features 12 LOD models and moving parts. Very detailed, includes animated gear, flaps & spoilers, thrust reversers, antennas, flap canoes and simulated gear bays and specular highlights. Extremely frame rate friendly. Includes optional reflective model. Model by Craig Crawley Paint by Boback Shahsafdari FDE by David Carter. 764K
Posted Jun 23, 2008 14:30 by archive