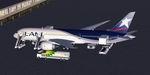 5.11Mb (7341 downloads)
FS2004 LAN Airlines Boeing 787-8 All included, (no Base Pack needed) 3 aircrafts with different Animated Ground Servicing (AGS) . Model design and paint by: Camil Valiquette
Posted Jun 14, 2008 04:13 by archive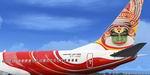 22.48Mb (16146 downloads)
Project Opensky Air India Express Boeing 737-800. Model and Panel by POSKY. Packaged by Akhil Dewan, CEO of Virtual Air India. This package includes a panel and sounds.
Posted Jun 14, 2008 04:03 by archive

7.08Mb (18114 downloads)
FS2004 LAN Airlines Boeing 787-9, including 4 aircrafts with different new Animated Ground Servicing (AGS). Model design and paint by: Camil Valiquette
Posted Jun 14, 2008 03:57 by archive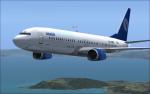 1.45Mb (6000 downloads)
Default Boeing 737-400 Sobelair. Textures only.
Posted Jun 12, 2008 12:28 by archive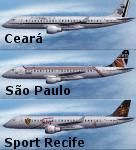 15.96Mb (13310 downloads)
FS2004 Embraer E190 on Brazilian Football/Soccer Team Colors: Ceará + São Paulo + Sport Recife Embraer EJet E190 nas cores de três times de Futebol: Ceará + São Paulo + Sport Recife!! Model: JRLUCARINY; Panel: Bill Grabowski; Repainter/Repintor: Rui Mesquita.
Posted Jun 12, 2008 08:16 by archive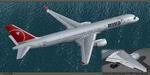 7.24Mb (14637 downloads)
FS2004 Boeing 757-200 Winglet PW Northwest NWAModel Designers Lee Rosario, Albert Bouwman, C. Vincent Cho, Hiroshi Igami Flight Dynamics Designer Warren C. Daniel FDE Advisor's Nick Peterson, Simon Ng Hin Tat Tested Project-Opensky Members Master textures Jaco du Preez & Ben Hewitt Painted Vincent v/d Hof
Posted Jun 11, 2008 05:52 by archive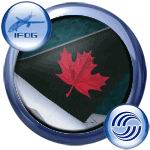 5.27Mb (2456 downloads)
FS2004 iFDG Airbus A321 Air Canada. iFDG is proud to present the Airbus A321. The aircraft model includes most of the standard features including animated control surfaces, wingviews, flaps, full lighting configuration, and highly detailed, reflective textures. Model : Albaro Villegas and Ric Barker FDE : Eugene Schneider Master textures : Ben Jones Testing : The iFDG Beta Team Livery : Clemens Pieper. 7.1MB
Posted Jun 10, 2008 11:09 by archive
7.08Mb (5283 downloads)
FS2004 iFDG Airbus A321 Iberia. iFDG is proud to present the Airbus A321. The aircraft model includes most of the standard features including animated control surfaces, wingviews, flaps, full lighting configuration, and highly detailed, reflective textures. Model : Albaro Villegas and Ric Barker FDE : Eugene Schneider Master textures : Ben Jones Testing : The iFDG Beta Team Livery : Clemens Pieper. 7.1MB
Posted Jun 10, 2008 11:09 by archive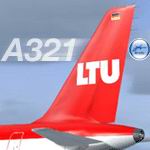 7.00Mb (2985 downloads)
FS2004 iFDG Airbus A321 LTU. iFDG is proud to present the Airbus A321. The aircraft model includes most of the standard features including animated control surfaces, wingviews, flaps, full lighting configuration, and highly detailed, reflective textures. Model : Albaro Villegas and Ric Barker FDE : Eugene Schneider Master textures : Ben Jones Testing : The iFDG Beta Team Livery : Clemens Pieper. 7MB
Posted Jun 10, 2008 11:09 by archive
6.78Mb (2922 downloads)
FS2004 iFDG Airbus A321 SAS. iFDG is proud to present the Airbus A321. The aircraft model includes most of the standard features including animated control surfaces, wingviews, flaps, full lighting configuration, and highly detailed, reflective textures. Model : Albaro Villegas and Ric Barker FDE : Eugene Schneider Master textures : Ben Jones Testing : The iFDG Beta Team Livery : Clemens Pieper. 6.8MB
Posted Jun 10, 2008 11:09 by archive