0.09Mb (12215 downloads)
FS2004 Multi effect pack. Includes: Shooting star, Aircraft tracker, Laser, & Sonic Boom. By Thomas Molger. 95K
Posted Jun 23, 2008 14:27 by archive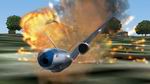 0.89Mb (36336 downloads)
FS2004 & FS2002 FX: Nick's MASSIVE CRASH FINAL All users of Massive Crash are urged to install this update. The files included address and fix video screen 'wash-out' issues on impact when using a high quality video adapter and/or when the effects quality slider in the simulator is set to maximum. It also fixes "wake visually renders above the water level when operating seaplanes or other water type aircraft." New water crash effects added. Improved frame rates with this release will allow those with slower video adapters to use higher effects detail settings. The effects have also been better tuned for smaller aircraft. If you are installing Massive Crash for the first time, this package is what you want to download. Enjoy! By Nick Needham. 915K
Posted Jun 23, 2008 14:27 by archive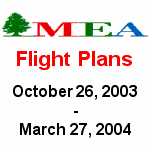 0.07Mb (2184 downloads)
FS2004/2002 MEA Flight Plans. 100% accurate flight plans based on MEA's schedule running from October 26 to March 27. Compatible with both FS2002 and FS2004. Knowledge of Traffic Tools is needed to install these flight plans. Uses only two aircraft types, the A321 and A330. MEA's hub is in Beirut, Lebanon. Destinations in alphabetical order are: Abidjan, Abu Dhabi, Accra, Amman, Athens, Cairo, Dammam, Dubai, Frankfurt, Geneva, Istanbul, Jeddah, Kano, Kuwait City, Lagos, Larnaca, London Heathrow, Milan Malpensa, Paris Charles de Gaulle, Riyadh, and Rome Fiumicino. Please read the Read Me file for more information. 68K
Posted Jun 23, 2008 14:27 by archive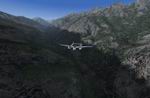 0.61Mb (2289 downloads)
FS2004 Nepal 1 Flightplan. It has been a few years since my last visit to Nepal/Himalaya, amazing place - amazing airfields. Hoping to give you a small taste of the real adventure of flying there I created This FP which contains the following six short routes east of Kathmandu: 1. Kathmandu Intl VNKT ---> Lukla VLNK 2. Lukla VLNK ---> Rumjatar VNRT 3. Rumjatar VNRT ---> Lamidada VNLD 4. Lamidada VNLD ---> Bhojpur VNBJ 5. Bhojpur VNBJ ---> Tumlingtar VNTR 6. Tumlingtar VNTR ---> Kathmandu Intl VNKT. By Nikolas Vegas. 630K
Posted Jun 23, 2008 14:27 by archive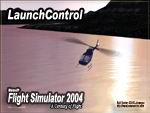 2.06Mb (1107 downloads)
LaunchControl v1.3 (English & German) Now with XP support! LaunchControl allows you to launch FS9 or FS2002 with random splash screens (not included) amd optionally launch your Teamspeak client and connect you with a server of your choice. Connecting to muliplayer has never been easier. Shareware by P.T. Waugh.
Posted Jun 23, 2008 14:27 by archive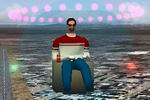 2.44Mb (4781 downloads)
FS2004 Lazy Boy 3000. For the man who just can't be bothered to get out of his chair. With newly developed Anti Grav flight systems and force field airframe the LB 3000 is a go anywhere chair. Ok so it isn't real but it is fun and good for VFR flying. Armchair flying at it's best. By Shelton Aviation. 2.5MB
Posted Jun 23, 2008 14:27 by archive
0.00Mb (1703 downloads)
FS2004 Faint Black Engine smoke Leaves a faint black smoke trail behind any aircraft, Designed for single engine aircraft, Or car/van/other, Created from scratch by Paul Monteray. 4K
Posted Jun 23, 2008 14:27 by archive
0.29Mb (1279 downloads)
FS2004 Flight Papers. This is a small package compiled by myself which gives 4 examples of paper work which is used onboard all airliners. AVP1: Flight Briefing Form AVP2: Load Sheet AVP3: Flight Plan Sheet AVP4: B767 Fuel Plan Sheet All the paper work(Except AVP4- Only for 767) can be used for any aircraft. 297K
Posted Jun 23, 2008 14:27 by archive

0.74Mb (1407 downloads)
British Airways Crew Papers Including Load + Flight plan Sheet with info for a B737-400 flight from Heathrow-Shannon. Very Realistic Worth having. A Davies. 758K
Posted Jun 23, 2008 14:27 by archive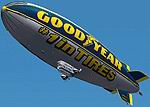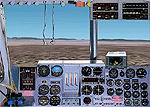 14.45Mb (35948 downloads)
FS2002/2004 Goodyear Blimp Package. Goodyear Blimp airship model GZ-20A in three liveries: Columbia, Eagle, Stars & Stripes. Features realistic lighter-than-air flight model, animated "Skytacular" night sign, photorealistic panel and interior views, fully animated moving parts. By Anders Jermstad. 14.8MB Update: Goodyear Blimp for FS2002 update. This flight dynamics update will correct the blimp's tendency to cruise in a nose down attitude. Update only, requires gdyr2k2.zip. Goodyear Blimp by Anders Jermstad. Update suggested by Kevin Bryan.
Posted Jun 23, 2008 14:27 by archive