4.76Mb (208 downloads)
German real textures D-MEEI (based at EDNX) for Lionheart Creations wonderful Aerospool WG9 Dynamic RG microlight.
Posted Mar 19, 2012 21:39 by Jean-Luc Peters
9.19Mb (302 downloads)
HD-Textures (2048²) only for the payware AS350 by Nemeth Designs in the old colors of the OE-BXL, flown by the Austrian police. Made by Marius Krämer.
Posted Mar 15, 2012 17:14 by archive
11.07Mb (371 downloads)
HD-Textures (2048²) only for the payware AS350 by Nemeth Designs in the colors of the OE-BXH, flown by the Austrian police. Made by Marius Krämer.
Posted Mar 15, 2012 17:13 by archive
20.34Mb (1319 downloads)
this is a texture only for the payware Bronco X from Aerosoft: OV-10A #155447 VMO-1 USMC in wrap around 3 colors Lizard Camo with the particular "reversal color scheme" for markings. New pilots faces, flightsuit (aircrew BDU and SV-2B) and helmets in Woodland camo. Cockpit radio call tag updated. read me files instructions for install. See the zipfile preview for lot of screens.
Posted Mar 14, 2012 07:01 by David "Rsoftokz"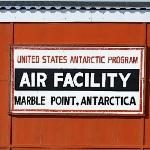 4.17Mb (605 downloads)
This is an addon for Lime Sim / Aerosoft Antartica X. It adds highlights elements around McMurdo.v1.1 (1) Marble Point Refuel base (2) remains of Vanda base (3) wreck of the pegasus (4) Scott Hut (5) Schackelton Hut.(6) Lower Erebus Hut, nearby helicopter wreck and lava (7) New Harbor (8) Air New Zealand 901 wreck site and monument. The glacier just above Marble point is "landable" is reality and is a nice half way between McMurdo and MarioZuchelli. A Kmz map is provided Credits: Marble Point and Vanda are orginals, the pegasus is a transformation of the Constellation of 707 (3D warehouse), the two huts are just convertion of the work of pmolsen (3D warehouse), some filler objects from the Antartica X libraries (sascha). Etienne. evarloot@free.fr (Other good addons if you missed them: my MarioZuchelli and Atka Bay penguin colony by stefan kessler)
Posted Mar 11, 2012 07:15 by etien
18.23Mb (982 downloads)
Texture pack only for the Aerosoft Bronco X. Even the model is not exactly a PAF bronco (need a 4 blades propellers and a few details) I've made this texture with the very aggressive Shark mouth. Pilots slightly modified to look like military and Asian people (SV-2B and parachute harness added, modified Asian faces). This is the first repaint of a series I'm working on for the Bronco X.
Posted Mar 9, 2012 07:14 by David "Rsoftokz"
0.04Mb (361 downloads)
These Flight Dynamics Engines have been made with the great support of 4 RW 185 pilots, so they are pretty close to RW 185s concerning performance and handling.
Posted Mar 9, 2012 03:10 by Bernt Stolle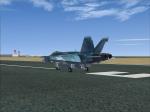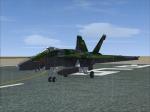 8.29Mb (552 downloads)
Repaints of VFC-12 Tan, Blue, and Forest Agressors. Must have the payware VRS Superbug for textures to work. Credit for repaint goes to Sean Eberle
Posted Mar 5, 2012 11:28 by Chris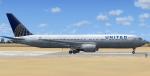 8.03Mb (800 downloads)
LevelD Simulations 767-300ER in the livery of the new United Airlines. By Johnny Mitchell.
Posted Feb 28, 2012 10:10 by Johnny Mitchell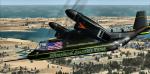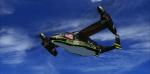 10.57Mb (3708 downloads)
Custom texture for the Virtavia MV-22 Osprey payware aircraft. This is a fictitious repaint of my idea of a Homeland Security Force version of the MV-22. Requires the payware Virtavia MV-22 Osprey. Also there is an extra camera view with the texture config text.
Posted Feb 28, 2012 10:08 by Albert P. Wydeen