3.11Mb (429 downloads)
This fictional repaint Lockheed P2V-7 Neptune VX-6, Puckered Peguins from, 1956 This repaint requires pay ware Virtavia is a new Australian FS add-on company which has emanted from the long-established NZ Company AlphaSim. Virtavia's products consist of rebranded AlphaSim add-ons and also all-new FSX add-ons
Posted Nov 10, 2011 10:08 by Dave Gore fooflyer
4.88Mb (177 downloads)
Textures only for the payware Justflight Robinson R44 in fictional Orange Blue and Yellow livery Enjoy and Happy Flying!
Posted Nov 6, 2011 20:33 by Lloyd Horton
4.96Mb (97 downloads)
Textures only forthe payware Justflights Robinson R44 in fictional P.O.W. M.I.A. livery. Keep flying until they all come home!
Posted Nov 6, 2011 20:20 by Lloyd Horton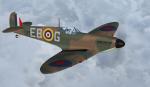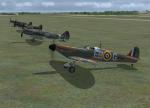 4.18Mb (1487 downloads)
Payware A2A Spitfire MkIIa textures. P7350 is the only true Battle of Britain Spitfire left flying. It is now owned and operated by the battle of Britain Memorial Flight (BBMF) based at RAF Coningsby UK.
Posted Nov 6, 2011 16:11 by Ian Roussel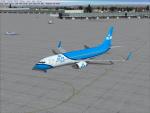 8.46Mb (537 downloads)
Fictional textures for the payware iFly B737 BBJ KLM Asia.
Posted Nov 6, 2011 12:07 by Steven Kiberton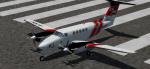 17.32Mb (2826 downloads)
Egypt Air textures for the payware PMDG Boeing 737-800 WL
Posted Nov 4, 2011 13:50 by William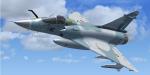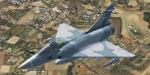 6.91Mb (3414 downloads)
Textures only for the Abacus payware Dassault Mirage 2000C. Repainted to resemble the Mirage flown in the movie 'Skyfighters' (Les Chevaliers Du Ciel). Repainted by R.E. Wyman.
Posted Oct 30, 2011 00:20 by R.E. Wyman
13.71Mb (6666 downloads)
DEMO VERSION with banners in VC and model: The Airbus A380 is a doubledecker, four-engined airliner manufactured by Airbus S.A.S. It first flew on April 27, 2005 from Toulouse, France. Commercial flights should begin in 2006 after 15 months of testing. During much of ist development, the aircraft was known as the Airbus A3XX. The A380 is now the largest passenger airliner, topping the Boeing 747, which was the largest for 35 years. However, the Antonov An-225 retains the record of being the world's largest commercial aircraft. The media has termed the A380 a "superjumbo", with some comparing it to Howard Hughes's Spruce Goose. The first A380 prototype was unveiled during a ceremony in Toulouse, France, on January 18, 2005. Its manufacturer's serial number is 001, and is registered as F-WWOW. The new Airbus will initially be sold in two versions: the A380-800, carrying 555 passengers in a three-class configuration or up to 800 passengers in a single-class economy configuration. Expected range for the -800 model is 8,000 nautical miles (14,800 km). The second model, the A380-800F dedicated freighter, will carry 150 tons of cargo 5,600 miles (10,400 km). Airbus made the cockpit layout, procedures and handling characteristics similar to those of other Airbus aircraft to reduce crew training costs. Likewise, the A380 features a glass cockpit and side-stick flight controller. Panel, GAUGES, model, sound and textures by - Author: A.Meyer.
Posted Oct 27, 2011 15:02 by Andreas Meyer
6.04Mb (179 downloads)
This repaint is for the A2A Simulations "Wings of Power II" P-51D Mustang. This repaint depicts a modern P-51D-20-NA Mustang, painted in the colors of the Israeli Air Force, 101 Squadron, serial #39, which entered service after the 1948 Israeli War of Independence and served through the late 1950s.This repaint was created with an all-new paint kit including photo-real textures from an actual P-51D. FILES ARE 2048x2048 FOR "Wings of Power II" P-51D with update ONLY. Repaint by John O'Reilly.
Posted Oct 27, 2011 13:32 by John O'Reilly
4.94Mb (168 downloads)
Textures only for the payweare Justflight Robinson R44 in fictional NASA livery. Enjoy and Happy Flying!
Posted Oct 25, 2011 18:15 by Lloyd Horton