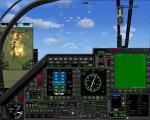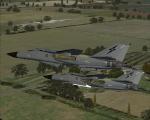 14.84Mb (816 downloads)
FSX F-111 PIG HUD PROJECT - Navigation/Situation awareness cockpit. For use with the payware Virtuavia F-111. REVISION 6.UPGRADE. MUST already have fxpiggb5.zip installed. New features:In cockpit Pave Tack Display with full control allows views in all directions, pitch,zoom and altitude, Terrain shading added to 2 GPS displays, Virtual Cockpit layout improved, Flt Pln leg toggle SW,Precision airspeed capable,Revised 56 pge Flight Manual includes new TFR procedures. Adds to what is already an extreme capability panel and package packed with custom instruments and concepts not available in other aircraft. All instruments and text are sized to be clearly and easily readable. Includes enhanced HUD, multiple radars,GPS units,MFDs,and effects,TFR, autopilot/autothrottle, is Carrier and Air to Air capable,ICAO entry and day/night/IFR/VFR navigation with constant current position awareness. HUD available in all views including the 10 Camera views. This package sets the benchmark for the amount, type of data provided and its presentation. Possibly the best pilot friendly military aircraft available. By Karol Chlebowski.
Posted Sep 18, 2010 12:17 by Karol Chlebowski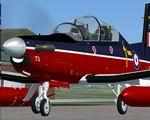 2.01Mb (368 downloads)
FSX T-6A / NTA Texan II - RAF Linton on Ouse V2 REPAINT Repaint by Dave Gore (fooflyer) This repaint colours from a Jet Provost that based at Linton on Ouse 1996 FSX T-6A / NTA Texan II Payware Aircraft by IRIS Simulations
Posted Sep 16, 2010 09:47 by Dave Gore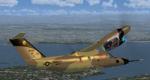 0.54Mb (747 downloads)
This is a repaint for the Wilco Augusta/Bell 609 in USMC VMX-22 livery, as a VTOL Gunship. VMX-22 flies the MV-22 Osprey, but one can only hope an armed version of the Augusta/Bell 609 is added at some point. Hence, at this time, this livery is completely fictional. Textures by L.T. 'patchz' Davis.
Posted Sep 10, 2010 09:08 by L.T. 'patchz' Davis
6.75Mb (1004 downloads)
Canadian Air Forces Repaint For The CaptainSim CC130J-30 Light Grey Newly Delivered Scheme. Re-Detailing Of Doors, Underwings, Engines, & Sponsons (c) 2007 Captain Sim Textures only for this payware aircraft from www.captainsim.com.
Posted Sep 8, 2010 18:49 by sara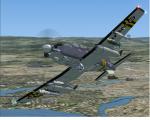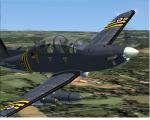 2.82Mb (230 downloads)
FSX Iris T-6A / NTA Texan II - Royal Navy Attack Aircraft Fictional Repaint 1950s Fictional repaint by Dave Gore (fooflyer) Payware Aircraft by IRIS Simulations
Posted Sep 7, 2010 17:46 by Dave Gore fooflyer
32.54Mb (1054 downloads)
Aero Vodochody L-39 Albatros for FSX by Lotus Simulations in a fictional private "Red Air Holland" livery. Textures only. Since the end of the cold war the Aero Vodochody L-39 Albatros became very popular with private pilots to either collect or fly them in "nostalgic" cold war livery's. Some (former) military pilots purchased/leased the relatively cheap L-39 in order to sell flight-time to train (Airborne) Forward Air Controllers or to provide military flying units (all kind) some realistic flying opposing forces units during exercises. This livery represents such a private company, the fictional Dutch "Red Air Holland" L-39C for (A)FAC training and OPFOR services. The livery is a privately purchased former Royal Thai Air Force L-39C with freshly applied RAH markings and striping. The company logo is inspired by the Kalashnikov factory logo, but with Dutch colors. The L-39C has a civil registration as well as the original RTAF serial number. Though this paint is purely fictional, some L-39's are used for the above discribed servises, and their number is ever growing. You need the excellent payware Aero L-39 by Lotus Simulations in order to use this repaint. Enjoy!
Posted Sep 5, 2010 15:04 by René Spaan
7.15Mb (1423 downloads)
AFS Demo: Eurofighter, Spain Airforce
Posted Aug 30, 2010 13:25 by Andreas Meyer
0.40Mb (1089 downloads)
This is a fictional livery for the Wilco Agusta/Bell BA609 in tribute to the movie Avatar. Hope you like it.
Posted Aug 26, 2010 09:02 by L.T. 'patchz' Davis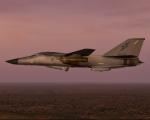 (1665 downloads)
F-111 PIG HUD PROJECT FSX REPAINTS FOR the payware Virtuavia F-111 AARDVARK HUD . To latest ultra high detail standard. TEXTURES ONLY for RAAF F-111 # A8-140,144,and 146 GUNSHIP GREY AIRCRAFT . 140 = Brt orange Pos Lts ,Nil Formation strip Lts. 144 = Dull orange Pos Lts,146 = Brt Pos Lts ,both 144 and 146 have NEW Lum green formation strip lights . Multiple separate model/aircraft descriptions included. Specifically created for use with F-111 Aardvark HUD - fxpiggb5.zip enhanced capability situation awareness freeware panel. A MUST HAVE for all F-111 operators. By Karol Chlebowski.
Posted Aug 23, 2010 11:06 by Karol Chlebowski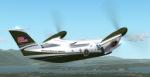 0.84Mb (2547 downloads)
This is a repaint for the Wilco Augusta/Bell 206 as Marine One. The current VH-3 helicopters used by HMX-1 are aging and in 2002 the VXX competition was started to find a replacement. The helicopter selected was the Lockheed Martin VH-71 Kestrel, a derivative of the AgustaWestland AW101. In April 2009, the VH-71 program was cancelled due to cost overruns. In February 2010, the Navy issued a request for information to the aviation industry. The V-22 Osprey is also being considered and as the Augusta/Bell 206 is being released for Commercial use in 2010, hopefully it will too. Repaint by L.T. 'patchz' Davis.
Posted Aug 22, 2010 07:53 by L.T. 'patchz' Davis