2.18Mb (707 downloads)
Fort De La Latte as complement of the payware France VFR FSX scenery. This scene has been designed as a complement for France VFR FSX Britany. It adds the Fort De La Latte to the north coast of Britany. Closest airport: LFRD. Just copy and paste the scenery and texture folders the usual way, then declare the scene. It should have a higher Priority than France VFR FSX Britany. All the elements were developped in the "instant scenery" library framework, so you can modify the scena as you wish. For feedback use the france vfr forum (english tab) http://www.francevfr.com/forum/index.php and contact me ( alias Etien ) Etien / Argharg
Posted Jun 11, 2010 22:51 by Etienne V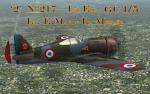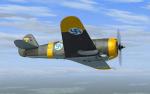 25.74Mb (445 downloads)
This pack contains 9 separate zip files, that contain individual repaints for the payware Vertigo Studios P-36 Hawk. American Schemes:- Curtiss-Wright Hawk H-75B, Prototype, serial X17Y, Wright Field. c.1937, USAAC 23rdCG, USAAC No69, 27th PS, 1st PG,c.1939, Cleveland Air Races, USAAC No. 17 and 27th Pursuit Sqn, 20th Pursuit Group, Albrook Field, Panama Canal Zone, c.1940. French Schemes:- No85, X8 84, 2nd Esc. GC I/4, Pilot Sgt Chef Joannes Cummel, Reims, c.June 1940, No. 88, 2nd Escadrille GC1/5, Pilot Lt Camille Plubeau, Rabat, c.1942, No. 193, 2nd Escadrille GC1/5, Pilot Cne Max VinCotte, Rabat, c.1942 and No217, 1Esc, GC I/5, Lt. E. Marin la Meslée, Battle of France c.1940. Finnish Scheme:- 'Yellow 7',CUw-557, HLeLV 32, Finnish AF, c.1941.
Posted Jun 6, 2010 10:53 by Bruce Martin
3.18Mb (1290 downloads)
DEMO VERSION: Tiger HAP is an air-to-air combat and fire support medium-weight (6 tonnes) helicopter fitted with 2 MTR 390 engines. It is daytime and night combat capable and is operable in NBC environments. Three basic parameters were taken into account right from the start of the development phase: low (visual, radar and infrared) detectability, which provides excellent survivability on the battlefield, maximum efficiency of the weapons and the associated fire control systems without heavier workload for the crew, and an optimized logistic concept offering minimum possession costs. The Tiger HAP is fitted with a 30-mm gun turret, 68-mm submunition rokets, and air-to-air Mistral missiles. It also features a firing sight with 3 sensors: infrared, TV camera and direct optical channel. The complete avionics suite includes multi-purpose color displays and radar/laser warning receivers. TIGER The Tiger UHT is a multi-role fire support helicopter. Demo version with banners on model and cockpit.
Posted Jun 5, 2010 17:41 by Andreas Meyer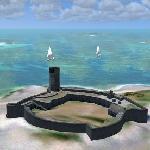 0.21Mb (584 downloads)
Fort Cigogne of Glenans as complement of France VFR FSX This scene has been designed as a complement for France VFR FSX Britany. It adds the fort cigogne to the glenans archilapago. Just copy and paste the scenery and texture folders the usual way, then declare the scene. It should have a higher Priority than France VFR FSX Britany. All the elements were developped in the "instant scenery" library framework, so you can modify the scena as you wish. For feedback use the france vfr forum (english tab) http://www.francevfr.com/forum/index.php and contact me ( alias Etien ) Etien / Argharg
Posted May 29, 2010 07:02 by Etienne V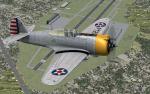 5.02Mb (162 downloads)
This is a repaint of the Vertigo Studios Curtiss-Wright P-36 representing a P-36A PT21, 79th Pursuit Sqn, 20th Pursuit Group, Moffett Field c.1939.
Posted May 28, 2010 09:52 by Bruce Martin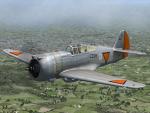 5.05Mb (141 downloads)
This is a repaint of the Vertigo Studios Curtiss-Wright P-36 representing a Netherlands, Unknown Unit, Serial C-328 of Andir Airbase, Java, May 1940.
Posted May 28, 2010 09:51 by Bruce Martin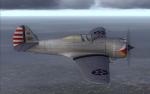 4.98Mb (93 downloads)
This is a repaint of the Vertigo Studios Curtiss-Wright P-36 representing a P-36A "1 36P", HQ 15th Pursuit Group, Wheeler Field, Hawaii, c.1940.
Posted May 28, 2010 09:50 by Bruce Martin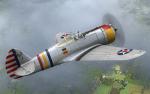 4.86Mb (118 downloads)
This is a repaint of the Vertigo Studios Curtiss-Wright P-36 representing the P-36A of the 20th Pursuit Groups CO, Baksdale Field, c.1938.
Posted May 28, 2010 09:49 by Bruce Martin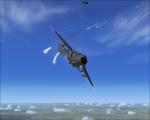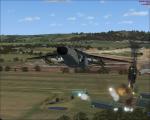 34.15Mb (12670 downloads)
FSX payware Alphasim/Virtuavia F-111 Aardvark HUD. Navigation/Situation awareness cockpit. REVISION 5.UPGRADE. COMPLETE PACKAGE. New items-Fantastic FLARES 4 options, missiles, RADAR better panel integration, 2 instruments,sound, improved texture. Massive amount of digital data. Must have ALPHASIM F-111 Aardvark to build up this complete and separate F-111. Exceptional capability cockpit with massive amount of digital data. Comprising: Pilot, WSO and virtual panels.Dual role air to air ground mapping RADAR with target lock up and script on radar and HUD to enable precise intercepts in all weather day or night. 3 MFD with 19 selectable pages of data. RADAR and 3 GPS type moving maps. 16 Nearest airports page with full Citynames and ICAO entry capable displays in HUD.Clipboard, autopilot, autothrottle and TFR. Enhanced HUD is selectable in all views including 10 camera views. All data clearly readable size. Aircraft carrier capable.Effects: bombs. missiles. flares. dump and burn. exhaust trail.Detailed 48 pge Flight Manual plus docs folder.Configuration ensures crisp and extremely precise controlled flight even down to 10 ft AGL. This panel will set a new benchmark of the amount and type of data provided and its presentation.Possibly the best pilots aircraft ever. New simpler installation procedure . By Karol Chlebowski.
Posted May 28, 2010 06:11 by Karol Chlebowski
10.94Mb (1316 downloads)
Canadian Air Force C130E, Dark Grey Textures(c) 2007 Captain Sim. Textures only for this payware aircraft. Features : New Specular, & Reflection Maps, Engine Surrounding Support Panels Correction, Interior Minor Detailing (Cargo Compartment Side, End & Front Wall), Forward Door Re-Inforcement Applicable To E's (& Bump Map), Maintenance / Safety Signs & Removal Of Extraneous CS Signs, Re-Detailing Of Auxiliary Exhausts, Correction Of Forward Lifting Points, DDS DXT5 Textures (Improved Detail Display & Reflections But Double The Size Of DXT1 Textures). Also Incudes DDS DXT1 Textures (The Choice Is Yours).
Posted May 26, 2010 16:16 by sara