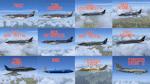 11.13Mb (533 downloads)
This is a texture pack for the FSX version of Alphasims Supermarine Scimitar containing 12 repaints.
Posted May 24, 2009 10:54 by Bruce Martin / Alphasim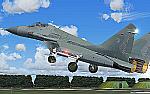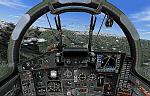 4.82Mb (1862 downloads)
Mikoyan MiG-29, Codename "FULCRUM", Germany Airforce "Luftwaffe" Demo
Posted May 21, 2009 15:40 by Andreas Meyer
4.98Mb (3165 downloads)
AFS-design brings a excellent rendition of two futuristic Concept Aircraft with 7 versions on the market. The two Concept Aircraft are developed from motivation like following movies, Filmen, series and computer games: Stealth - (futuristic planes of the US Navy), Star Treck spaceship Enterprise (Shuttles), Battlestar Galactica (Viper), True Lies (Harrier), The 6th Day (scince fiction helicopter), Airwolf AND G - Police (Police - aircraft of computer game) Model, textures, sound, panel and gauges by Author: A.Meyer
Posted May 14, 2009 13:17 by Andreas Meyer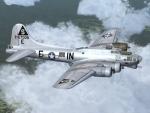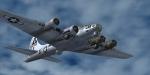 10.07Mb (2507 downloads)
This folder contains a textures set for the A2A WoP2 B-17G . 42-107009 was a B-17G of the 401st BG. According to Lt John Emch, the copilot, they were hit by flak during their bombrun over Hamburg on the 6th of November 1944. This damaged their no2 engine, and vibrations in this engine tore an oil-line in no 1 engine, causing it to overheat. Realising that they were not going to make it to England, they decided to head south for allied lines. When a third engine failed, they had to make an emergency landing in the Wieringermeer. Dutch civilans tried to hide them, but the Germans had seen them come down and were very quickly at the spot and 9 crewmembers were taken prisoner (what happened to the 10th remained a mystery, the crew said he bailed out earlier, but he was never found). The Germans relieved the wreckage of all valuable material and blew up the rest. The remains were later buried in the field by the farmer, Mr. Iwema. Repaint by Jan Kees Blom, based on the repaint kit by A2A.
Posted May 13, 2009 16:46 by Jan Kees Blom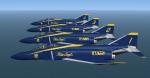 18.53Mb (2129 downloads)
these re-paints were comisioned by the FSX Blue Angels demonstration team and require the payware Iris Phantom II - FG1 RN (Royal Navy) they may work on the RAF models but will not look correct -- tested in FSXA / DX9 * for FSX by Bruce Fitzgerald -
Posted May 13, 2009 08:51 by Bruce Fitzgerald
9.18Mb (831 downloads)
This folder contains a repaint for the A2A Wings of Power III P-47D Thunderbolt, representing P-47D-15-RA flown by Captain Paul Douglas of the 396th FS, 368th FG, 1944. Paul Douglas left Europe one of the most decorated Aces. He twice received the Distinguished Service Cross and was recommended for the Medal of Honor. He flew 136 combat missions with a total of 337 combat hours in the P-47. He served as Commanding Officer of the 395th FS, 396th FS, & 36th FG. Douglas remained in the Air Force as a pilot, commanded the 388th FW and flew combat missions over North Vietnam in the F-105 Thunderchief. Paul Douglas retired a Brigadier General on 1 Feb 1970 after almost 30 years of active duty service. Read more here: http://www.368thfightergroup.com/douglas.html Repaint by Jan Kees Blom, based on the paintkit by Martin Catney
Posted May 12, 2009 15:28 by Jan Kees Blom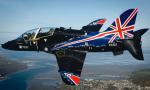 1.62Mb (970 downloads)
FSX - Skysim Mk1 Hawk textures only - The new RAF Hawk Display texture for 2009 (front seat only. Requires the payware Hawk from Skysim.
Posted May 9, 2009 18:47 by Gordon Barnes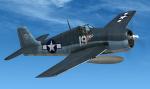 10.76Mb (896 downloads)
This folder contains a repaint for the Real Flight F6F Hellcat, representing Hellcat G-BTCC which is operated by the fighter collection from Duxford, UK. Repaint by Jan Kees Blom, based on the paintkit by Real Flight
Posted May 5, 2009 05:50 by Jan Kees Blom
7.13Mb (1299 downloads)
Qantas Repaint for the Wilco Publishing 737-400
Posted May 4, 2009 05:07 by Daniel Higgins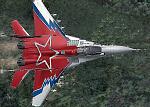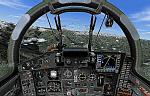 4.82Mb (2365 downloads)
Demoversion with banners. The Mikoyan MiG-29 is a 3th generation jet fighter aircraft designed for an air superiority role in the Soviet Union. Developed in the 1970s by the Mikoyan design bureau, it entered service with the Soviet Air Force in 1983, and remains in use by the Russian Air Force as well as in many other nations. NATO's reporting name for the MiG-29 is "Fulcrum", which was unofficially used by Soviet pilots in service. It was developed to counter new American fighters such as the F-16 Fighting Falcon, and the F-15 Eagle. Panel, GAUGES, model, sound and textures by A.Meyer.
Posted Apr 30, 2009 14:04 by Andreas Meyer