10.86Mb (572 downloads)
RAF C.Mk.5 ZH883, 2000's Paint Scheme. 3 Variations, Tactical Grey,, Tactical Green, Tactical Mix. Features : New Specular Maps, Engine Exhaust Major Rework & Interior Minor Detailing, Forward Door Re-Inforcement Applicable To J's, Maintenance / Safety Signs & Removal Of Extraneous CS Signs, Re-Panneling Under Wing Roots, Removal Of JTOW's from Spoilers & Re-Panneled, Re-Detailing Of Auxiliary Exhausts, Correction Of Forward Lifting Points, Re-Panneling Of Fuel Probe.
Posted Apr 5, 2010 08:21 by sara
4.82Mb (1344 downloads)
AFS Demo - Mikoyan MiG-29, Codename "FULCRUM", Russia Airforce,
Posted Apr 3, 2010 18:09 by Andreas Meyer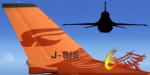 7.03Mb (769 downloads)
Dutch Airforce textures only for the payware Iris Pro Series F-16D .
Posted Mar 30, 2010 12:25 by Floris
4.80Mb (894 downloads)
RAF C.Mk.1 XV292, 1992, 25th Anniversary Scheme Textures. Textures from scratch. (Not using captainsim 90's scheme or previous versions of 25th anniversary editions).
Posted Mar 29, 2010 10:09 by sara
15.74Mb (1395 downloads)
Repaint Set For (c) 2007 for the Operation Granby Set 1, XV190 "Betty Boob", XV292 "Dennis The Menace", & XV297 "Garfield". XV192, XV215, & XV306 To Follow At A Later Date In Set 2. Please Read the "Readme Operation Granby" for pictures needed for other variants if anyone has some.
Posted Mar 29, 2010 09:52 by sara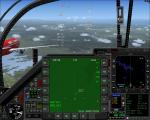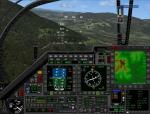 1.71Mb (564 downloads)
FSX Alphasim F-111 Aardvark HUD. Navigation/Situation awareness cockpit. Relocates Ground Mapping and air to air intercept RADAR to better integrate it in the panel for regular use ,to overcome annoying instrument obstruction .This option is provided due to extreme capability and importance of the new F-111 radar, to allow operators the choice of panel locations .Screenshots are included of both original and new locations . All functions remain ,still moveable and resizeable .Simple/brief fix .Only for use with fxpiggb4.zip .
Posted Mar 27, 2010 10:27 by Karol Chlebowski
4.37Mb (3680 downloads)
The Panavia Tornado is a family of twin-engine combat aircraft, which was jointly developed by the West Germany, United Kingdom and Italy. There are three primary versions of the Tornado; the Tornado IDS (Interdictor/Strike) fighter-bomber, the suppression of enemy air defences Tornado ECR (Electronic Combat/Reconnaissance) and the Tornado F.3 (only United Kingdom) a air fefence variant. It is one of the world's most sophisticated and capable interdiction and attack aircraft, with a long range, large payload and high survivability. Developed and built by Panavia, a tri-national consortium consisting of MBB of West Germany, British Aerospace, and Alenia Aeronautica of Italy. The Tornado first flew on August 14, 1974, and saw action with the RAF and AMI (Italian Air Force) in the Gulf War (Operation Desert Storm). International co-operation continued after its entry into service within the Tri-National Tornado Training Establishment, a tri-nation training and evaluation unit operating from RAF Cottesmore, England. Including all variants, 992 aircraft were built for the three partner nations and Saudi Arabia (first export customer). Panel, GAUGES, model, sound and textures by www.afs-design.de - Author: A.Meyer.
Posted Mar 26, 2010 18:54 by Andreas Meyer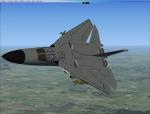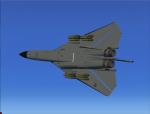 15.15Mb (815 downloads)
FSX/FS9 Textures only for Alphasim F-111 Aardvark. Gunship grey textures with green bombs.Stunning amount of detail and refinements added. Detail obtained from General Dynamics F-111 Structural Breakdown manual FZM-12-6282 plus 100s of photos. RAAF F-111 # A8-125,138,141,147 and 148 tail numbers and emblem or flash. Multiple separate model/aircraft descriptions included.
Posted Mar 25, 2010 03:24 by Karol Chlebowski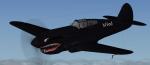 5.78Mb (345 downloads)
These are textures only for the A2A Simulations Wings of Power II P-40. Repaint by Joergen Frederiksen. Paint Kit provided by Martin Catney.
Posted Mar 24, 2010 13:32 by Jørgen Frederiksen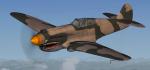 5.76Mb (277 downloads)
These are textures only for the A2A Simulations Wings of Power II P-40. Repaint by Joergen Frederiksen. Paint Kit provided by Martin Catney.
Posted Mar 24, 2010 13:27 by Jørgen Frederiksen