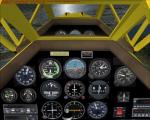 0.83Mb (527 downloads)
Changes the gauges of the A2A-Piper J3 Cub from white into opal, like the default MS-Piper. Just put the "Pit2.dds" file into the texture file (for ex.: "texture.yellow") you wish to see it.
Posted Oct 23, 2009 08:50 by Stephan Götz
2.95Mb (3592 downloads)
Demo version with banners. The Airbus A380 is a doubledecker, four-engined airliner manufactured by Airbus S.A.S. It first flew on April 27, 2005 from Toulouse, France. Commercial flights should begin in 2006 after 15 months of testing. During much of ist development, the aircraft was known as the Airbus A3XX. The A380 is now the largest passenger airliner, topping the Boeing 747, which was the largest for 35 years. However, the Antonov An-225 retains the record of being the world's largest commercial aircraft. The media has termed the A380 a "superjumbo", with some comparing it to Howard Hughes's Spruce Goose. The first A380 prototype was unveiled during a ceremony in Toulouse, France, on January 18, 2005. Its manufacturer's serial number is 001, and is registered as F-WWOW. The new Airbus will initially be sold in two versions: the A380-800, carrying 555 passengers in a three-class configuration or up to 800 passengers in a single-class economy configuration. Expected range for the -800 model is 8,000 nautical miles (14,800 km). The second model, the A380-800F dedicated freighter, will carry 150 tons of cargo 5,600 miles (10,400 km). Airbus made the cockpit layout, procedures and handling characteristics similar to those of other Airbus aircraft to reduce crew training costs. Likewise, the A380 features a glass cockpit and side-stick flight controller. Panel, GAUGES, model, sound and textures by www.afs-design.de - Author: A.Meyer.
Posted Oct 15, 2009 19:49 by Andreas Meyer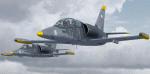 85.34Mb (1516 downloads)
Textures only for the Lotus Aero Vodochody L-39C Albatros. This repaint requires the payware package developed by Lotus Simulations "L-39 Albatros". Repaint contains textures of eight aircraft of CLV Pardubice (Czech Republic) in color scheme used from 2004 until 2010. By Richard Lozansky.
Posted Oct 13, 2009 00:56 by Richard Lozansky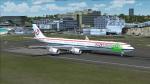 7.46Mb (568 downloads)
Textures for the payware CLS (Commercial Level Simulations) A340-600. Painted by Kai Beale.
Posted Oct 12, 2009 23:34 by Kai Beale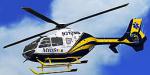 63.08Mb (811 downloads)
Based out of Spokane, Washington, NorthWest MedStar, provides medical transportation services all throughout the Pacific Northwest. This package comes complete with two different textures; the N311MS MedStar 1 texture, and the N312MS MedStar 2 texture. These textures only work with the payware Nemeth Designs EC-135, for FSX. The textures have been completed in HD (4096) resolution, to enhance the clarity and crispness of the textures. Created by Garth Carden, with RepaintCentral.com.
Posted Oct 9, 2009 16:26 by Garth Carden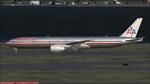 4.85Mb (1896 downloads)
FSX Boeing 777-300ER textures for the Overland 777 in American Airlines colors
Posted Oct 8, 2009 08:27 by John Adams
3.92Mb (889 downloads)
Repaint for the Payware RealAir Spitfire Mk IX 2007 depicting the RAF's Battle of Britain Memorial Flight's Spitfire in its 2008 colours and squadron code of UF-Q. The aircraft flew in this scheme with 601 Squadron during 1944, flying its first operational mission from Westhampnett on 14 April 1944 as part of a 'Rodeo' fighter sweep over occupied France. Textures by Grant MacLean/Sean Moloney/RealAir.
Posted Oct 3, 2009 08:46 by Grant MacLean
10.29Mb (758 downloads)
A2A FSX P-51D, 442 textures only for the payware A2A P-51. High resolution (.DDS 2048 x 2048) repaint textures for the A2A Simulations P-51D of RCAF 442 'Caribou' Squadron aircraft KM232. A2A P51-D FSX update required. Textures by Grant MacLean/A2A Simulations
Posted Oct 3, 2009 08:39 by Grant MacLean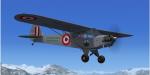 6.96Mb (532 downloads)
fictional austrian repaint of the wonderful A2A Simulations Piper J-3 Cub by Stephan Götz. 6.96 MB
Posted Oct 2, 2009 10:07 by Stephan Götz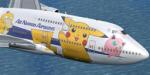 1.76Mb (3708 downloads)
ANA Pokemon textures for the 747-400 from PMDG. FSX ONLY.
Posted Sep 26, 2009 10:02 by Daniel Gonzalez