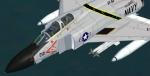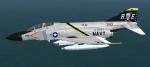 2.64Mb (1140 downloads)
Textures for the Iris Simulations Phantom FG.1 Navy planes with Black tails seem to be popular so here is a scheme for the VF-84 Jolly Rogers - tested in FSX w/ Acceleration - win XP SP3 / DX9 *Repaint by Bruce Fitzgerald
Posted Sep 15, 2008 02:42 by Bruce Fitzgerald
1.74Mb (631 downloads)
Textures for Alphasim payware F-104 Starfighter for FSX representing the f-104 symbol of 1988 Tigermeet in Cameri AB, Novara. Italy. Repaint by Alberto Roncon
Posted Sep 11, 2008 15:55 by Alberto Roncon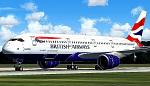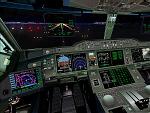 2.09Mb (4090 downloads)
Demo version with banners, new VOR gauge, with new PANEL and GAUGES, new external model, sound and virtuall cockpit. The A350 XWB (Xtra Wide-Body) is Airbus' response to market demand for a medium capacity long range wide-body family. Designed with airlines' priorities in mind, the A350 XWB confronts the challenges of high fuel prices, rising passenger expectations and increasing environmental concerns. Panel, GAUGES, model, sound and textures by www.afs-design.de - Author: A.Meyer.
Posted Sep 11, 2008 14:22 by Andreas Meyer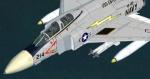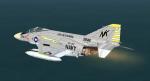 2.65Mb (2414 downloads)
This is a repaint for the Iris Simulations Phantom FG.1 I really like the Ghostriders paint scheme and all my navy aircraft, that were used by VF-142 have the paint. also included the section to add a launch bar in the readme. this scheme was based on the repaint of the Alphasim Phantom II by Gus Robatto --- * Repaint for the Iris Phantom FG.1 by Bruce Fitzgerald
Posted Sep 9, 2008 14:49 by Bruce Fitzgerald

9.50Mb (5542 downloads)
Repaint of Avianca livery for Captain Sim's Boeing 757-200 FSX version Some addon features added in this skin are as follows: 1. Enhanced bumpmap to have some texture on fuselage surface. 2. Enhanced Specular effects including extra gloss 3. Changed Cabin poster. 4. Seatcovers and Cabin Crew dress match with actual airline. 5. Added Checklist. access it via panel (shift +2) 6. Added Aircraft reference(Incomplete). Capt Sim 757 Required
Posted Sep 9, 2008 00:08 by Jathedar

3.46Mb (1568 downloads)
FSX FS Earth (Demo). This program acts as an interface between Flight Simulator 2004 and Google Earth, letting to follow a flight in real time, over the satellite images generated by Google Earth. Flights can be saved, and many options are available for fine tuning the performance, as well as the map's style (zoom, tilt, orientation). Works on a single computer running FS2004 and Google Earth all together or, for best experience, can be used on two networked computers running respectively FS2004 (master) and Google Earth (slave). AI and Multiplayer traffic is also displayed in Google Earth, with course prediction and other information. Requires Flight Simulator 2004 and Google Earth. The program running in trial mode works only around Anchorage, Alaska, (PANC / ANC) for a maximum of five minutes per flight session. Visit http://www.wideview.it/ for additional information.
Posted Sep 6, 2008 03:15 by FS Earth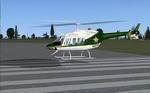 3.10Mb (599 downloads)
This repaint is for Abacus Whirlybirds Bell 407 in Orange County Sheriff's Office paint scheme. Repaint By Earl Triplett. Freeware not for sale. This package contains the textures only; you will need to purchase the aircraft model from Abacus. All credit for the original paint and flight model goes to the fine designers at Abacus.
Posted Sep 4, 2008 22:20 by Earl Triplett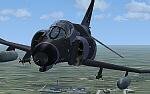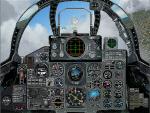 2.63Mb (4052 downloads)
Demoversion with banners. The McDonnell Douglas F-4 E/F Phantom 2 is a two-seat, twin-engined, all-weather, long-range supersonic fighter-bomber originally developed for the U.S. Navy by McDonnell Aircraft. Proving highly adaptable, it became a major part of the air wings of the U.S. Navy, Marine Corps, and U.S. Air Force. It was used extensively by all three of these services during the Vietnam War, serving as the principal air superiority fighter for both the Navy and Air Force, as well as being important in the ground-attack and reconnaissance roles by the close of U.S. involvement in the war. First entering service in 1960, the Phantom continued to form a major part of U.S. military air power throughout the 1970s and 1980s, being gradually replaced by more modern aircraft such as the F-15 Eagle and F-16 Fighting Falcon in the U.S. Air Force and the F-14 Tomcat and F/A-18 Hornet in the U.S. Navy. It remained in service in the reconnaissance and Wild Weasel roles in the 1991 Gulf War, finally leaving service in 1996. The Phantom was also operated by the armed forces of 11 other nations. Israeli Phantoms saw extensive combat in several Arab–Israeli conflicts, while Iran used its large fleet of Phantoms in the Iran–Iraq War. Phantoms remain in front line service with seven countries, and in use as an unmanned target in the U.S. Air Force. Phantom production ran from 1958 to 1981, with a total of 5195 built. This extensive run makes it the second most-produced Western jet fighter, behind the famous F-86 Sabre at just under 10,000 examples. Panel, GAUGES, model, sound and textures by www.afs-design.de - Author: A.Meyer.
Posted Aug 22, 2008 19:31 by Andreas Meyer

9.26Mb (401 downloads)
FSX Monsted-Vincent RE-paint.Texture ONLY! Two new Paint Schemes for the Monsted-Vincent from Rarewings.com. Both from 1940 feeder airlines, Mohawk Airline and North Central Airlines. You will need the Payware version of this plane from Rarewings.com. Re-painted by permission. FOR FSX Only!
Posted Aug 20, 2008 17:01 by Rick Eli
3.48Mb (1411 downloads)
Air Canada Textures for the Abacus A380.
Posted Aug 11, 2008 19:35 by CJ