2.70Mb (3949 downloads)
AFS A380 Demo with banners. The Airbus A380 is a doubledecker, four-engined airliner manufactured by Airbus S.A.S. It first flew on April 27, 2005 from Toulouse, France. Commercial flights should begin in 2006 after 15 months of testing. During much of ist development, the aircraft was known as the Airbus A3XX. The A380 is now the largest passenger airliner, topping the Boeing 747, which was the largest for 35 years. However, the Antonov An-225 retains the record of being the world's largest commercial aircraft. The media has termed the A380 a "superjumbo", with some comparing it to Howard Hughes's Spruce Goose. The first A380 prototype was unveiled during a ceremony in Toulouse, France, on January 18, 2005. Its manufacturer's serial number is 001, and is registered as F-WWOW. The new Airbus will initially be sold in two versions: the A380-800, carrying 555 passengers in a three-class configuration or up to 800 passengers in a single-class economy configuration. Expected range for the -800 model is 8,000 nautical miles (14,800 km). The second model, the A380-800F dedicated freighter, will carry 150 tons of cargo 5,600 miles (10,400 km). Airbus made the cockpit layout, procedures and handling characteristics similar to those of other Airbus aircraft to reduce crew training costs. Likewise, the A380 features a glass cockpit and side-stick flight controller. Panel, GAUGES, model, sound and textures by www.afs-design.de - Author: A.Meyer.
Posted May 30, 2009 03:59 by Andreas Meyer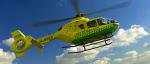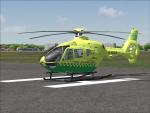 1.17Mb (1287 downloads)
G-SSXX Essex Air Ambulance textures for the payware Nemeth EC-135. Repaint by Rick Piper
Posted May 28, 2009 06:29 by Liam bennett
120.50Mb (300 downloads)
A layered paint kit for the A2A Simulations, Aircraft Factory Corsair.
Posted May 27, 2009 14:17 by Lewis Bloomfield - A2A Simulat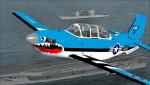 2.52Mb (595 downloads)
This is a Re-paint for the FSX version of Alphasim T-34C Turbo mentor FSX. Enjoy Repaint by Salomon Computers.es
Posted May 25, 2009 19:27 by Salomon Computers
20.38Mb (462 downloads)
Here are two textures for the Shockwave Corsair for FSX. One depicts the Breitling Fighters variant and the other shows the fighter Collection repaint based at Duxford.
Posted May 25, 2009 10:19 by Jeremy Shneebly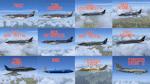 11.13Mb (553 downloads)
This is a texture pack for the FSX version of Alphasims Supermarine Scimitar containing 12 repaints.
Posted May 24, 2009 10:54 by Bruce Martin / Alphasim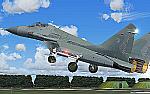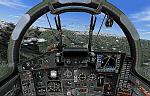 4.82Mb (1889 downloads)
Mikoyan MiG-29, Codename "FULCRUM", Germany Airforce "Luftwaffe" Demo
Posted May 21, 2009 15:40 by Andreas Meyer
4.98Mb (3233 downloads)
AFS-design brings a excellent rendition of two futuristic Concept Aircraft with 7 versions on the market. The two Concept Aircraft are developed from motivation like following movies, Filmen, series and computer games: Stealth - (futuristic planes of the US Navy), Star Treck spaceship Enterprise (Shuttles), Battlestar Galactica (Viper), True Lies (Harrier), The 6th Day (scince fiction helicopter), Airwolf AND G - Police (Police - aircraft of computer game) Model, textures, sound, panel and gauges by Author: A.Meyer
Posted May 14, 2009 13:17 by Andreas Meyer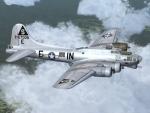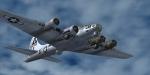 10.07Mb (2553 downloads)
This folder contains a textures set for the A2A WoP2 B-17G . 42-107009 was a B-17G of the 401st BG. According to Lt John Emch, the copilot, they were hit by flak during their bombrun over Hamburg on the 6th of November 1944. This damaged their no2 engine, and vibrations in this engine tore an oil-line in no 1 engine, causing it to overheat. Realising that they were not going to make it to England, they decided to head south for allied lines. When a third engine failed, they had to make an emergency landing in the Wieringermeer. Dutch civilans tried to hide them, but the Germans had seen them come down and were very quickly at the spot and 9 crewmembers were taken prisoner (what happened to the 10th remained a mystery, the crew said he bailed out earlier, but he was never found). The Germans relieved the wreckage of all valuable material and blew up the rest. The remains were later buried in the field by the farmer, Mr. Iwema. Repaint by Jan Kees Blom, based on the repaint kit by A2A.
Posted May 13, 2009 16:46 by Jan Kees Blom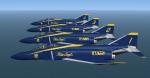 18.53Mb (2158 downloads)
these re-paints were comisioned by the FSX Blue Angels demonstration team and require the payware Iris Phantom II - FG1 RN (Royal Navy) they may work on the RAF models but will not look correct -- tested in FSXA / DX9 * for FSX by Bruce Fitzgerald -
Posted May 13, 2009 08:51 by Bruce Fitzgerald