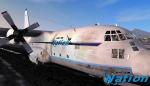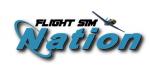 3.13Mb (882 downloads)
This paint for Captain Sim's C130 by Owen Young shows how hard we work in the Flight Sim Nation Virtual Airline. This is one mean and tough plane and it shows. Several are in use with our AFTS airline and has been featured in many of our videos (now available in the video section here)
Posted Mar 5, 2009 00:30 by Sonic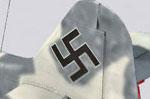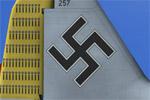 0.02Mb (652 downloads)
Historically correct markings (Swastika) for the Classics Hangar FW 190A, the early variant. You need a legal copy of the Classics Hangar Fw190A, available from http://www.classics-hangar.de This substitutes the previously uploaded file
Posted Mar 4, 2009 13:46 by Alessandro Biagi (alx)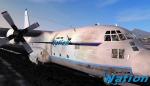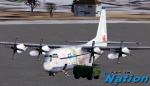 3.13Mb (908 downloads)
Textures only for the Captain Sim C130 that has been featured in many Flight Sim Nation Videos in particular the C130 http://www.simteevee.com. This paint shows how hard these aircraft are working in our virtual airline. By Owen Young.
Posted Mar 1, 2009 21:58 by Sonic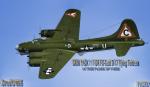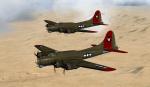 17.17Mb (4413 downloads)
Textures Pack for the FS-Cast Boeing B-17 Adds New skins This is pack 1 PACK 1 Boeing B-17 F Flying Fortress USAAF Theme Title=Boeing B-17G Flying Fortress Boeing B-17G Flying Fortress Thunderbird (Triangle C) Boeing B-17G Flying Fortress (Triangle W) Boeing B-17G Flying Fortress (Triangle C) Boeing B-17G Flying Fortress (Captured BY GERMANY)
Posted Feb 28, 2009 15:46 by CirrusN210MS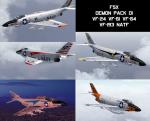 2.16Mb (595 downloads)
This is a texture pack for tha Alphasim F3H Demon, FSX Only, The 5 textures include paints for NATF, VF-24, VF-61, VF-64 and VF-193.
Posted Feb 23, 2009 12:37 by Bruce Martin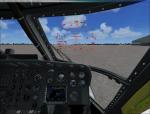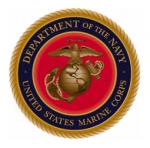 0.19Mb (1323 downloads)
2D Helmet HUD drop down window. Works in 2D Panel and Virtual Cockpit. Manual Write in to the Panel CFG.
Posted Feb 20, 2009 22:45 by Thunder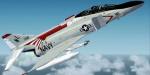 9.43Mb (1004 downloads)
IRIS RN Phantom FG.1 VF-51 "Screaming Eagles", Aircraft flown by MiG Killers LT Kenneth L. Cannon and LT Roy A. Morris on MiG-17 kill of 10 May 1972.(TEXTURES) This repaint was created by Francisco Presa.
Posted Feb 20, 2009 17:27 by Thunder
6.04Mb (2879 downloads)
AFS Demo with banners on model and panel: Eurofighter is a single-seat, twin-engine, agile combat aircraft which will be used in the air-to-air, air-to-ground and tactical reconnaissance roles. The design of Eurofighter Typhoon is optimised for air dominance performance with high instantaneous and sustained turn rates, and specific excess power. Special emphasis has been placed on low wing loading, high thrust to weight ratio, excellent all round vision and carefree handling. The use of Stealth technology is incorporated throughout the aircraft's basic design. This model has a new panel with new gauges ,a new high textures virtual cockpit of authentic Eurofighter - EADS support and new original sound. Models, panel, sound, textures, gauges and animations by www.afs-design.de - Author: A.Meyer.
Posted Feb 19, 2009 16:49 by Andreas Meyer
0.63Mb (528 downloads)
AlphaSim MH-53J or CH-53A Texture Enhancment Rotor Blade Blurr. Easy to put in simple read me.
Posted Feb 15, 2009 04:06 by Thunder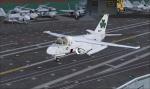 1.08Mb (392 downloads)
Flightdeck S-3 Viking textures only in VS-41 Clover colors
Posted Feb 9, 2009 22:44 by FSXF Rhino