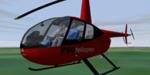 1.42Mb (1179 downloads)
The 'Just Flight' Robinson R-44 in PSG Helicopters, Manchester, UK textures only.
Posted Jan 14, 2009 23:52 by PSG1
2.79Mb (9649 downloads)
Demo version with banners. New VOR gauge, with new PANEL and GAUGES, new external model, sound and virtual cockpit. The Airbus A380 is a doubledecker, four-engined airliner manufactured by Airbus S.A.S. It first flew on April 27, 2005 from Toulouse, France. Commercial flights should begin in 2006 after 15 months of testing. During much of ist development, the aircraft was known as the Airbus A3XX. The A380 is now the largest passenger airliner, topping the Boeing 747, which was the largest for 35 years. However, the Antonov An-225 retains the record of being the world's largest commercial aircraft. The media has termed the A380 a "superjumbo", with some comparing it to Howard Hughes's Spruce Goose. The first A380 prototype was unveiled during a ceremony in Toulouse, France, on January 18, 2005. Its manufacturer's serial number is 001, and is registered as F-WWOW. The new Airbus will initially be sold in two versions: the A380-800, carrying 555 passengers in a three-class configuration or up to 800 passengers in a single-class economy configuration. Expected range for the -800 model is 8,000 nautical miles (14,800 km). The second model, the A380-800F dedicated freighter, will carry 150 tons of cargo 5,600 miles (10,400 km). Airbus made the cockpit layout, procedures and handling characteristics similar to those of other Airbus aircraft to reduce crew training costs. Likewise, the A380 features a glass cockpit and side-stick flight controller. Panel, GAUGES, model, sound and textures by www.afs-design.de - Author: A.Meyer.
Posted Jan 8, 2009 11:51 by Andreas Meyer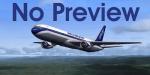 16.83Mb (751 downloads)
This is a version of Blaq Aces fictional personal airline Global Air Charter for the LVLD767 FSX sp2 Vista. You get 3 variations. Requires the payware Level D Boeing 767. Textures by "Blaq Ace"
Posted Jan 6, 2009 09:18 by mdgoins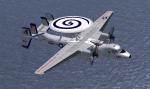 3.11Mb (1789 downloads)
FSX Flight Deck 5 E2C Hawkeye for VAW-123 Textures only.
Posted Jan 6, 2009 03:40 by FSXF Rhino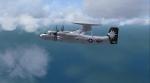 2.91Mb (2129 downloads)
Textures only for the 'Flight Deck' 5 E2C Hawkeye in SunKings VAW-116 livery.
Posted Jan 5, 2009 06:50 by FSXF Rhino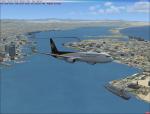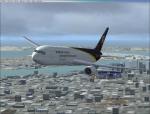 6.64Mb (2245 downloads)
Level D Boeing 767 UPS and Air Canada textures.
Posted Jan 4, 2009 06:49 by Thunder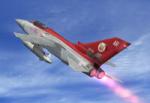 9.33Mb (624 downloads)
RAF TORNADO F3 56 SQN 1993 Textures only[fs9 and FSX] these textures depict the RAF Tornado OF 56 SQN wearing the Special OCU Tailed markings of the RAF sqn of 1993, Uses the Alphasim payware Tornado. UKMIl
Posted Jan 1, 2009 06:55 by UKMIL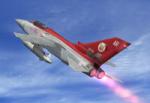 8.83Mb (491 downloads)
RAF Tornado F3 65 Sqn [229 OCU] textures only [fs9 and FSX] these textures depict the RAF Tornado OF 65 SQN wearing the Special OCU Tailed markings of the RAF sqn, Uses the Alphasim payware Tornado ukmil
Posted Jan 1, 2009 06:50 by UKMIL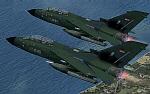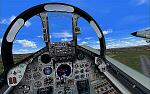 3.88Mb (1305 downloads)
Demo: The Panavia Tornado is a family of twin-engine combat aircraft, which was jointly developed by the West Germany, United Kingdom and Italy. There are three primary versions of the Tornado; the Tornado IDS (Interdictor/Strike) fighter-bomber, the suppression of enemy air defences Tornado ECR (Electronic Combat/Reconnaissance) and the Tornado F.3 (only United Kingdom) a air fefence variant. It is one of the world's most sophisticated and capable interdiction and attack aircraft, with a long range, large payload and high survivability.
Posted Dec 17, 2008 11:28 by Andreas Meyer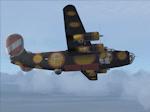 11.82Mb (788 downloads)
This is a repaint of Alphasims B-24D Liberator Serial 240370 'Pete The Pom Inspector' 467th Bomb Group Assembly Ship, Summer 1944.
Posted Dec 15, 2008 06:36 by Bruce Martin