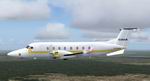 0.15Mb (868 downloads)
FS2004 Beechcraft B1900D Sonair Textures only. Real livery for this 1900D based to Luanda in Angola.Registration D2-FFJ.Developed from the succesful 1900C, the D model is a fast, twin turboprop, 19 passenger regional aircraft. It has proven popular with regional airlines feeding smaller airports. Requires original aircraft by Mike Stone.Repainted by Jean-Jacques Parel. 154K
Posted Sep 8, 2009 23:29 by archive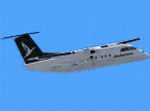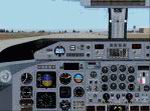 21.10Mb (5448 downloads)
FS2004 Dehavilland Dash8-102 Air Labrador White Livery. A twin turboprop regional airliner. , Reg_ID: C-GLON. Based at CYYT, St. Johns, Newfoundland, Canada. An all new FSDS2.24 design with 2D panel, Dynamic VC, and Custom Sound. In addition, a custom TCAS (Traffic Collision Avoidance System), a complete Ground Handling module with push back and taxi speed control and the latest version GPWS (Ground Proximity Warning System) is included. The visual model features an opening airstair with detailed cabin interior, operating Cargo Door, lift dump and roll control spoilers, passenger wing and cabin views, and high definition reflective textures. A comprehensive set of html documents (Check List & Ref List) are included for in-flight information. A separate Panel_Docs folder with panel and systems help files, pilot's notes and more. By Jean-Pierre Brisard, Barry Blaisdell, Bob May - Premier Aircraft Design. 21.6MB
Posted Sep 8, 2009 23:29 by archive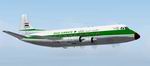 0.56Mb (863 downloads)
FS2004 Viscount 735 Iraqi Airways Textures. Iraqi Airways ordered three Viscount 735 aircraft delivered in late 1955, followed later by a fourth machine built as a series 733. The later machine was damaged beyond repair in March 1965. Of the three original aircraft one was damaged beyond repair in April 1973 and was sold for spares along with the two fying survivors to Alidair in 1978. This aircraft was Iraqi's first and became G-BFMW with Alidair/Alidair Scotland. The other became G-BFYZ with Guernsey Airlines. Requires the FSDS Viscount 700 model by Rick Piper here. Repaint by Garry Russell. 572K
Posted Sep 8, 2009 23:29 by archive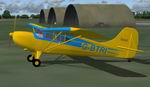 1.29Mb (1006 downloads)
FS2004 Aeronca AC-11 Chief 8 Real Liveries Textures only. Real livery for this 8 Chief. Included G-AKVN, G-BPXY, G-BTRI, G-BTSR, G-IVOR 1997, G-IVOR 2003, NC3224E & NC86270. Simple, rugged and reliable, the Aeronca Chief is a high wing, single engine tail dragger, idealy suited to operation from small private airstrips.Textures only, requires complete aircraft by Mike Stone here.Repainted by Jean-Jacques Parel. 1.3MB
Posted Sep 8, 2009 23:29 by archive
0.74Mb (620 downloads)
FS2004 Vanguard 951 Merpati Nusantara Textures only. This was the only series 951 to see service with an airline other than BEA. Delivered to BEA 13 December 1960 as G-APEF it operated the worlds first commercial Vanguard service on the 17th of that month. Sold to Templewood Aviation in April 1972 for onward lease to Merpati it served the Indonesian carrier from May 1972 until July 1973 when it was flown back to Southend and immediately scrapped. Requires the FSDS Vanguard 951 model by Rick Piper. Repaint by Garry Russell. 573K
File available at
Brit Sim.
Please report if broken
Posted Sep 8, 2009 23:29 by archive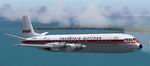 0.56Mb (561 downloads)
FS2004 Vanguard 952 Merpati Nusantara (Final livery) Textures only. The last Vanguard built it first served with TCA/Air Canada as CF-TKW from April 1964 until April 1972 when it was sold to Europe Aero Service in France as F-BTOU. On 08-January 1981 it flew the last ever European passenger Vanguard flight Orly-Perpignan. Sold for further use to Merpati it went on to make the last ever passenger Vanguard flight anywhere, in late October 1987. During December 1987 it made it's last flight when it was flown to Perpignan after being bought by EAS for spares to support the ICS freighter operation. Requires the FSDS Vanguard 952 model by Rick Piper (here). Repaint by Garry Russell. 754K
File available at
Brit Sim.
Please report if broken
Posted Sep 8, 2009 23:29 by archive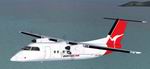 21.19Mb (5546 downloads)
FS2004 Dehavilland Dash8-Q202 Qantaslink. A twin turboprop regional airliner. Qantaslink, Reg_ID: VH-SDA. An all new FSDS2.24 design with 2D panel, Dynamic VC, and Custom Sound. In addition, a custom TCAS (Traffic Collision Avoidance System), a complete Ground Handling module with push back and taxi speed control and the latest version GPWS (Ground Proximity Warning System) is included. The visual model features an opening airstair with detailed cabin interior, operating Cargo Door, lift dump and roll control spoilers, passenger wing and cabin views, and high definition reflective textures. A comprehensive set of html documents (Check List & Ref List) are included for in-flight information. A separate Panel_Docs folder with panel and systems help files, pilot's notes and more. By Jean-Pierre Brisard, Barry Blaisdell, Bob May - Premier Aircraft Design. 21.7MB
Posted Sep 8, 2009 23:29 by archive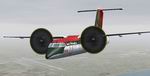 3.70Mb (1132 downloads)
FS2004 Dash 8 Q200 Aero Atlántico Airlines. Original model by Dreamwings. 3.7MB
Posted Sep 8, 2009 23:29 by archive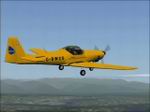 1.59Mb (1153 downloads)
FS2004 Slingsby Firefly registrations G-BWXA - G-BWXZ Textures only. (All 26 included, and interchangable). This is a repaint of the Slingsby Firefly (T67) (required here) by J R Lucariny. Repaint by Andy Nott. 1.6MB
Posted Sep 8, 2009 23:29 by archive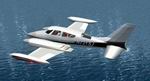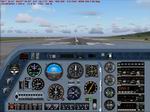 (408 downloads)
FS2004 Cessna 310Q Update. Description: This is an update for Rey Lopez's Cessna 310 Q - can be found here. I have reworked the flight dynamics, changed the panel to look more like the VC, all the toggle icons work now, added a throttle quadrant window, repositioned a vc-cockpit light so the vc is not dark if the nav lights are on, and I have repositioned or changed a few outside lights. A tribute to the late designer - Rey Lopez. Bob Chicilo. 373K
Posted Sep 8, 2009 23:29 by archive