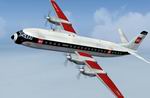 0.63Mb (502 downloads)
FS2004 Vanguard Red square last variation Textures only. The fuel crisis in the early seventies meant a reprieve for G-APEF when it was returned to service showing signs of its time in storage. 'EF was one of a few Vanguards that appeared apparently sporting white nose cones. In reality it was mearly old coloured machines sporting nose cones painted in the later livery i.e. light grey. This was the only 951 to be sold. It went to Merpati Nusantara Airways briefly before the new owners withdrew and scrapped it. Requires the FSDS Vanguard model by Rick Piper here Repaint by Garry Russell. 647K
File available at
Brit Sim.
Please report if broken
Posted Aug 24, 2009 06:43 by archive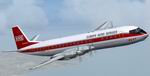 0.70Mb (440 downloads)
FS2004 Vanguard Europe Aero Service Textures only (Invicta basic). EAS Vanguards were kept in the basic Air Canada livery whereas Invicta kept most of the ACA scheme but added a black stripe above the cheatline and re styled the line under the tailplane. F-BXOG was bought from Invicta and entered service still in its basic Invicta version and with "Vanguard" on the fin deleted, proudly calling itself a Rolls-Royce VC 9. You will need the FSDS Vanguard 952 model by Rick Piper here Repaint by Garry Russell. 717K
File available at
Brit Sim.
Please report if broken
Posted Aug 24, 2009 06:43 by archive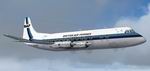 0.48Mb (422 downloads)
FS2004 Viscount 803 BAF 1971 Textures only. EI-AOI. Long before they became a major user of the type British Air Ferries leased this Viscount 803 from Aer Lingus during 1971. Returned to the owner in October it never flew again and was later broken up still in BAF livery. You will need the FSDS Viscount 800 model by Rick Piper here Repaint by Garry Russell. 494K
Posted Aug 24, 2009 06:43 by archive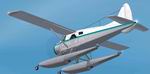 1.07Mb (896 downloads)
FS2004 DHC-2 classical paint scheme of late 40's and 50's Textures only. Requires Steven Grant's Private DHC2 Beaver Amphibian available here. Repainted by Kristel R. Sitz. 1.1MB
Posted Aug 24, 2009 06:43 by archive
1.07Mb (2130 downloads)
FS2004/2002 Supermarine Walrus in RAAF livery, as it appeared after the restauration in 2002 at Cook Point, Australia. Serial number HD874. Model Mike Stone, paint Kristel R. Sitz. 1.1MB
Posted Aug 24, 2009 06:43 by archive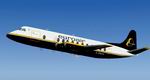 0.32Mb (429 downloads)
FS2004 Viscount Euroair Textures only. After a spell in Canada, ex BEA/BA and BAF Viscount 806 G-AOYH returned to the UK as G-BNAA. One of a handful of the type operated by euroair it, like the others ended back with BAF. You will need the FSDS Viscount 800 model by Rick Piper here Repaint by Garry Russell. 331K
Posted Aug 24, 2009 06:43 by archive
1.68Mb (8750 downloads)
FS2004/2002 Beechcraft Starship 2000. The panel supplied in this package is the work of Ken Mitchell. Aircraft by Mike Stone. 1.7MB Update: This is a correction for the panel.cfg file so there is no problems for the plane to load and work in 2004. Bob Chicilo. 5K
Posted Aug 24, 2009 06:43 by archive
7.41Mb (3741 downloads)
FS2004 Piaggio P-166DL3/SEM/APH. Animated gear, dampers, propellers, doors, and control surfaces, Dynamic Clickable Virtual Cockpit. Design & Artwork by Mario Noriega. 7.8MB
Posted Aug 24, 2009 06:43 by archive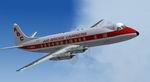 0.45Mb (439 downloads)
FS2004 Viscount ABC early livery Textures only. A quick glance at the widow arrangement forward of the wing tells you this is a very different machine. One of three Aer Lingus Viscounts converted to V808PCF (Palletised Cargo Freighter) in the mid sixties this aircraft served with ABC and then went on to become BAF's Freightmaster. You will need the FSDS Viscount 800 model by Rick Piper here. Repaint by Garry Russell. 465K
Posted Aug 24, 2009 06:43 by archive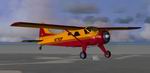 4.81Mb (2847 downloads)
FS2004 DeHavilland Beaver MkI Updated for use with FS2004. Aircraft model features full moving parts, 32bit textures, custom panel and sounds. Sorry no VC, future update to include this. Panel by: Fred Choate, Sound by: Aaron Swindle, Aircraft by: Steven Grant. 4.9MB
Posted Aug 24, 2009 06:43 by archive