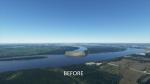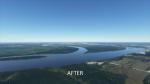 3.36Mb (139 downloads)
Missouri River Fix. In the default MFS2020 simulator, the Missouri River is raised some 300-400 feet higher than the surrounding terrain at the confluence with the Mississippi River near downtown St. Louis, Missouri westward almost to Kansas City, Missouri. From altitude it's not noticeable. However, for low level (below 4000 feet) VFR flying the river looks way too high. Hopefully, Asobo/Blackshark.AI/Microsoft will provide a fix in some future update but who know if and when that might happen. This addon scenery file flattens the Missouri River from the confluence with the Mississippi River to a point 8-10 miles west of Hermann, Missouri (see the map in the file "Missouri River - Coverage.jpg"). protopilot59
Posted Sep 13, 2020 00:34 by protopilot59
16.69Mb (269 downloads)
Talkeetna has been rebuilt from the ground up with custom textures for the runway, aprons and gravel areas. Tree placement in the vicinity of the airport has also been completely redone, now exposing the marsh area to the east of the airport, as it should be. The scenery utilizes mostly default models, but does include some custom models, with plans for more in future updates. -- Scenery by Chris Britton (Rotornut44) of Emerald Scenery Deign. Originally created for gotbush.org.
Posted Sep 12, 2020 11:22 by Emerald Scenery Design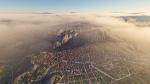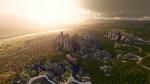 210.73Mb (288 downloads)
Ultra detailed scenery for the Greek "Monument Valley" also known as "Meteora". Handmade night lights are included, illuminating the rocks as they are in real life photos and the mighty monasteries as well,making for a surreal flight. Created by NikPrist
Posted Sep 12, 2020 04:30 by uploader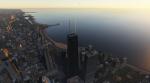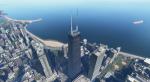 47.31Mb (455 downloads)
Chicago Enhanced adds improved models for Chicago landmarks. Currently this mod adds the Hancock Building and Wrigley Field, but more buildings are planned for later releases. Night lighting is not yet implemented, however the default lighting at Wrigley Field works fairly well. Updates check https://www.nexusmods.com/microsoftflightsimulator/mods/116?tab=description. By Cool Mint Studios
Posted Sep 11, 2020 05:05 by gamr101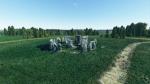 9.48Mb (229 downloads)
Stonehenge 3d Photogrammetry model for FS2020 Version 2 The title says it all, its the monument, in low poly and resolution, but good enought for a flight over it, or even on foot level with the drone camera if you stay 10 meters away from it. Download, use a .rar unpack program such as winrar to unpack it in your /Community/ folder of your FS2020 package directory location.
Posted Sep 11, 2020 04:53 by uploader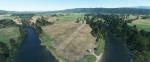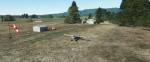 1.46Mb (88 downloads)
he default version of Majerle Field in Duvall, WA in MSFS has some tall trees at the end of the runway that werenít really there when the STOLport was open, which make it unrealistically difficult to use. (The airport's closed in the real world because the new owner stopped mowing the runway.) If you'd like to check out Washington State's beautiful Snoqualmie Valley, or just practice your short-field takeoffs and landings in a beautiful area, Iíve cleaned up the excess foliage, mowed the runway, added a little more activity around the airport, and thrown in an easter egg or two. Release 1.1 fixes the raised water issue near the threshold and adds a few new objects
Posted Sep 8, 2020 02:09 by Denny Atkin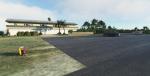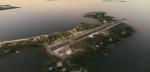 33.04Mb (463 downloads)
%100 custom airport buildings. Take offs and landings at George T. Lewis Airport (KCDK), Florida, are particularly challenging, as the Gulf of Mexico pushes up against both ends of the runway. Couple this with the shortest paved public runway in the state of Florida and you better be on your game! Formerly used as an air/sea rescue base during and after World War II, the facility was deeded to Levy County. George T. Lewis Airport covers an area of 52 acres (21 ha) at an elevation of 11 feet (3 m) above mean sea level. It has one asphalt paved runway designated 5/23 which measures 2,355 by 100 feet (718 x 30 m) with a displaced threshold on both ends.
Posted Sep 3, 2020 22:15 by LKP Designs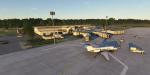 57.25Mb (451 downloads)
100% custom buildings for Gainesville Regional Airport (KGNV). Version Notes (1.0): 1) Added 100% custom buildings to airport 2) Added new jetways to match building 3) Added cars and trucks to parking lots 4) Added lighting to parking areas 5) Added ponds around the property 6) Added parked aircrafts APRONS, TAXIWAYS, RUNWAYS AND TAKEOFF PROCEDURES HAVE NOT BEEN ALTERED IN THIS VERSION. By: LKP Designs
Posted Sep 1, 2020 15:03 by LKP Designs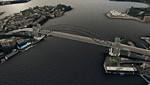 9.14Mb (681 downloads)
MSFS Sydney Harbor Bridge, Australia. An accurate version of the iconic harbor bridge to replace the incorrect default version. Just drag and drop whole folder into community folder to use. By vLegion_
Posted Aug 31, 2020 00:47 by uploader